"DO YOU HAVE ANY FLESH EATING BACTERIA ON  YOUR ZIPLINE COURSES??"
This question has been arising quite often now; quite a few people have been calling asking about our safety standards and many joke or even seriously wonder if they are in danger of a flesh eating bacteria.
I thought I'd address this issue and set everybody's mind at ease.
If you're familiar with the story, the tragic accident happened on a home made zip-line and the bacteria itself came from the water that got into an open wound. We want you to rest assured, our zip-lines are not home-made, and you won't be falling into water during our Canopy Tour!
We've set the bar very high on our course.  Come, see, and we'll show you all the ways we keep you safe! Our course was built by Climb Works. They partner with structural engineers and Professional Arborists — meaning no poles are going to come out of the ground, and the trees we zip to are always healthy!They also have a professionally designed and mastered zip structure that eliminates unsafe hand braking so that way you can simply relax and enjoy the ride.  Every day our course is inspected on a run-through before the tours start for the day. It's also professionally inspected monthly by ASTM Standards and a Pennsylvania Amusement Park Certified inspector to make sure all cables and bolts are tight and everything in place!
Since it's built and maintained safely, our other main responsibility is to make sure it's run safely and effectively on a day to day basis. To ensure this, all our staff go through extensive and ongoing training in the basic safety techniques, as well as scenario rescue trainings and the occasional ice-cream party! The staff's biggest concern is your safety; they're the ones doing all the safety transfers and as a participant, you'll never have to make any transfers or hookups. We make sure they know how to keep you safe from the time you leave the ground until you touch down on the last zip.
We follow all safety standards required by the Industry standards, even exceeding in many areas.
We run our course maintaining the strict standards of ACCT (Advanced Course of Challange Technology) and ASTM (American Standard of Testing Materials) put out by the Industry of Zip-Lines and Challenge courses as well as the Pennsylviania Standard for Amusement Rides. Everything is equipped with double hookups and double redundancy on every trolley and hookup, always ensuring your safety. That way you know we're not messing around, and can have a worry free adventure!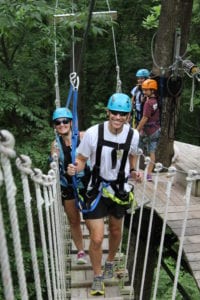 As of spring 2012 we are one of less than 15 zip lines across Pennsylvania that are inspected and approved by the Department of Agriculture. This is out of an estimated hundreds of zip lines across the state; all for the benefit and comfort of our customers.
One thing patrons ask me quite a bit is the reason for the 280 pound weight limit. THIS IS NOT BECAUSE THAT'S ALL THE LINES HOLD. We simply do that because of the physical limitations and the landings on the platform that could cause a hazardous landing to those over that weight.
We do all this to ensure that you will have one of the best zip-line adventures around!
Hope you enjoyed the brief write up.  If you have any other questions, feel free to ask!
Joel Bomberger
Social Media Coordinator, Canopy Tour Instructor
Joel@RefreshingMountain.com
Book Your Canopy Tour online Today!
1-888-353-1490