There are a lot of ziplining facts out there. That's why we've put together the most interesting and exciting ziplining facts to give you an overview of what you can expect if you book your zipline adventure.
Did you know that ziplining has been around for thousands of years? For example, China, India, and Japan have used ropes as a method of transportation since as early as 250 BCs, according to Low Tech Magazine.
During the 1970s and 1980s, scientists used ziplines to get through the dense jungle rather than the slower way of having to chop their way through heavy vegetation. If you watched the 1992 movie Medicine Man with Sean Connery, you would have seen a zipline in action.

We've sprinkled five plus fun ziplining facts throughout this blog post, with more ziplining trivia from around the world.
Is Ziplining Fun?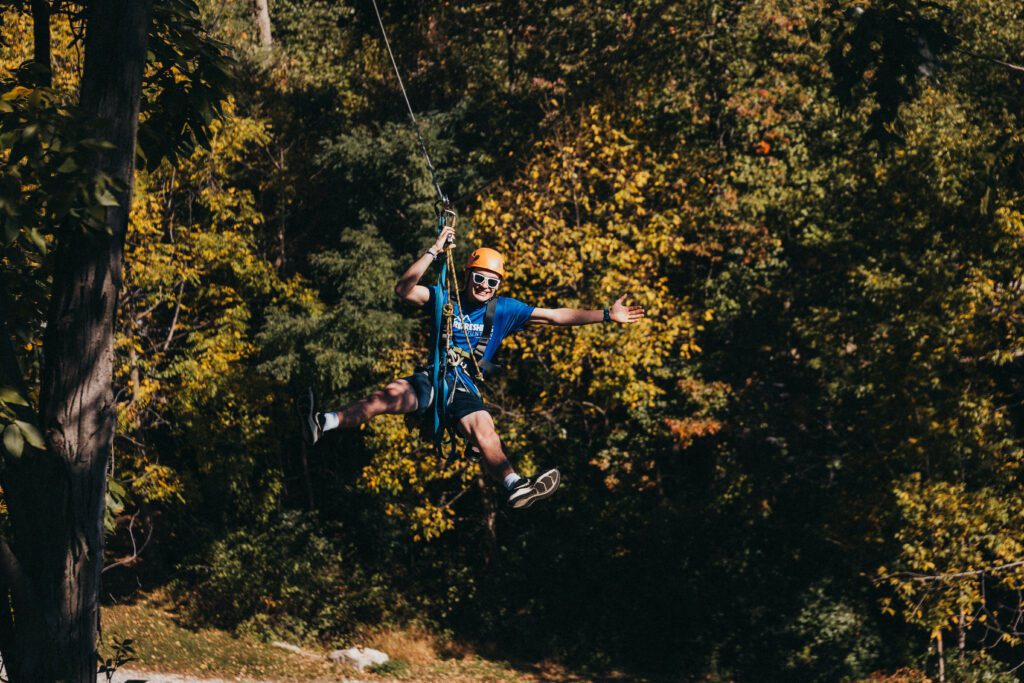 In a word, yes!
Ziplines are fun and exhilarating. Ziplines are also known as aerial rope slides, aerial runways, flying foxes, zip wires, and foefie slides.
Fun Fact 1: According to ABC news, villagers, including this joyful 90-year-old grandmother, use a zipline to cross the Nujiang River in China's Yunnan province.
Fun Fact 2: North Carolinians love ziplining so much that there are 24 commercial zip lines, which boast the most ziplines in one U.S. state.
When you book your appointment for zip line adventures in Lancaster County, you're in for a thrilling ride. Include zip line adventures with your family (especially if you have teens in the house), youth groups, workgroups, and small groups.
You don't need to be superbly fit, and everyone from five years old to 105 can enjoy a zip line experience.
If you love flying through the air with your friends and family taking in nature, the surrounding view, and laughing, then you'll love ziplining.
What Is a Zipline Course?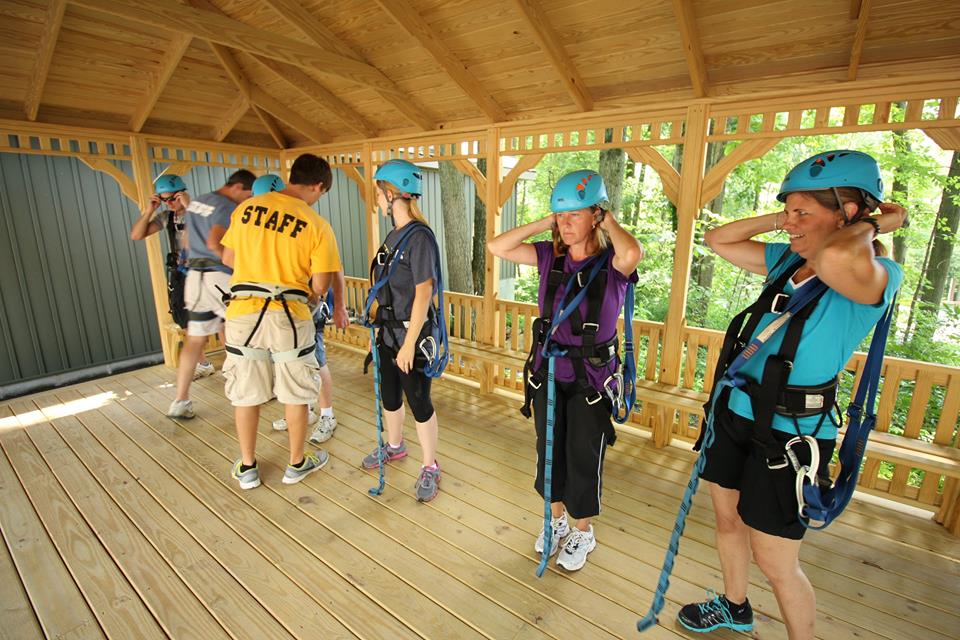 A zipline course consists of air bridges, stairs, platforms, and cables that move you through the air. Our unique zip lines at Refreshing Mountain require walking and climbing a set of stairs to get to the platforms.
Zipline courses vary according to their length and purpose. But all of them are made with sturdy cables, tethers, and harnesses.
Fun Fact 3: Ever thought about riding the longest zipline at 93 mph? If so, you want to visit Jebel Jais Flight in UAE. It boasts a maximum incline of 9,290.94-ft, going over UAE's highest mountain, Jebel Jais.
Fun Fact 4: Did you know that in Bangor, Wales, you lie flat as you fly through the air over a quarry? This zipline, Velocity 2, can go over 100 mph!
Our guides at Refreshing Mountain won't take you over Pennsylvania's highest peak but will lead you through the zipline adventures and stay with you the entire course. The guides will transfer your safety tethers to the ziplines, send you off from a platform, and receive you at the next platform.
You never have to transfer yourself to any platforms since our guides are with you every step. You can be assured that our guides have completed extensive training, including one-on-one training with our training coordinator, who oversees all zipline training.
Zipline Tours at Refreshing Mountain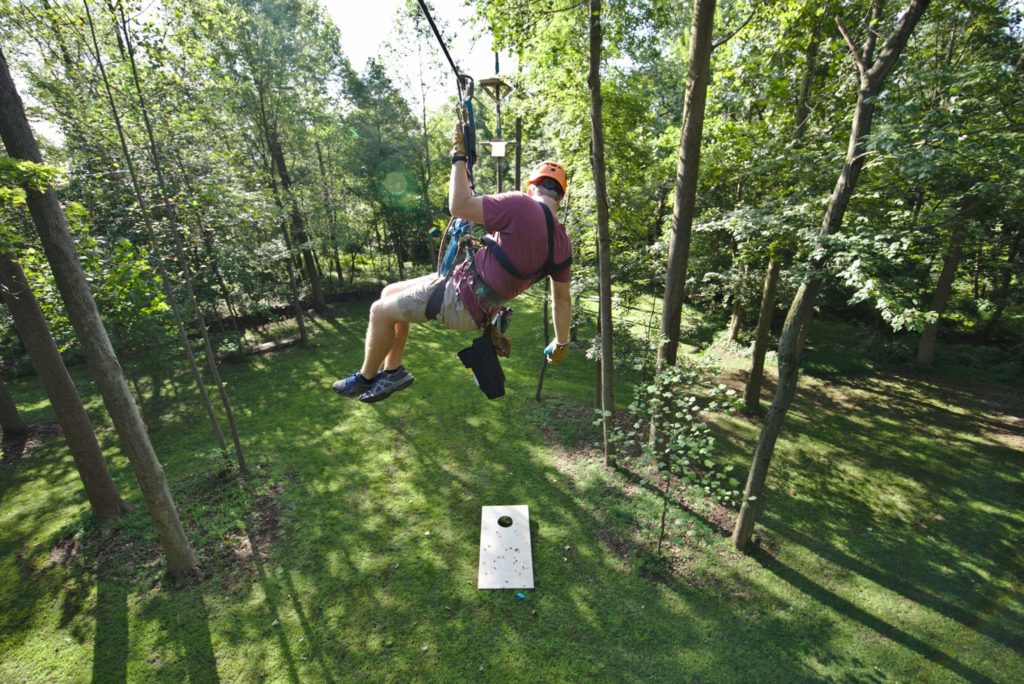 You may think that all you need to do is climb stairs to a platform to fly through the trees to another platform, and so on. At Refreshing Mountain, we like to add extra fun to our zipline courses.
The best ziplines in the U.S. add a twist to their ziplines, making it more than a tour above the trees. Instead, we make it a fantastic experience with bonus features.
Such bonus features include playing fall yard games while zipping through the trees. Are you up to the challenge?
Here are three aerial games that we're offering on our unique ziplines:
Zipline Cornhole Toss, where you throw a bean bag from the air to the cornhole board on the ground.
You'll take the Flying V zipline course, where there'll be giant cornhole boards. You'll drop cornhole bags from the zipline and off the second platform to play.
Along the Flying V zipline course, there'll be giant cornhole boards where you will drop cornhole bags from the zipline and off from the second platform.
Zipline Pumpkin Smash, where you chuck pumpkins from 35 feet in the air. When you choose the Aerial Excursion zip line, you'll have four targets to smash your pumpkins: two from platforms and two from the ziplines.
Zipline Frisbee Toss, is a new zipline game. It's Kan Jam and disc golf in the air! Like regular Kan Jam, you glide through the air and toss frisbees at various targets some 30 feet above the ground!
Fun Fact 5:  You can go from Spain to Portugal on a zipline. It takes you one minute to go from one country and time zone to another. Amazing.
Enjoy One of the Best Forms of Entertainment in Lancaster County, PA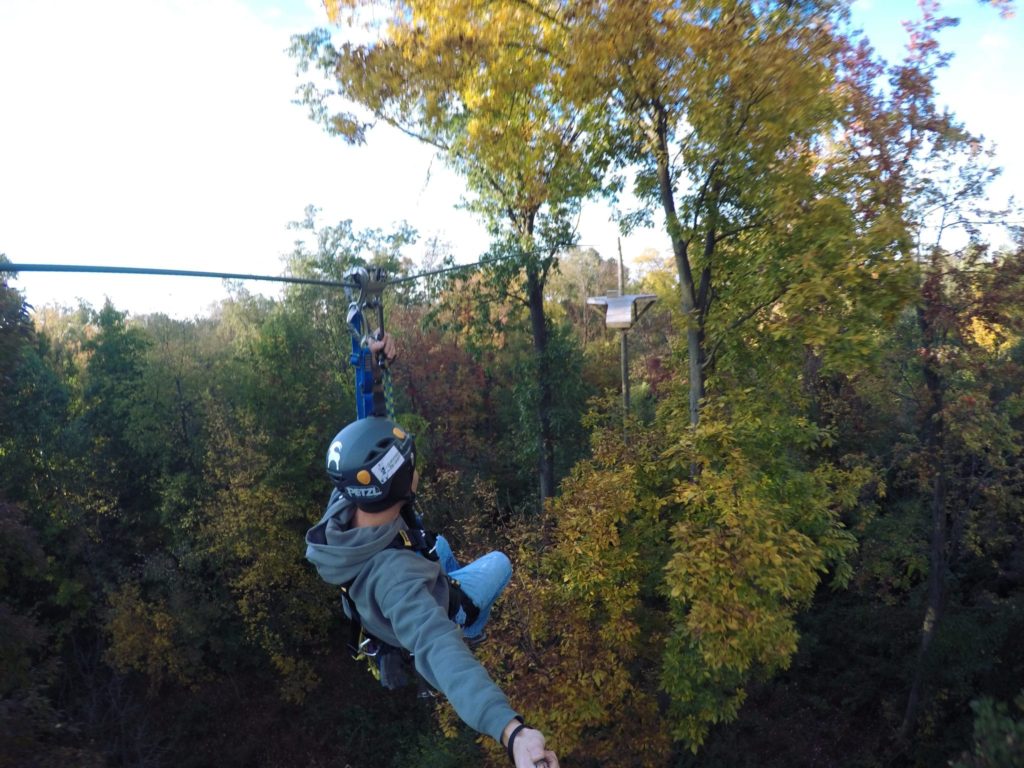 If you're looking for popular activities in Pennsylvania, you need to include a zipline adventure at Refreshing Mountain. Just take a look at this feature as one of Susquehanna Valley's most thrilling adventures.
TripAdvisor lists nearly 200 zipline or canopy tours, and TripAdvisor readers rank Refreshing Mountain as the 2022 Traveler's Choice.
You won't need to lie flat or go 100 mph to enjoy ziplining as they do in Wales or UAE, but you'll want to try one of Pennsylvania's best forms of entertainment! Book your group today for your Refreshing Mountain Zipline Tour.