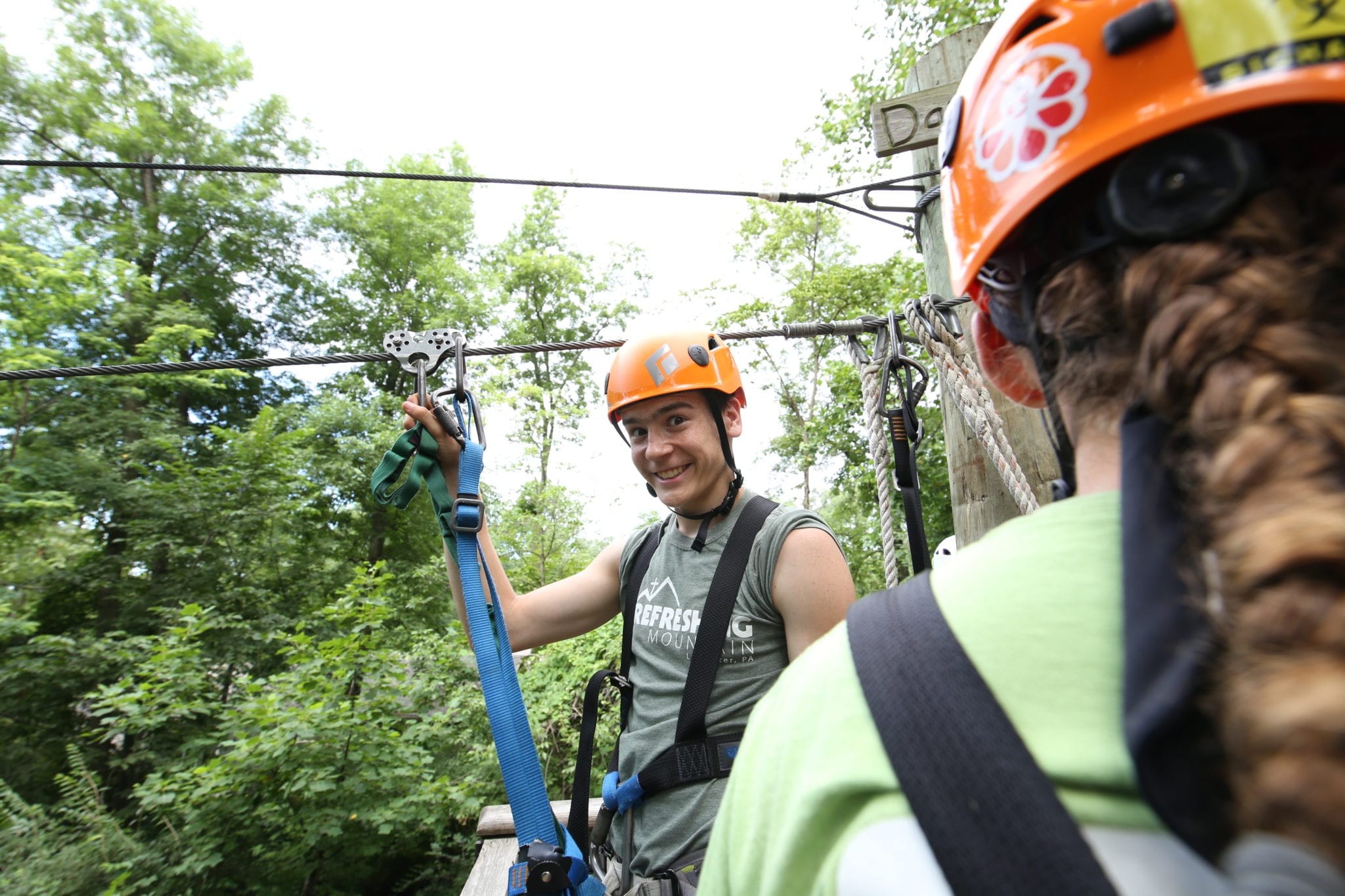 In the office, we are asked a multitude of questions regarding ziplining or other activities on the facility. Here are frequently asked questions with answers provided by the office staff at Refreshing Mountain.
Can we take our infant ziplining?
Nope! You must be at least 5 years-old to go on the Flying V and the Challenge Adventure Tour, and at least 8 years-old to go on the Aerial Excursion.
Which zipline is best for me?
We don't know you personally, and so we don't know what you would like. On top of that, we have had 5-year-olds do wonderfully on the ziplines and obstacle course and 20 year-olds that struggled. And vice-versa. I would recommend reading what each activity includes in detail, then if you have further questions call the office.
Where are you located?
455 Camp Road in Stevens, Pennsylvania! This is in Lancaster County, just outside of Philadelphia and located several hours away from New Jersey, Delaware, and Maryland. If you're coming from further away, we also have cabins you can stay in overnight.
Is there a weight limit?
Yes. The maximum is 280lbs.
Should I bring anything to go ziplining?
Clothes would be appreciated. Also required are closed-toe shoes. Wear weather-appropriate clothing, something you would feel comfortable ziplining in. If you have longer hair, that will need to be pulled back. Other than that, you're pretty much good to go. Regarding smaller items, the staff members have a place you can store those while you are ziplining, and there will be water on several of the platforms for guests.
Will I be in tandem with my child?
You will be harnessed in individually, so no. Your child will also be in their own harness. If in any emergency they need to be in tandem, our staff members will be the ones in tandem with the children.
My 4-year-old is tall and/or mature for their age. Can they go?
Nope! They still must be at least 5 years old.
What if I get up to the zipline and realize I can't do it?
Our guides are great at making you feel comfortable and have a "high success" rate when it comes to helping people overcome their fear. If you are unable to take we will help you get down safely, but note we do not offer refunds, so we do hope you challenge yourself. The first step is always the most difficult.
Can I zipline even though I am injured?
We recommend going to a doctor to ask that question. If you have any broken bones or something of similar nature, then the answer would be no. Although we have people of all physiques come to our facility for activities, there is a physical aspect to ziplining that we hope you would be at your best to do.
What is your cancellation policy?
For any of the activities we offer, you have up to 3 days before your activity to change your reservation or to cancel it. Within that 3-day time we will not offer refunds. If you are asking about a cabin reservation, we would need 14 days in advance for you to receive the full refund. The 3–13-day period before your cabin, your deposit will not be refunded. Within 3 days we will charge the full amount for the cabin.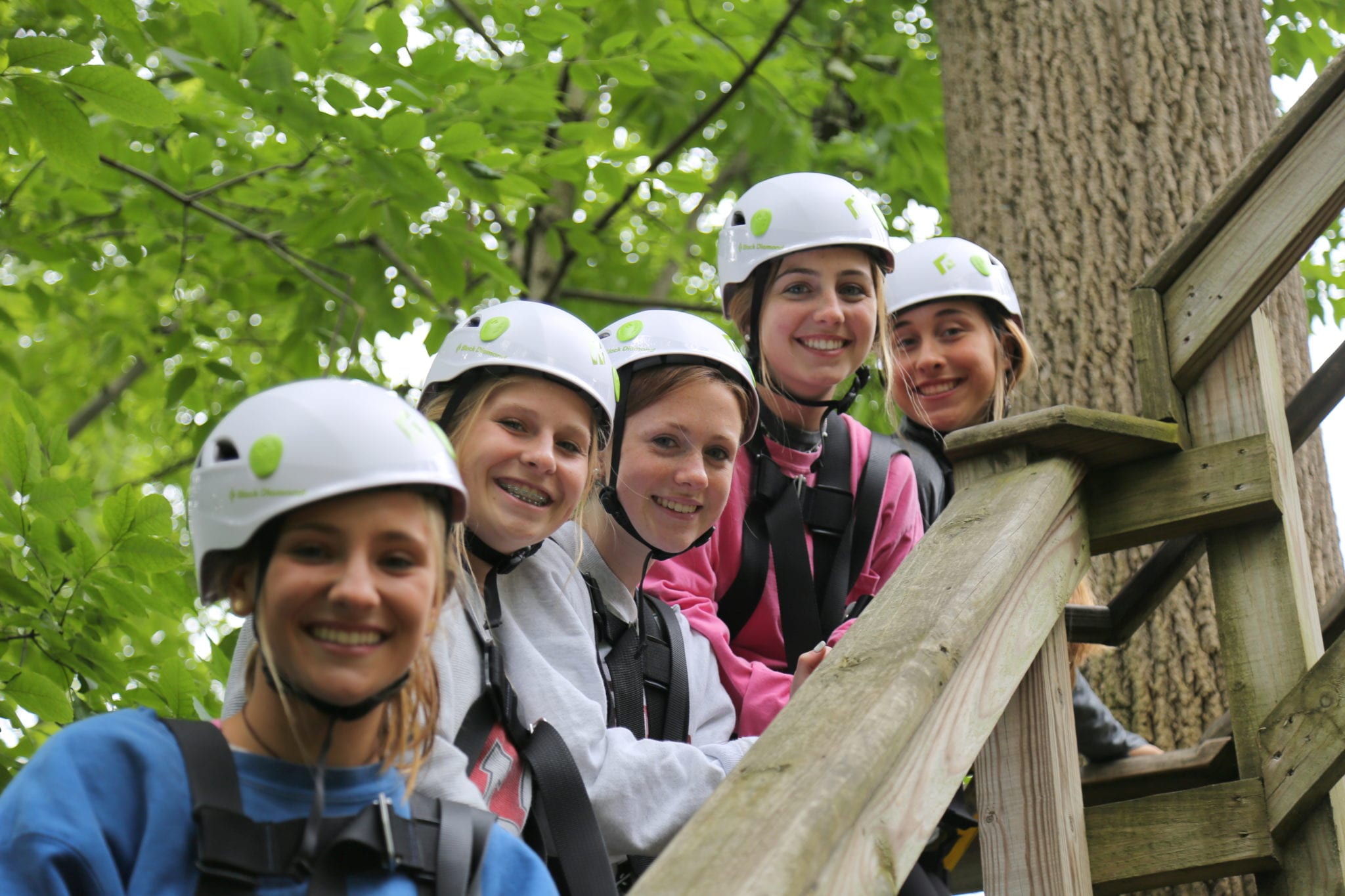 What is your weather policy?
Technically, all our activities are rain or shine. However, if our staff members don't believe it will be safe to run the activities (especially with thunderstorms, high winds, too low of temperatures), we will notify you in advance. If you don't hear from us—no news is good news!
When are you open throughout the year?
We are open year-round! As long as we can run activities safely in the weather, they will be happening spring, summer, fall, and winter!
Is ziplining the only activity you guys offer?
We have a multitude of activities to choose from, including ziplining, our climbing tower, escape rooms, hiking trails, and more! We even offer private horse riding lessons.
Are there restaurants to go to in the area, or are you in the middle of nowhere?
We have our own dining hall and café, check with us on hours. Otherwise, there are multiple restaurants 10-30 minutes from Refreshing Mountain. If you would like, we can offer a food map upon arrival to our office. Typically, I recommend Fox Meadows to anyone who asks me where to eat. They make their own ice cream!
Is ziplining dangerous?
As an adventure based activity, ziplining is inherently risky. Although so is driving, so are sports, and so are many other things we do in life. 😊 Safety is our number one priority so we take precautions to enter this risk responsibly. For example, all of our staff members go through intensive training before they are considered "zipline guides", as well as ongoing training throughout their employment. We have daily, weekly, monthly, and yearly inspections on our equipment by staff, third parties, and state officials respectively.  Please listen to your tour guide while ziplining, especially when it comes to safety and equipment. Doing this will help to ensure a fun and enjoyable experience.
We will make every effort to mitigate the risks of this experience for our guests, but we cannot "guarantee" safety.  As such, we do require that each participant sign a waiver before the experience acknowledging the risks, but also anticipating the rewards.  We also rely on our guests to take part in keeping themselves safe.  Following instructions, using "common sense", asking questions if there is something you don't understand, and helping our guides keep an eye out for anything unexpected as you go thru the course, are all ways that you can participate in mitigating the risks and creating a wonderful memory for all involved.
Those are 15 questions frequently asked by customers. If you have a question that wasn't answered here, give us a call! Our office staff will be happy to answer any and all questions you have to make sure you have the best experience possible at Refreshing Mountain.