Are you ready for your first-time zipline experience? Ziplining is a wonderful way to enjoy the great outdoors, take in beautiful views, and get an exhilarating jolt of energy. If you've never been before, it's not too late to try it! It's fun for all ages and experience levels, and with its popularity at many adventure centers, vacation spots, and retreats, the opportunity to try ziplining may be closer than you think.
For those in the Central Pennsylvania area, we invite you to try ziplining at Refreshing Mountain! Grab your friends, book your adventure, and get to ziplining soon!
But before you sign up, check out these 7 tips for zipline beginners and those who need a refresher. These tips are helpful for anyone who plans on soaring through the trees and enjoying the adventure of ziplining.  Families, adventurers, and couples can enjoy a thrilling experience the next time they zipline with the proper preparation and safety precautions.
7 Tips for First Time Ziplining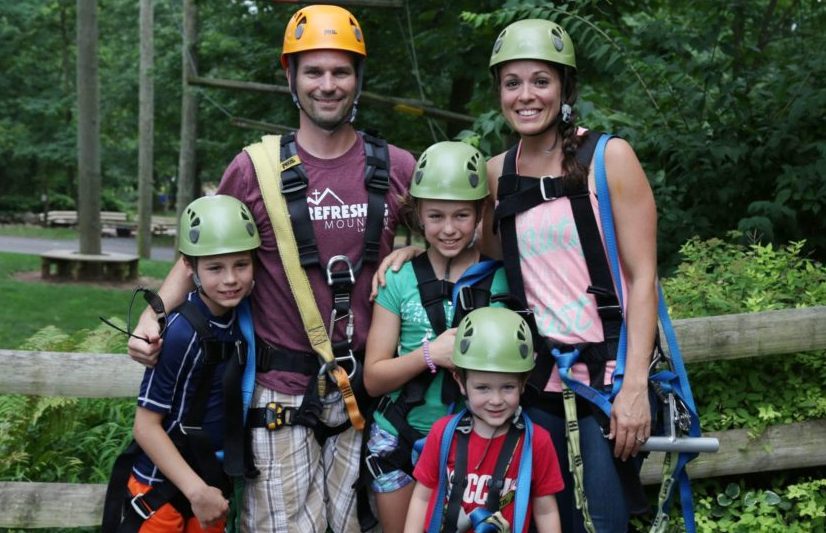 1. Dress For The Park
While zip lining doesn't require a particular dress code, some clothing choices make it easier to zipline than others.  Closed-toed shoes are a must when zipping through the trees, otherwise, flip-flops would fly off into the forest. Athletic shoes, boots, or other closed-toe shoes are ideal for any adventurous activity. Hats should also be left at home, as all participants must wear a helmet when going down the zipline course. 
Ensure that anything you wear is also firmly secured to you and won't fly off in the air.
You may also want to consider the weather when planning your outfit for your zipline adventure. Guests often wear comfortable clothing, jeans, sweatshirts, and other easy-to-move-in clothing.
2. Remember that People of Almost Any Age and Skill Level Can Zipline
Ziplining is inclusive for individuals and groups of most ages and any skill level. You don't need training or particular athletic ability to strap up and enjoy the ride. Don't let the fear of not being able to zip line keep you from trying it. Instructors walk you through all of the information you need to know, and for the rest of the activity, you can simply kick back and enjoy.
Whether you're planning to zipline with your grandchildren or haven't done any physical activity recently, ziplining is still fun.
3. Guides Are There Every Step Of The Way
The guides and instructors at any zipline course are there to help you ease any concerns or questions you may have. If you have a question, chances are, someone else is wondering the same thing. After all, it's the guides' job to assist you and make sure you're comfortable and confident before taking off. So ask the instructors for support or guidance where you need it, and listen closely to any instruction they give you.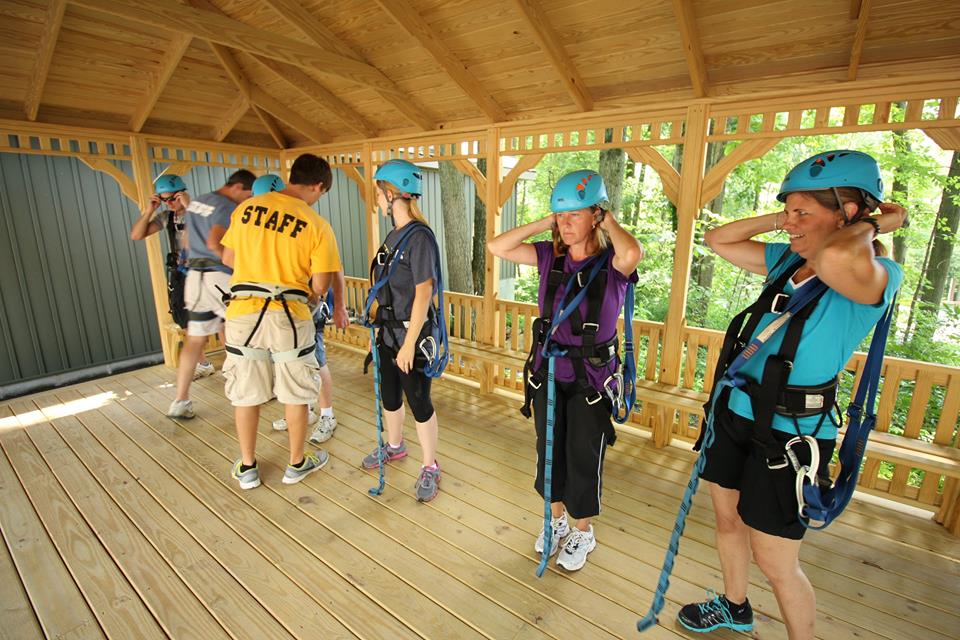 4. Empty Your Pockets
Much like your clothing, you don't want things flying out of your pockets as you rush down the zip line. We recommend you avoid bringing any unnecessary items to the course and leave expensive gadgets or technology at home.
5. Listen Closely To Your Guides
While the guides are there to answer your questions, they also share important information with you. Listen carefully to their instructions and procedures. The guide's job is to ensure that you have a safe and fun experience, but understanding how to use the course and what to do is up to you.
The guide may give you instructions on places to wait for the group, specific procedures to follow, and other important information you'll need to know after starting your zipline. Listen closely and ask questions if anything is unclear.
6. Don't Take Selfies
While selfies and photos can be fun, it's essential to focus on what you're doing in flight to ensure a fun and safe experience. Concentration is key, so we try to eliminate distractions for all guests. Our safety regulation recommends leaving your phones behind or storing them in a closed pocket somewhere on your body. 
The views are beautiful – so enjoy them in the present moment and leave the cameras for another time. If you want to record your experience, we recommend our camera rentals which are hands-free and are secured to your helmet. Ask our guides when checking in about adding a camera rental to your tour!
7. Enjoy the Experience
At Refreshing Mountain, we do everything to ensure all participants have a fun and enjoyable outdoor experience. Ziplining is a unique experience, unlike many other adventure activities, and we love seeing first-timers' faces light up when they reach the bottom of the course. We hope that when you finish your zipline, your response to friends and family is, "let's go again!"
Have Other Questions?
With these 7 tips, you'll be cruising down your next zip-line course like a pro. But if you still have other questions, our team is here to help. Check out some of our frequently asked questions and learn more about ziplining at Refreshing Mountain. 
Learn more about zip lining adventures here!
See what people are saying about Ziplining at Refreshing Mountain >>