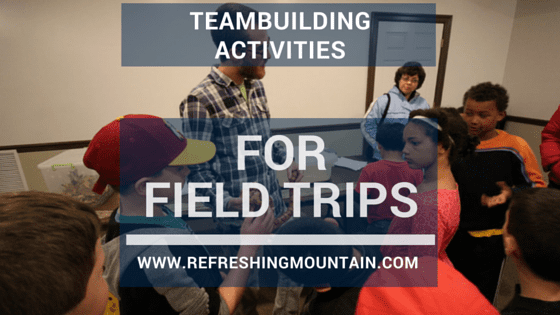 For an exhilarating, unique, and successful way to supplement your traditional indoor classroom activities with a completely-different curriculum that includes team building activities and encourages independent decision-making (all while in the great outdoors) consider a school field trip to Refreshing Mountain. Refreshing Mountain is a retreat and outdoor adventure center with an 80-acre property in Lancaster, Pennsylvania. Refreshing Mountain offers you:
the ability to create your own activity-filled day,
a diverse list of activities from which to choose,
well trained staff who are great working with children,
pristine facilities,
and a picturesque landscape
to create a memorable experience through team building activities that will enhance and inspire the lives of your students and colleagues for years to come.
This video provides a look at a few of the many activities that are available not only in some of the packages offered at Refreshing Mountain and read below for more info about some of our individual activities and package.  We offer a number of package options and can work with your organization to come up with a custom package to fit your age group, educational goals and budget!
Nature Programs
With a purposefully-designed space to most effectively present their Nature Studies Program, your students will learn about nature while having a lot of fun interacting with animals and nature under the careful guidance of our knowledgable guides.   We have several different nature programs available and can work with you to put together a fun and educational package for your group.
Scavenger Hunt & Field Games
Although everyone loves a scavenger hunt and spending an afternoon in team building activities that enable you to run around playing games in a field, Refreshing Mountain has set up these activities to include students in Kindergarten through 3rd grade. Since they're too young and too small to explore some of the more physically-challenging programs, a scavenger hunt and/or field games still give them the opportunity to participate in team building activities.
Private Pool Party
Not every child has a private pool at home or the ability spend the day at their community pool, Refreshing Mountain understands that and offers a package that enables youngsters (and students of all ages) to have the opportunity to splash and play comfortably in a pool where they know everyone else in the pool! You can rent the pool for just your group of school children in the evenings from 7PM-9PM or 9PM-11PM and in the mornings from 9AM-11AM, each day (except Sundays). You can also rent the Pavilion with the pool so that your students can have a nice place to relax, play board games, and snack on munchies!
Ziplining
Since it's not possible to coordinate a fun and efficient group ziplining experience when there's lots of students waiting to experience the thrill of the activity, Refreshing Mountain offers single ziplining adventures!
Climbing Tower
Part of team building activities includes cheering for your peers! For students who are at least in the 4th grade, there's an awesome climbing tower to enjoy!
Archery
Even for the  youngest kids, Refreshing Mountain has created the opportunity for safe and fun archery activities! While the goals may differ per age, the fun is the same!
Paintball Obstacle Course
What kid doesn't love paintball? Of all the team building activities at Refreshing Mountain, this is most assuredly one of the top favorites for everyone! Combine this paintball experience with a course designed specifically for a full-out paintball adventure, and you've just created a ride home filled with stories of how students skillfully dodged those paintballs!
Affordable Team Building Activities
Refreshing Mountain has a number of pre-set team building activities packages that range from $7 to $35 per person. Each of our activities are designed to work best with groups of 10-20 people, but with rotations facilitated by our experienced guides, we create half day and all day packages that are packed with fun and variety for any age group.  Typical team building events include a high rope course, zipline tours, archery, target shooting and a climbing tower. Refreshing Mountain even has an online planning tool where you can pick and choose your events to match the personality and athleticism of your students.
If you've about reached your limit dealing with a group of students who can't seem to go five minutes without texting, eating, sleeping, or making noise, perhaps it's time to seriously consider the fun team building activities! Offering your young charges a chance to blow off some steam while developing diverse skills through team building activities as they bond with their fellow students and teachers is an experience they will appreciate and remember long after they've graduated from school.
Check out our package options »