Lancaster County, located in Southern Pennsylvania, is well known for the tourist attractions the county has to offer. Whether it's ziplining or touring the Amish communities, there are a lot of family and kid-friendly options for you to enjoy. See the list below of some of Refreshing Mountain's top recommendations for events and tourist sites in the area, and click on the links to explore more.
Refreshing Mountain is one of the most adventure-filled and exciting places in Lancaster County. Located in northern Lancaster, this adventure park is full of outdoor (and indoor) adventures like ziplines, ropes courses, a swimming pool, and also 3 escape rooms that are all kid-friendly. This is a Christian-based retreat center where we host people coming in for the day or even overnight.
You can stay with a group, individually, or with your family overnight in one of our welcoming cabins or hotel-styled lodges. We are open year-round, with seasonal adventures, and the prices vary depending on which activities or properties you are booking with us. Reservations are also recommended before arrival so that we have the space to include you in one of our many adventures! You can book any activity directly on our website.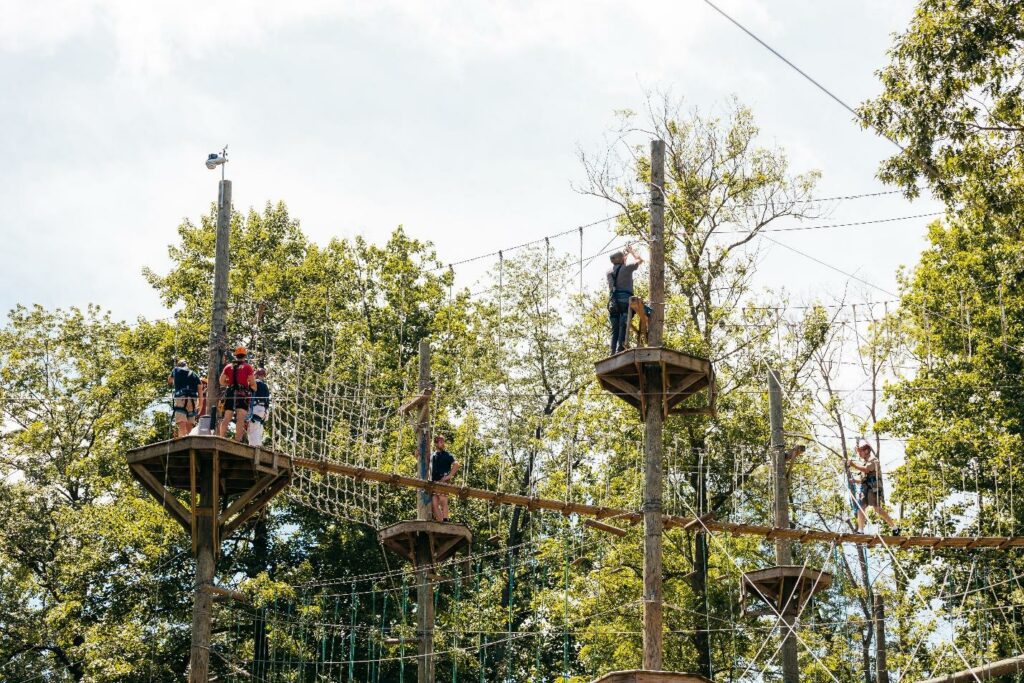 Amish Farm and House offers a variety of Amish-styled tours and activities for kids to enjoy. Whether it's goat yoga or the scooter run, have fun learning about local Lancaster history and culture through the Amish. Some of the additional activities for kids include the Amish Schoolhouse tour, buggy rides, animals, artisans, and the corn maze.
Prices vary depending on the events and tours you book, and there are many activities that happen depending on the season or time of year you plan to visit. The tours, you'll realize, are unscripted, and the guides love to conversate and teach you about the culture of the Amish.
Providing fun and adventure for over 60 years, Dutch Wonderland delivers a whole day of excitement at its amusement park! They have over 20 rides for kids and families to enjoy. Be sure to look at some of the shows they offer, including dive shows where the characters in the stories dive into a large pool of water during the theatrics. Dutch Wonderland also offers many dining options on-site.
Getting tickets ahead of time is highly recommended, and many season passes also provide a discount for activities. Tickets for large groups (groups of 29-99 or 100+) are available to book and come at a discounted rate. You can also view their calendar for updates and park hours when your family can visit this adventure park. 
Hands-On House Children's Museum is a favorite for locals in the Lancaster County Area. They have provided hands-on fun for multiple decades, and the board members have worked hard to improve indoor and outdoor exhibits. The hands-on experiences include many activities for STEM education, arts, and social skills for children.
The children's museum offers a variety of camps, classes, events, and party rentals for fun all day long! Some events they host include 5K runs, Art Studio classes, storytelling, and more. All pricing and weekly hours (including their holiday hours) are available on the website. Advance registration is recommended, but you will end up paying upon arrival. They also offer annual memberships if you want to visit Hands-On House regularly. If you have a large group, there is discounted price during the weekdays.
Another museum perfect for hands-on interaction is the North Museum of Nature and Science. This museum offers more STEM programs and has a Live Animal Room for kids who love to learn about nature and animals. For kids excited to learn about astronomy, there is also a Planetarium to explore the stars and planets in our galaxy and beyond. The STEM programs offered are for various young ages, including a career fair, preschool programs, STEM Sisters, and STEM workshops.
You can find hours on their calendar or plan a group visit. Typical hours are from 10 am – 3 pm from Wednesday to Sunday, and Monday and Tuesday are usually closed days. They are located on College Avenue in Lancaster City. Admission is the same for adults and youth (3 – 17 years old), or you can buy a membership.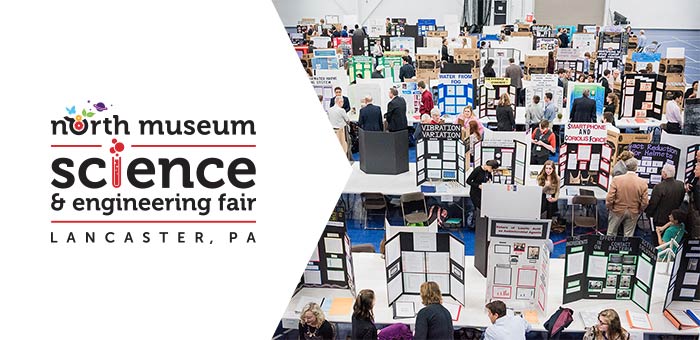 Located on New Holland Pike, the Lancaster Science Factory offers a variety of field trips, camps, programs, and outreach activities for the whole family to enjoy! The recommended ages for this factory are Pre-K to 8th grade, and is open year-round. You can also download activity guides and scavenger hunts throughout the museum.
Tickets are $12 for admission, and there is no advance registration. If you are a larger group looking to book in advance, check out the website for more information on how that would work. Food is not allowed inside the Science Factory, but there are multiple places to eat within walking distance of this location. Current summer hours are 10 am – 5 pm from Monday to Saturday, and Sundays are open from 12 pm – 5 pm.
The National Toy Train Museum is located in Strasburg, PA, where many other well-known tourist sites in Lancaster (including the Strasburg Railroad) are listed below). This is a great place to visit for their museum, library, and youth clubs. The youth clubs are for under 13 and 13-18 years. Hours run from April to December each year, from 10 am to 5 pm, 7 days a week.
Rates vary depending on participants coming into the museum, and there are also family passes at a lower rate. You can visit their website for more about their shop, publications, and the model and toy trains that can be found at the museum. 
In the heart of the county, Lancaster County Central Park provides a multitude of park-day fun for the whole family. From the pool to the Garden of Five Sense, take time to discover what the park offers. The county park also includes a skate park, rental garden plots, hiking trails, camping, an environmental center, a library, and more!
The park is open year-round and includes free programs you can join in on. During the summer, the pool hours range from noon to 7 pm from Monday – Saturday and on Sundays from 1 -7 pm with a fee of $9.
See more creative outings to take the kids to in Lancaster County, PA >>
The Strasburg Railroad has a variety of fun excursions for the whole family to join in on! With historic railroad experiences, join a train ride through the Pennsylvania countryside. They also have live shows available on the carts or even an escape room to test your problem-solving skills! For younger children, there is even a Thomas the Train experience where they can ride their beloved train.
Prices and availability vary depending on what you're looking to book, so make sure to reserve ahead of time on their website. The Strasburg Railroad also has a Café and a general store. You can look at the rest of their offerings, including a virtual tour, directly on their website.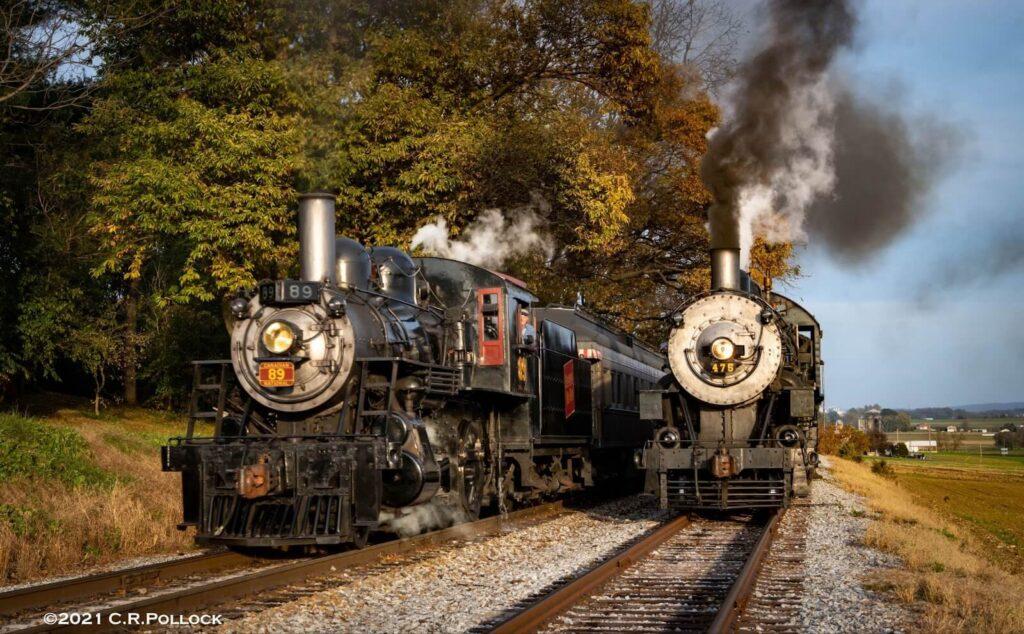 The Lancaster Farmers Market has been around since 1730 and has been popular ever since then! With over 60 local vendors, there are plenty of places to shop with your family. Central Market is located in Lancaster City. The market has its own parking, or you can park in various garages throughout the city. People visit the market for their weekly groceries, and others visit for delicious tourist attractions, including donuts, fresh fruits and vegetables, Amish delicates, flowers, juices, and more!
Admission is free to enter, and all ages are welcome (children should, of course, stay with adults). Because of its central location, any entrances/exits can take you to many of the local markets and stores in Lancaster City, including many popular vendors on Queen Street and Prince Street.
Start Creating Lasting Memories with Your Kids
Overall, Lancaster County, PA, offers a great variety of attractions to visit. Whether you are in for an adventure or want something more relaxing, you can find it here! Take a chance on some thrilling ziplines at Refreshing Mountain, or discover some of the fun hiking trails in the heart of Lancaster City. Whatever you find, it will be great!
If you want a great getaway in Lancaster, explore our cabin rentals for the whole family to enjoy.