Lancaster County has become a popular tourist destination over the past decade, with a variety of family-friendly locations to explore. And to those that call Lancaster County their home, there's more to discover than ever! Whether you're looking for fun outdoor activities or an indoor educational experience, there are plenty of things to do with kids in Lancaster, PA. 
If you and your family are looking for things to do that are fun and are also educational, check out these family-friendly attractions.
Exploring the Nature of Lancaster County
Located in the center of the county, Lancaster County Central Park has a variety of activities for you and your family to enjoy! From hiking trails to swimming in the pool, this park is open from dawn to dusk all year. Find out about the history of the park (including information about the Native Americans that once lived in the location of the park) at the Environmental Center. They offer many outdoor education programs to explore! 
This park is great for all ages, especially families, with all they can venture through. Reservations are not required to join in on the fun but be sure to explore some of the seminars they may hold inside the park depending on the date and season.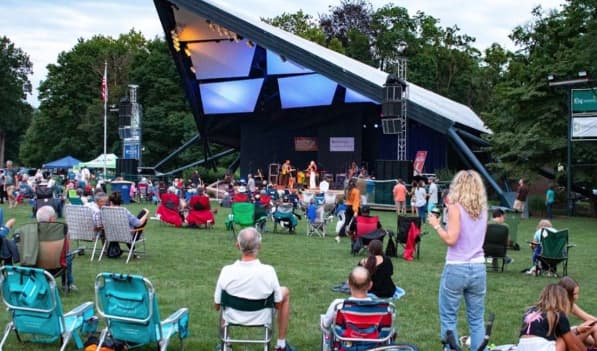 If you're from southern Pennsylvania, chances are you have heard of Long's Park and its outdoor Amphitheater! The park hosts a variety of concerts, including concerts that are fun and enticing for children to go to as well. This is located right off Harrisburg Pike, US-30, in Lancaster, PA.
Not only are there a wide variety of concerts for you to enjoy, but if you take some time to explore the park, there's a playground and other fun attractions for children. There is also a petting zoo open to the public! Since it is more outdoors, Long's Park is typically open from May through Labor Day.
Middle Creek Wildlife has 6,000 acres to explore! The center hosts a variety of fauna and flora local to the Lancaster Area and offers over 20 miles of hiking trails. They also have an Environmental/Visitor's Center that is open Tuesday-Sunday. This is a great place to take kids for a field trip and learn about the depth of Pennsylvania's wildlife.
Middle Creek is known for being one of the Globally Important Bird Areas in PA and is well known for the snow geese that migrate through Middle Creek in February and March! This makes the Middle Creek Wildlife Center a great area to explore throughout the year, with lots to do!
Amusement and Adventure
Located just outside of Lancaster is the Sweetest Place on Earth! Hershey is not only home to Chocolate World but also to the famous Hersheypark! Enjoy a variety of rollercoasters, shows, a waterpark, dining, and games throughout the day. If you're visiting the area, going to Hersheypark is a must-do, especially in the summertime. The amusement park is also in the process of adding a new hybrid roller coaster for visitors to enjoy that will be coming this summer!
If rides aren't necessarily your cup of tea, explore ZooAmerica, the Boardwalk (a waterpark), and Hershey's Chocolate Town while you're in the amusement park. The park's main hours happen from spring through early fall, so when making your summer plans reserve tickets ahead of time. Depending on the rides you are looking to participate in, height may determine which coasters you and your family can ride. Learn more about the rides and the whole facility on the Hersheypark website.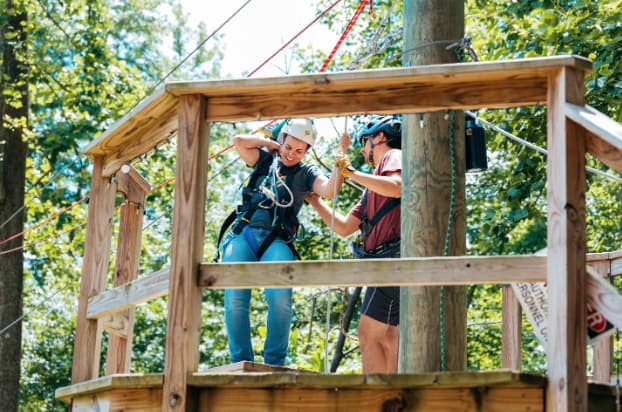 Refreshing people since 1983, come and explore a variety of adventures offered at Refreshing Mountain! With lots of outdoor (and indoor) fun, take advantage of our zipline packages provided throughout the year, including at Christmastime. If you are looking to host a retreat for your church, school, or business group, this is the place to take them! We offer a variety of lodging and meal plans for your group.
Refreshing Mountain is located in Stevens, PA, about a 10-minute drive from Ephrata and a 20-30-minute (depending on traffic) from Lititz. We're also located about 5 minutes away from the famous Fox Meadows!
Some of the other activities can be found in our new Ascent and Basecamp packages. These include 6-7 activities like our Elevated Obstacle Course, Wildlife Center, Farm Animals, Sling Shots, Pedal Carts, and Climbing Tower! For ages 13+, try out our new Axe Throwing lanes that are also outdoors.
Wanting to be inside, or is the weather not cooperating? We also have three escape rooms, ranging from easy to hard levels of difficulty. If you want to stay overnight after some outdoor fun with your kids, rent out one of our cabins or hotel-style lodges.
This amusement park is another of Lancaster's top activities for the whole family. With year-round seasonal experiences, make this one of your family's destinations on your next trip to Lancaster. Dutch Wonderland offers season passes or tickets for just the day. This resort also has attractions like rides, an in-park train, shows, and dining. 
You can plan your family's visit directly on their website, where you can also learn more about seasonal events or the best days to bring your kids to Dutch Wonderland. It's located on East Lincoln Highway, less than 10 minutes from the Sight & Sound Theatre.
Museums
Science Factory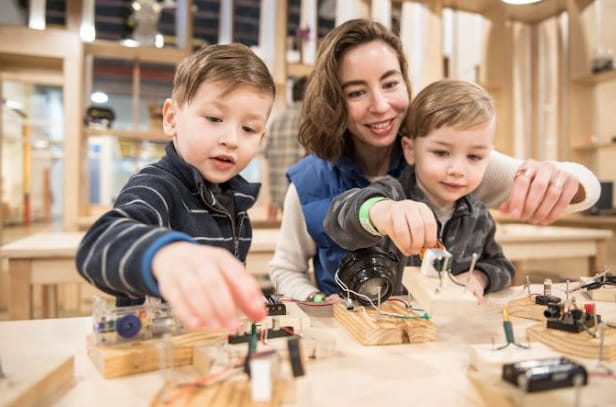 The Lancaster Science Factory is full of wonderful experiments and exhibits for you and your family to be immersed in. This educational experience brings out the fun parts of science as you explore different scientific topics like STEM, chemistry, conservancy, and more! They also offer a variety of STEM classes for your kids to participate in.
If you want to bring a group, you also can have access to fun experiences like staying overnight at the Science Factory, field trips, and team building. You can purchase admission tickets directly on-site, so look at the factory hours before heading to the Science Factory. The Science Factory is located right inside Lancaster City. 
This is another great museum for your science-loving kids. Nature is the focus which gives a world of exhibits to explore, and some that are out of this world, too! They have many rooms to explore, including their Live Animal Room and Planetarium. They also have STEM programs for school groups or individual children from preschool until the beginning of high school.
North Museum offers some great events, too! They range from Astronomy Days to their "PreSchool Picassos" to "Little Explorer and Me." All offerings they have you can find directly on their website. They also have a gift shop where you can buy fun experiments after your visit, or you can order online as well. North Museum is located inside Franklin & Marshall College, which is found in Lancaster City.
Trains
Strasburg Railroad
If you and your family are fans of trains, you need to take a look at Strasburg Railroad. These train rides offer a variety of unique events that take place on the classic locomotives. The events can include escape rooms, shows, and even live music! Most events are kid-friendly, and the escape room is great for ages 10+. 
The railroad is open throughout the year, and even events take place during Christmastime for the whole family to enjoy! You can reserve for yourself or a whole group of people ahead of time. There is also a café and a gift shop you can purchase from while on the train. Strasburg Railroad can be found in Ronks, PA, which is in Strasburg.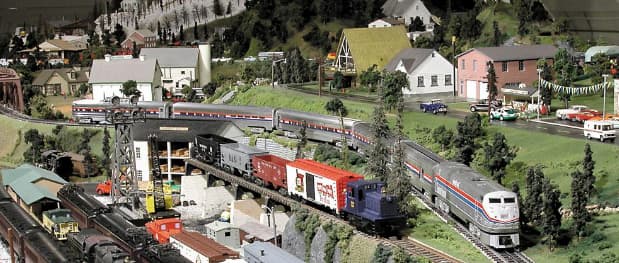 The Choo Choo Barn reveals a whole barn full of model trains! With multiple moving parts, explore the interactive train set that includes a variety of scenes like various railroads, circuses, Dutch Wonderland, fire stations, and more. The size of this is over 17,000 square feet! You will also get the chance to learn about the power of animation and Claymation.
Prices for tickets vary depending on the age of the participants. This is a great event that is open throughout most of the year. Just be sure to explore the Choo Choo Barn website, which shows what available looks like.
Start Creating Lasting Memories with Your Kids
Whether it's the adventure of the summer, or exploring and understanding the world in unique ways in museums, on trains, or in nature, take time this summer to create lasting memories with your kids and other family members. If it's spring, winter, or fall, bring your school groups together at Refreshing Mountain for a day of fun outside the classroom. We provide an educational experience for children they will never forget!