If you're the one who has been designated as the official organizer of your family's annual reunion this year, consider planning a truly memorable family retreat, nontraditional, and quite different from your previous retreats where you held a picnic at the park or secured some rental space at your local community center.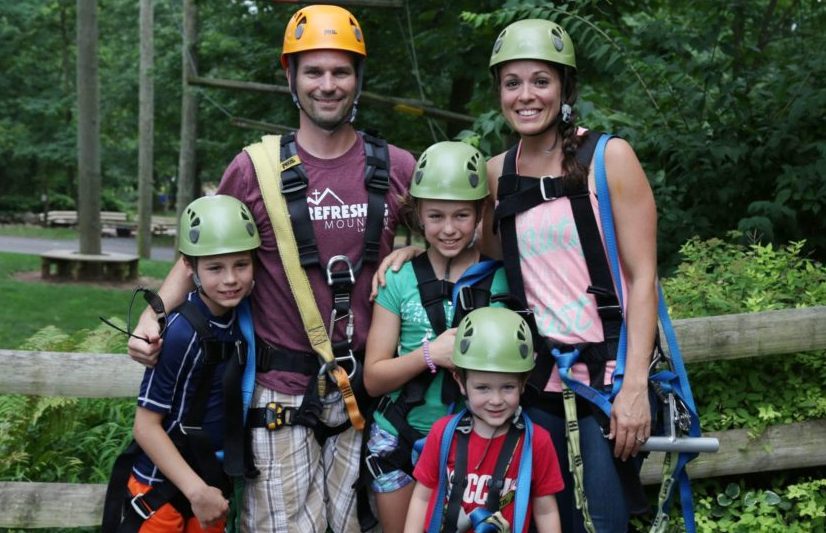 Plan a love-and-laughter-filled family retreat participating in organized activities with your loved ones and playing in the treetops of Lancaster County, Pennsylvania. Refreshing Mountain offers tons of customizable activities suitable for everyone in your entire family. From ziplining through the canopies and finishing a challenging obstacle course to taking a relaxing swim, Refreshing Mountain has the facilities and trained staff to provide an unforgettable multi-generational family retreat in a truly peaceful, calming idyllic setting.
1. Come for the Day, Stay for the Weekend
With cabin rentals and full meal facilities, Refreshing Mountain has everything you need to have a comfortable and safe outing that's fun for the entire family, even one that covers several generations. Situated on 80 acres of the most beautiful treed countryside in Pennsylvania, facilities include outdoor athletic fields, gymnasiums, a swimming pool, sports courts, and a wide variety of skill events including archery, paintball, and target shooting. Cabins sleep up to eight people and include air conditioning, private bedrooms, a bath, and even Wi-Fi access. For larger family groups, there are a total of 13 cabins available and there are bunkhouse and hotel-style lodge room options available as well. Refreshing Mountain is situated close to the cities of Lancaster and Hershey, providing plenty of opportunities to explore other fun options in the area. Rates include meals, lodging, use of meeting rooms, and all recreational facilities.
2. Make Your Retreat Activities as Challenging as You Want
One of the best things about a large family retreat at Refreshing Mountain is your ability to work with a well-trained staff to choose fun events that fit your family's lifestyle. If your brood is filled with athletes, you might want to try the high adventure activities which include ziplining, a high rope course, giant swing, climbing tower, and more. You can also choose events that challenge mental acuity and physical skills.
3. Want a Competitive Family Retreat? Try Teambuilding
If you have one of those families that just love to compete, consider including some teambuilding activities in your family retreat package. Get your kids to put down the smartphones for a day and work together to solve puzzling mental and physical challenges. You may meet with some resistance at first, but once everyone has the thrill of working together to meet a common goal, you'll experience the joy of seeing your family come together in a loving, supportive environment. The bonds you create through a family teambuilding exercise will last long after your family retreat is over.
4. Four Different Packages Offer Tons of Fun
Refreshing Mountain has four different standard event packages for smaller groups that require different levels of fitness.
The Challenge Adventure Course includes nine high ropes and five zipline tours to work your way through the entire event.
Aerial Excursion is Refreshing Mountain's premier ziplining tour with long and fast rides that provide remarkable views of the entire countryside. Rappel down a 40-foot rope at the end of the tour to complete the experience.
The Outdoor Exploration Package has less climbing but does include long sessions on the archery and slingshot ranges.
For those who enjoy a more leisurely outdoor experience, the Nature Discovery Package revolves around an interactive nature exhibit, treasure hunt and archery target shooting.
Although these are standard packages, feel free to work with the Refreshing Mountain staff to create your own custom experience.
5. Wondrous Memory-making
The staff at Refreshing Mountain is very experienced at welcoming large multi-generational families that may get together only once a year. The goal of each staff member is to create a unique and exciting experience that will resonate with every family member for years to come. One of the best times of all comes at the end of the day when you all gather around one of nine campfire sites and share your experiences from the day. The crackling of the fire is only outdone by the laughing and storytelling of a family that has truly experienced life as it was meant to be lived.
Contact our team today, and start planning your next exciting family adventure!