"I'm zipping in the rain, zipping In the rain; what a gloooorious feeling, I'm happy again! "
Rainy days are usually not anybody's favorites, rain ruins plans, inconveniences people and the lack of sun often creates a gloomy mood.
Rainy days are certainly no small opponent here at Refreshing Mountain either.
**Take in mind, all these pictures were taken on our last gloomy day, when the rain forced us to cancel the 9AM tour, but continued on with the 11AM.**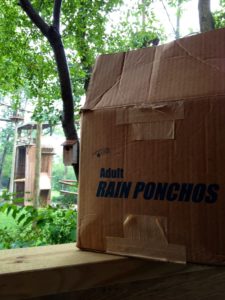 Whenever the clouds start looking dark and the doppler radar gets pulled up on the computer, inevitably we start to get concerned.
This is where the decision becomes really hard; our obvious foremost concern is the safety of any patrons that come in, but predicting and interpreting the whether patterns through a radar is certainly a struggle.
One thing that makes it easier is our handy dandy lightning strike detector; whenever a strike comes within a certain distance then we shut down no matter what.
However, when we're dealing with finicky storm fronts and rain that start and stop at will, it makes things completely different entirely.
If there is any safety compromise we shut it down instantly, commonly though, it's more a matter of the comfortability of the staff and the patron. Some patrons would prefer if we cancel at the slightest hint of rain, while others wish we wouldn't quit for anything!
After much nervous sweating and important phone calls from the office, the hard decision is made. Trying to track the storm, looking at safety and trying to recognize the comfortability of the patrons are only some of the hard hitting questions we have to come to a conclusion on during these rainy days.
After the office makes the decision, the guides are in anticipation about what is going to play out. Then, it is our responsibility to set the tone for the groups enjoyment on these gloomy days. Personally, I resort to singing 🙂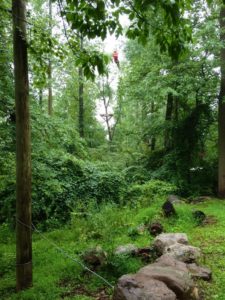 Even with all the internal aspects that the patrons don't usually see, I haven't had too many complaints on a rainy day tour. We try and keep the attitude positive and make all the hard decisions; all so you can be refreshed in the canopies!
Don't worry, if the rain does get to fierce and the wind too strong, we offer full refunds when the weather is working against you.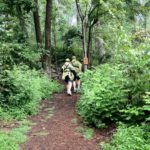 Here's a couple who thoroughly enjoyed themselves earlier this week, with rain ponchos and all!
So when the stormy weather and rain gives you the blues; remember, keep singing and keep zipping in the rain.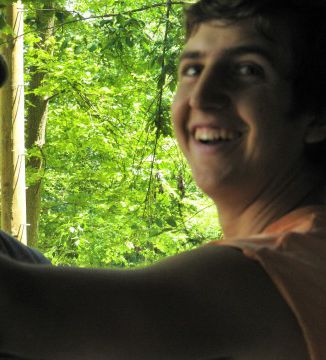 Joel Bomberger
Social Media Coordinator, Canopy Tour Instructor
Book Your Canopy Tour online Today!
1-888-353-1490