It's thrilling to go as a work team or a youth group to enjoy a day in the woods. The outdoors provides a place for rejuvenation, and the time spent in outdoor team building brings your group closer together.
By the end of the day, you'll feel like you made some new friends, you're motivated to get back to work, and you feel confident that your problem-solving skills improved while enjoying nature.
In this article, you'll learn everything you need to know about outdoor team-building activities.
Jump To:
Benefits of Outdoor Team Building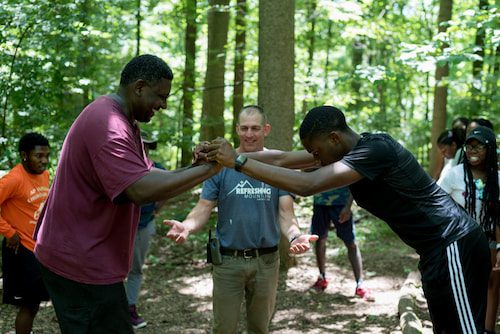 Outdoor team-building activities bring your group together in a natural setting to work together toward a common goal. The fun outdoor activities require physical activity and healthy competition.
Plus, employees form bonds with their co-workers through team-building outings. Here are eight benefits your employees receive from participating in team-building activities.
1. Provides conflict resolution skills
Your team members learn how to resolve conflict healthily and intuitively. When there's disagreement during a fun activity, the group must resolve their conflicts with each other.
The team-building exercise is an opportunity for employees to grow while enjoying the outdoors.
When team members work together to meet a goal, such as staying balanced on the Gossip Table, they start to bond. Each team member will use their talents to solve the problem of staying balanced on the Gossip table with their team members.
2. Improves communications among team members
Communication is central when groups of people are working together. Your team building in Lancaster, PA, encourages strong communication among team members by requiring clear messages to meet the activity's goals.
You want to avoid activities that have a "me vs. them" mentality. Instead, you want to incorporate outdoor activities that encourage team members to communicate and use their problem-solving skills in friendly competition.
Find more Outdoor Team Building Techniques to Improve Communication >
3. Draws out leadership skills
Team building outings encourage natural leaders to rise to the challenge of directing the entire team to reach the goals of outdoor activities. While there's some healthy competition, no one is left out or embarrassed when participating in the activities.
For example, the climbing tower provides a unique opportunity for climbers and others to use their teaching, motivating, and leadership skills to help their teammates reach the top.
4. Promotes problem-solving strategies
Since problem-solving is one of the essential tools in any employee's toolbox, activities for team building encourage problem-solving among teams.
Refreshing Mountain's team-building activities in Pennsylvania empower teams to work together toward a common goal. The common goal boosts each person's strengths and encourages them to share their expertise to meet that goal.
5. Facilitates trust among team members
Team members must trust each other to work together effectively to meet their team's goals.
Use activities for team building to develop trust between team members. When your team can trust each other, each member knows they can rely on others to do their part.
6. Develops patience during the problem-solving process
Team building activities require creative thinking and the patience to try more than one time to solve a problem. When your teams lack patience, they'll get stuck coming up with a solution to their challenges.
Your team members will learn patience as they solve problems by completing a fun activity outside. The entire team will benefit from these patience-building skills.
3 Group Types That Benefit from Outdoor Team Building Activities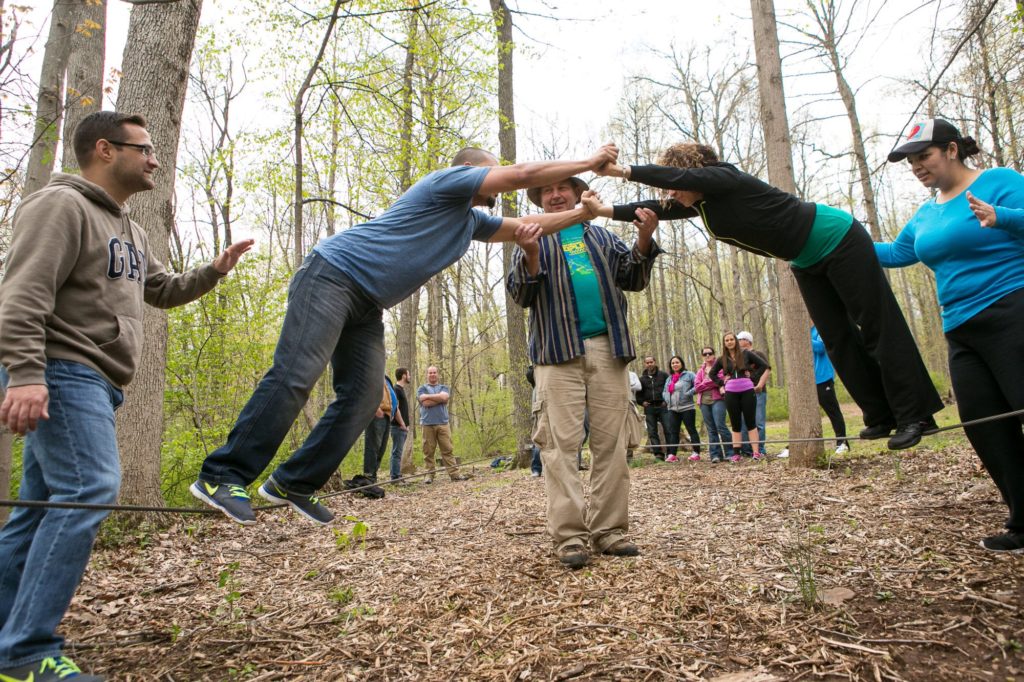 Outdoor team-building activities aren't limited to just the corporate world. Team activities also help teens in youth groups to learn to work together and develop better interpersonal skills.
Team building outings provide physical activity with healthy competition that benefits all age groups.
Here are activities for three group types that come to Refreshing Mountain for team-building opportunities:
1. Corporate team-building events
Corporate team-building outings participate in activities that provide friendly competition and improve the company culture.
2. Youth group activities promote patience, character development, and decision-making.
Youth leaders who want their teens to develop resilience, responsibility, and patience can learn these skills from team-building activities. You can incorporate team-building activities outside or in a gym.
Students develop character traits while interacting in outdoor activities, including:
Team-building activities build trust, improve problem-solving skills, and strengthen self-confidence.
Instead of fighting battles on social media and online games, kids complete fun activities that promote healthy relationships with their youth group friends. Activities may include blind shapes and photo finish, two games that require communication and team work.
Teens develop their decision-making skills by playing games like All Adrift and Bus Stop.
Learn more about the benefits of outdoor team-building activities for teens >
3. School & Homeschooling Field Trips
Come to Refreshing Mountain for your next school field trip to reinforce the skills you taught in the classroom.
At Refreshing Mountain, students will participate in activities for team building and develop independent decision-making skills while enjoying Refreshing Mountain's 80-acre outdoor campus. Your students will create memories while enjoying the outdoor activities.
At Refreshing Mountain, you can do the following:
Develop your field trip day at Refreshing Mountain
Choose from a wide variety of activities
Interact with well-trained staff who work well with children
Use our clean and spacious facilities
Enjoy our picturesque landscape.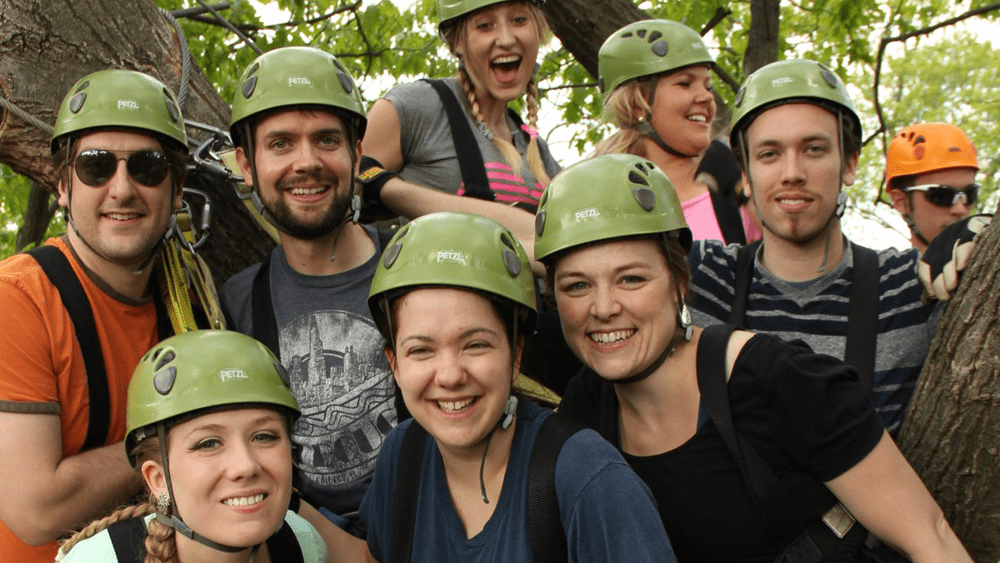 Refreshing Mountain has many outdoor activities that promote friendly competition, leadership skills, and improving company culture.
Here is a list of team-building activities in Lancaster, PA:
1. The Giant Ladder
While it may seem easy to climb a giant ladder, there's more to it than meets the eye. The ladder's rungs are designed to be three to five feet apart!
It's also a free-swinging ladder, which makes the challenge more difficult. The higher you climb, the more challenging it gets, and the more team members rely on their climbing partners.
Your team will enjoy this first activity that will prep them for other challenging activities at Refreshing Mountain.
2. The Gossip Table
Did you play "Telephone" when you were a kid? The Gossip Table takes the game Telephone and makes it reality- what you say matters. Members of your group join the conversation individually by stepping on a giant wooden see-saw platform.
When someone moves, the rest of the group on the Gossip Table must find a way to stay on the giant see-saw so no one is lost. Your entire team works collaboratively, where each person plays an important role.
3. The Climbing Tower
This fun activity allows your employees to demonstrate their leadership skills as they work together to reach the top with three other members.
The Climbing Tower reaches up to 40 feet and includes four stages of climbing and team building in Lancaster, PA. The goal is not to see who reaches the top first but how the team works together to achieve their end goal.
4. The High Adventure Challenge
If you like watching American Ninja Warrior, you'll enjoy Refreshing Mountain's High Adventure Challenge. With multiple high ropes obstacles and ziplining through the trees, your team strengthens their ability to work with each other.
Your employees will also build self-confidence while facing uncertainty and improving their communication skills.
Your team will climb stairs to reach the ziplines 35 to 45 feet in the air. Team members will also walk across a cargo net, balance on a wobbly log, and swing on vines to get to their next destination.
See how to pick the perfect team-building activities >
The Planning Process for Your Team Building Outings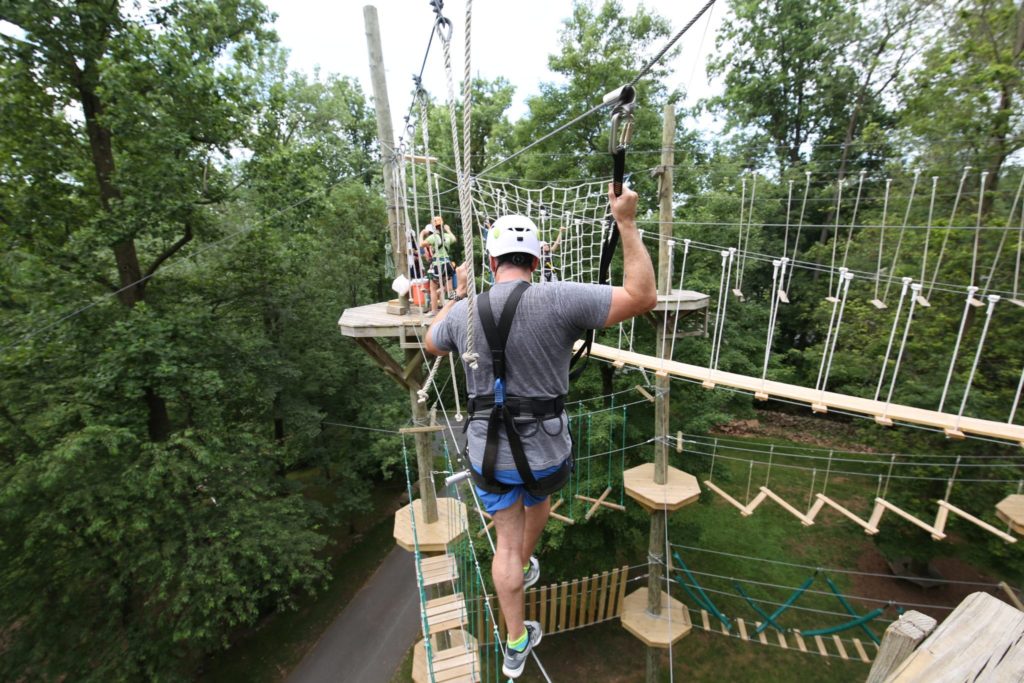 You don't want to come to your team building outing without objectives of what you want to accomplish for the day. Specifically, what does your team need to gain while participating in outdoor activities?
Here are five points to consider when planning your activities for team building:
1. Define your goals:
Knowing your "why" is the first step to planning a successful day of team building. Some of the goals for your team-building outings may include:
Improving communication skills
Bonding with remote team members
Learning conflict-resolution skills
Training to enhance leadership skills.
2. Establish a budget:
How much money is set aside for outdoor team-building activities at your company?
You'll need to know how much you can spend on activities, mealtimes, venue, and travel expenses. Ask your team leader how much is set aside in the budget for team-building activities in Pennsylvania.
If there isn't a fixed budget, review what other activities for team building cost and get an estimate from the venues you're interested in for your day.
3. Involve the right people to help you plan your outdoor team-building activities
You want to pick a few people to lead activities and establish expectations. Convey your expectations for each role and ensure everyone knows what activities are planned throughout the day.
4. Find a proper time for your activities for team building
Think about when you want to have outdoor activities. Some folks may not mind going on a zipline tour in 40°F weather, while others prefer only indoor games in early December.
Take note of the folks attending your team building in Lancaster, PA, and plan your activities based on the people coming.
You also want to give yourself four to six weeks to plan a small event and two to three months for events with 100+ people attending.
5. Default to the outdoors
Numerous studies have shown the benefits of being out in nature. Your entire team will gain a fresh perspective after engaging with their co-workers outside.
Outdoor team-building activities provide a familiar experience where team members bond. You'll notice that your employees are still laughing about their fun and the memories they created weeks after the outing.
Team building activities in Pennsylvania boost employee morale, improve working relationships, and increase employee satisfaction and productivity.
Here are some ideas to bring your team together to have a successful team-building event:
High ropes obstacle courses where teams work together to reach a goal
Cooking courses where teams work together to make a meal
Escape rooms are fun and engaging ways to incorporate all team members despite different physical abilities.
Comedy clubs where team members work off of each other to create an improvisational comedy sketch
Zipline excursions where you and your team tour the natural beauty of Refreshing Mountain and Lancaster County, PA
Songwriting challenges where teams make up a song together
Car or small bicycle building where you can build a car together from a kit; or teams can put together a child's bicycle to donate.
Volunteer exercises, which focus on giving back to the community where teams volunteer in the local community
Scavenger hunts are popular team-building activities in Pennsylvania where the entire team works together to find things out in nature.
If you want to bond and build up your team out in nature, then you need to schedule the following activities for team building at Refreshing Mountain. Your entire team will thank you for a rejuvenating time away from the office. If you're looking for additional areas in Lancaster to host your teambuilding event, check out this article written by Meetings Today.