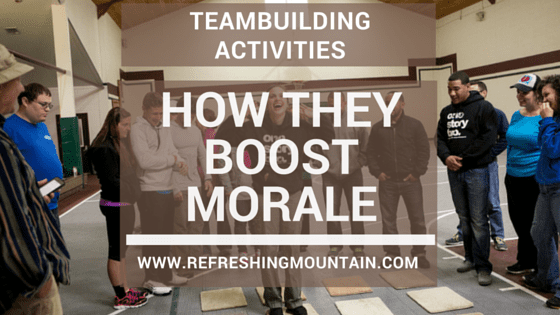 "Rat race." "Daily grind." Frequently the terms used to describe going to work each day are less than complimentary. For many workers, the office is a high-stress and competitive environment, where even hard work may not be rewarded with job security. Corporate team building events can boost employee morale, foster better working relationships and cooperation, and ultimately improve employee satisfaction and productivity.
Corporate team building events – activities that take employees out of their daily roles to work together towards a common goal, can take a variety of forms. Some of the most popular options include:
Off-site retreats or day events
Charity events
In-office activities
Off-site events can be one of the most rewarding activities, taking employees fully out of the office into a relaxing environment where they can take the time to learn about each other as people, rather than merely coworkers. Activities can include a combination of physical activities and problem solving challenges, bringing the team together to cheer each other on, find solutions, assert leadership, and offer up their unique skills for the benefit of the team.
Through this spirit of teamwork and comradery, corporate team building events can help form long-lasting relationships. Often times, the traits and talents of employees are recognized for the first time and can later be brought to bear on projects within the office. This recognition of the contribution of each individual helps the entire team come to appreciate the skills of others and how they come together to meet their common goals. Once back at the office, employees are more complimentary towards each other, and find ways to utilize the new-found talents of their coworkers, boosting morale and cooperative spirit.
Corporate team building events also provide a common experience from which to bond. For weeks after a successful event, employees are often found laughing together over the fun they had, the mishaps that occurred, and looking forward to the next event. These common memories can provide years of storytelling, cementing the bond between employees, building a solid foundation of respect and friendship that improves the overall culture of the office environment.
Ultimately, corporate team building events work because they bring employees together in a fun way to recognize the strengths of each individual and the importance of each person towards the common goal. When employees feel respected and valued, they enjoy going to work, work more productively as a team, and are more committed to their role within the organization.
By taking employees away from the "daily grind", retreats can be especially effective, and send the message that the company truly cares about the well-being and morale of its employees. Hosting corporate team building events on a regular basis can help keep employee morale high and make a more productive and happier workplace for everyone.