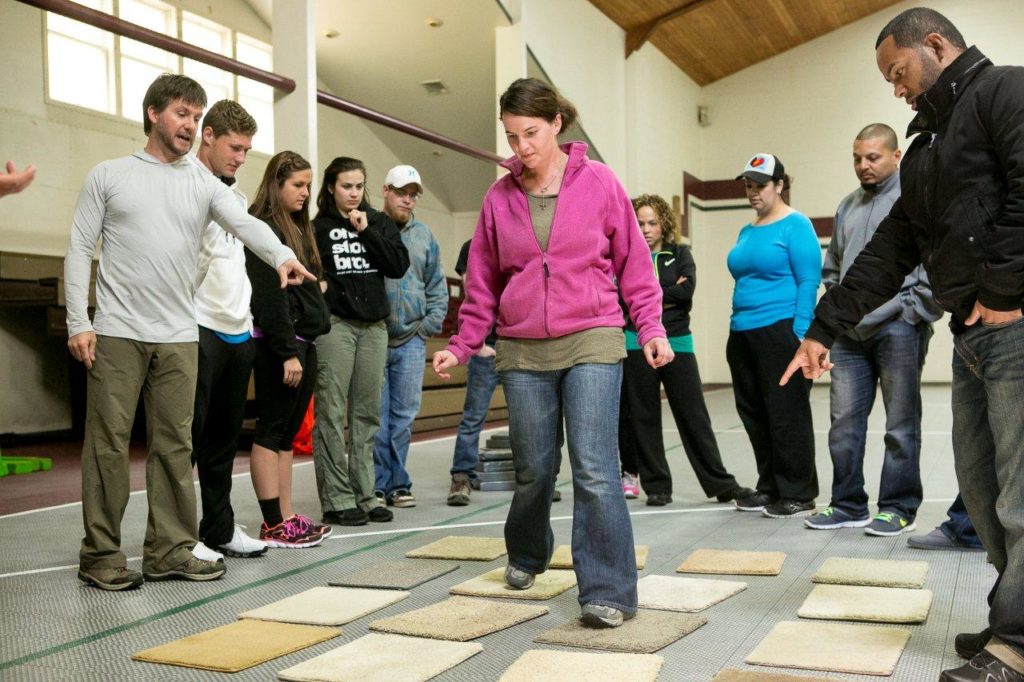 Outdoor team building activities are a great way to facilitate bonding with your team members, reduce employee stress, bring together remote teams, and give them the chance to get to know one another outside of work or school. When it comes to improving team dynamics or organizing a team building program, most managers, corporate event planners, and employees aren't exactly sure where to start.
Some think engaging in team bonding is the solution. Others believe a team-building exercise is a more prudent course of action. The differences between team bonding and team building are often overlooked. Finding the right activities your team will enjoy is the key to a successful team-building experience. 
Refreshing Mountain is proud to offer outdoor team-building activities that help groups grow stronger together while having fun. 
Team Building vs. Team Bonding
Before planning your outing, it's essential to understand the goal and the difference between building and bonding. So what is that difference? 
Team building
Team building is based on the theory that the group, or team, has specific dynamics in the workplace that can be improved upon by "building up" specific individual and team skills. For example, effective communication is one skill that comes to mind.
Attempts at such skill development and improvement take the form of team-building programs that are best performed in isolated settings like Refreshing Mountain.
Nature retreats allow group members to escape their computer screens, cubicle walls, family dramas, and other distractions that often stand in the way of rebuilding what is broken. Instead, the group's focus will be squarely placed on engaging in team-building activities that highlight specific weak points. These targeted efforts to build a team as a collective are distinct from team bonding efforts.
Team bonding
Team bonding activities are centered on improving the chemistry among group members and team leaders. In short, it's fun and collective. The bonds between group members get strengthened with group activities. Special activities are available for groups that would like to enhance relationships and enjoy an afternoon or day of fun.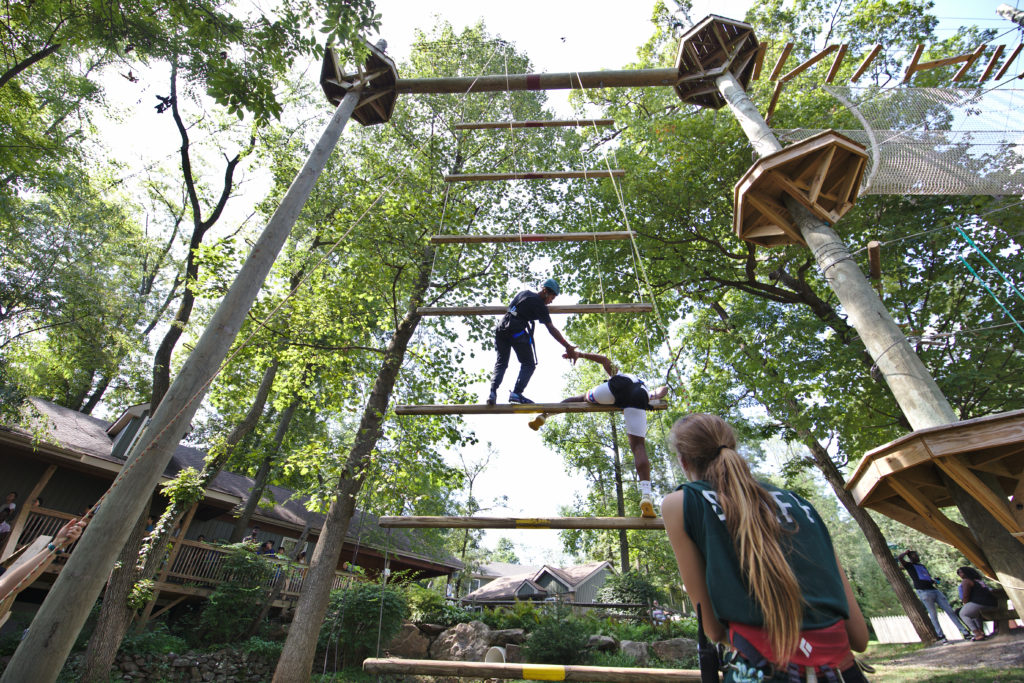 Building – Identifying and Rebuilding Common Team Deficiencies
Each team's dynamic is unique and requires the right setting to make connecting and collaborating a success. Whether you're a business group, church group, school group, or other collectives, understanding that every team has unique struggles can help you identify ways to rectify those challenges. 
Whether breakdowns have occurred in communication, leadership, creativity, time management, general project management, or decision making, Refreshing Mountain can use our tried and true resources to help. We find that team-building results can be highly effective when specific problems have been identified in advance. This allows team-building activities to be carefully planned and orchestrated for maximum effect.
The team-building activities and events you select will serve to rectify specific breakdowns. As a group event planner, try to prioritize what needs the most attention within your group before planning your next team-building session. 
You don't have to do it all on your own. Tap into Refreshing Mountain's talented team building experts, and we'll help you figure out whether your group would benefit more from our team building events or team bonding activities.
Bonding – Propel Relationships To New Levels
Spend some time thinking about whether your team might best benefit from strengthening interpersonal bonds or from building specific skills together. If you have any questions about whether your team needs to bond or build, do not hesitate to reach out to our retreat's facilitators for direction – we are here to help.
Refreshing Mountain provides a peaceful nature setting where your team can propel already existing bonds to new levels. We've gone to great lengths to custom design specific team bonding activities in a context that can be free of competitive pressure and loaded with fun.
The aim of bonding activities is not to "one-up" one another at a certain activity. Instead, these activities are designed to uplift every group member and help each person understand the value of fellow group members.
Refreshing Mountain's team bonding exercises are best described as fun learning experiences. Think of them as an opportunity to escape the workplace grind and better understand peers' quirks, strengths, and weaknesses.
Book a team-building event at Refreshing Mountain, and know that your team will have a blast on their team-building field trip as they engage in events designed specifically for them!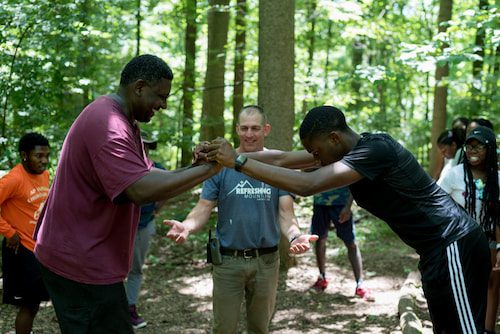 Let Us Help You Select Activities That Will Best Serve Your Unique Group
Once you have determined whether team building or bonding is necessary, your attention can shift to planning your special event. 
Refreshing Mountain's team building and team bonding programs have proven effective for all different types of groups. We have experience hosting corporate groups, school groups, youth collectives, sports teams, church members, and more. 
Activities you may want to consider for your group can include:
The Planning Process
Once you've narrowed down your team building or bonding event, it's time to plan it. Our experts are here to help every step of the way, but here are the steps you can consider as you get into the logistics of your gathering.
Determine your timeline and desired event date
Define your goal
Create a budget
Choose your venue and location 
Confirm your group activities and itinerary
Send out invitations once the event is confirmed
Then, simply arrive for your day of fun once the event date rolls around! Any questions, concerns, changes, or other inquiries you have along the way can be directed toward our planning team at Refreshing Mountain.
A Team Experience With Proven Success
The vision of Refreshing Mountain is found right within our name.
Our goal is to see groups refreshed: to find and renew energy and strength as they rest, play, work, and participate in activities provided by our staff. As your group participates in team-building activities with us, we hope that you all feel renewed and challenged in all the best ways. We hope that our activities provide an opportunity for you to grow in love, trust, hope, and faith.
Finally, we hope that your time with us helps you develop a greater appreciation for your team – and maybe even your own strengths and capabilities, too.
Plan Your Group's Memorable Adventures Today!
Allow Refreshing Mountain to help you engage in the right team-building activities and bring together these different people in your group.
Refreshing Mountain is a year-round retreat and adventure center providing family-friendly fun for all ages and refreshment for over 30 years in Lancaster County, PA. We provide a variety of outdoor adventures, day field trips, corporate team-building events, and overnight getaways with activities including zipline canopy tours, high ropes courses, climbing towers, problem-solving challenges, and much more.
Conveniently located just a short drive from Lancaster and Hershey attractions, our center is built on 80 acres of beautiful PA woodland with scenic views. We can't wait to see your group soon!