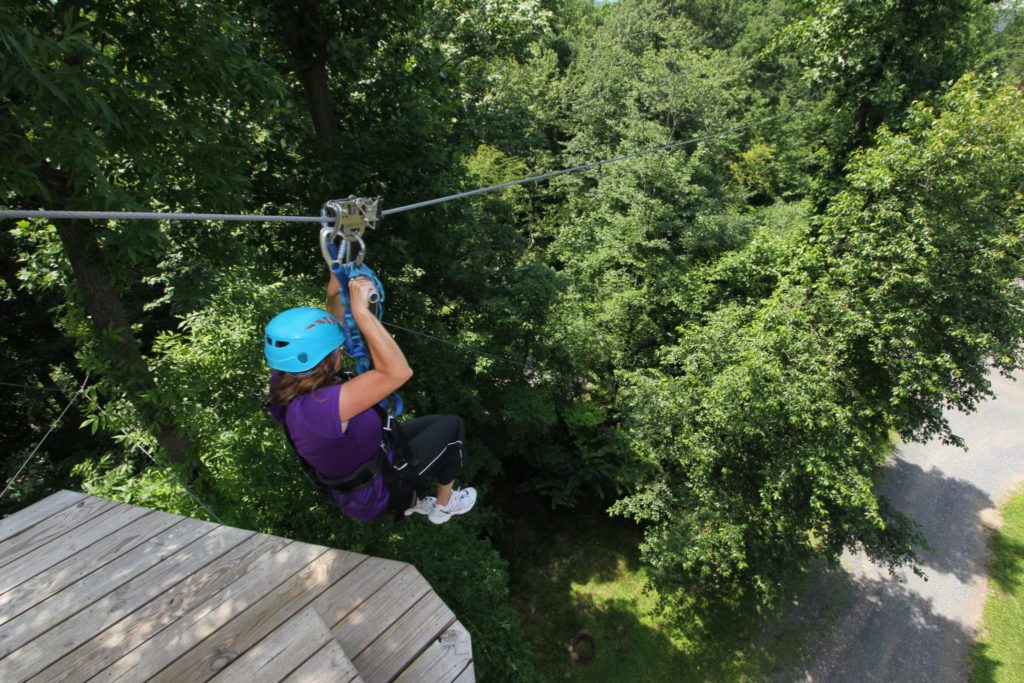 Ever wonder what it takes to run a zipline course near Philadelphia? As the weather gets warmer, and the desire to get outside increases, we thought we would give you some insights into what makes the ziplines at Refreshing Mountains run. We are fortunate to have some of the greatest staff to zip the face of the earth, and that's where it all starts.
Zipline Guides: Let's talk about people to people
Guides are the staff that take you through the zipline courses and do all the "hard skills". Every zipline tour at Refreshing Mountain has at least two guides who will take you through the course. These guides are there to send and receive you from one platform to another. Transferring your safety tethers to the ziplines, sending you off a platform and receiving you on the other side so you can relax and have fun on the courses. We at Refreshing Mountain provide guides so you never have to worry about transferring yourself from line to line, but also to make ziplining a more personal, refreshing adventure for you and your friends. In total, we have coached and trained 60 guides to give you the best outdoor experience no matter how nervous you may be on that first platform.

Safety is our top priority
Ziplining does have inherent risks, and so we train our guides extensively in one-on-one training sessions with our Training Coordinator, who oversees our training program. Guides are gradually promoted from harnessing and belaying to our shorter zipline courses, and eventually to leading tours on our longer zipline courses. Our guides do not get approved on activities until both the guide and the trainer feel 100% confident about their abilities. We have four levels of Guides, 1 being the lowest level and 4 being the highest. We do not promote a guide until all administration agrees that they are ready for the responsibility of the next level.
We have additional safety features such as having requirements for you, the zipliner. For example, we require you to wear comfortable close-toed shoes and having your hair tied back if you have long hair.
There are other items that impact safety. For example, the weather plays a role. We may run our ziplines in rain, but high winds and cool temps may prohibit us running our ziplines safely- so we are watching the weather like a hawk. Or having you wear a full-body harness versus just a waist harness, having our guides hook you up to the zipline, and having two safety tethers so that you are never unhooked on a course all play a part. In addition, as staff, we will make every effort to mitigate risks for you, but we cannot guarantee safety. Every participant signs a waiver that acknowledges the risks. One more thing for you–we also ask that you help us by communicating questions when you don't understand a situation and helping our guides keep an eye out for anything unexpected.
In addition, select Activities Administrators attend the ACCT conference. ACCT is the Association for Challenge Course Technology, which sets standards for how courses are built, how to maintain courses and how to train your guides to operate these courses. We attend ACCT conferences to network with other companies that have courses or design items to help us run these courses, but mainly we go to learn to make sure we are in line and ahead of industry standards. Each Administrator has their own unique role other than their administrative responsibilities, so each of the attending staff go to different sessions throughout the day to learn new information about things such as training, team building, and inspection. Each staff member who attends walks away from the conference excited to apply the new information received from the presenters.
Ziplining is fun, but…
…we decided to up the fun game. In recent years we decided we wanted to add something to our zipline experience to make it more exciting. We started with our Christmas light experience. It originated on our Flying V zipline and our Elevated Obstacle Course, but each year we've doubled the amount of Christmas lights, and added even more high ropes elements along with our famous Giant Swing. To top it all off, we have a lovely campfire, and hot chocolate once you complete your activities.
For the fall we added an exciting feature to both our Aerial Excursion and Flying V zipline courses. The Aerial had four targets for pumpkin smashing- two from platforms AND two from the ziplines, at no additional charge! For the Flying V we made three giant cornhole boards, and you had the opportunity to drop two cornhole bags off the zipline, and two off the second platform.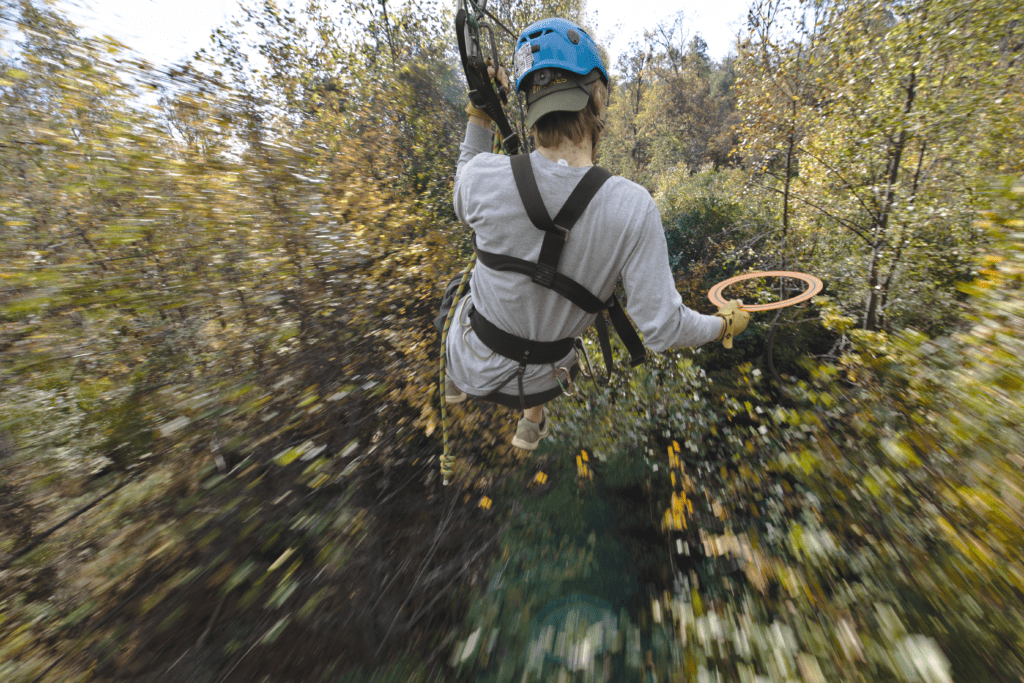 For the Spring 2020 had planed to amp it up as well with the addition of Aerial Yard Games to our Aerial Excursion course. (However, this activity was postponed due to Covid-19. Hopefully to come 2021.)
You heard that right GIANT YARD GAMES a.k.a. Aerial Yard Games!
It starts off on the tallest platform of the course with a frisbee target throw (Kan Jam), then moves into giant ladder golf, ring toss, and horseshoes to finish it off. The original idea we came up with was playing frisbee golf throughout the course, but when we talked through the logistics, we decided to come up with something better. After some more thinking, we came up with the idea of ladder golf, which was then developed into the idea of Aerial Yard Games. Once we had our games picked, we started setting up the games by ordering supplies, building our giant ladder golf, and then placing the targets along the course. After that, we did a few test runs, moved some targets around, and now we are ready for you to come out and give them a try. Since the games start on April 1st, you can book them at this point in time because we open availability 6 weeks in advance to give you plenty of options to book.
How we made it work
Just like we did for the pumpkin smashing and cornhole in the fall, the yard game items will be hoisted upon each zipline platform. What this means is that we will have a bucket or a crate, full of the yard game items to be tossed. We will lift this up to the zipline platform for your group. If you're thinking that this sounds like a lot of work for the guides, when full, the buckets won't weigh more than 15 pounds and we will have pulley setups to make the process easier for the guide. In addition to that, they had practiced during the fall with pumpkins and bean bags which are much heavier than softballs, frisbees, or steel horseshoes.
More exciting zipline news
*Due to Covid-19 we had to cancel this fun event until further notice. But look towards the future for this fun event to start!*
Finally, we're pretty excited about Glow Stick Nights. Over the Summer we will be offering Glow Stick Nights. Refreshing Mountains zipline Glow Stick Nights start at dusk with our courses lit up, and yes there will be glow sticks involved. There aren't many Glow Stick Nights available, so if you see it available to book (availability will open in late April) be sure to book it right away, so you don't miss out on this exciting opportunity.
So that's what we do!
This is just another day for us, but we thought you should know what we do to follow our top two priorities with ziplining–safety and fun. We're excited to see you and now you have a little more of behind the scenes look at your next zipline experience at Refreshing Mountain.