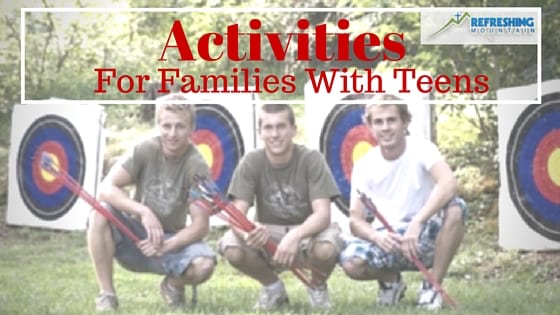 The teen years can be somewhat tumultuous. Youngsters are going through puberty, being challenged in school, and trying to find a group of friends that they fit in with. Parents can feel a bit powerless during this delicate period if their teenagers tend to distance themselves from authority figures. We would like to share some activity ideas described below to help your family bond and bring your teen closer to their loving family members. Plus, they're fun!
Enjoy Sports and Sporting Events
Most teens have at least a passing interest in some type of sport or competitive activity. Whether it is softball, tennis, basketball or even something like a League of Legends tournament, participating as a family unit will work wonders for your household chemistry.
Watch a Movie
Your teen might hesitate to catch a flick with his parents yet he'll eventually give in if you offer to pay! Just be sure to avoid saying anything embarrassing in the movie theater lobby as other teens will be in the vicinity 😉 Have a discussion about the movie afterward. You'll find that your teen might be much more willing to speak at length about an interesting movie than personal topics. Plus you will get some insight into their developing worldview.
Embark on a Family Photo Hunt
Instead of shooting animals with guns, take some snapshots of them with your teen. It's a much less gruesome way to enjoy the "thrill of the hunt". Spend some time studying the area's wildlife before you head out for your photo hunt. It will get your teen excited about the possibilities of this highly unique adventure. Maybe have everyone vote for some "symbolic" awards afterward like "Person most willing to get dirty to catch the perfect image"!
Volunteer
Driving your teen to the soup kitchen, homeless shelter or animal shelter might not seem exciting. Yet once you are in the midst of a volunteer effort, you'll both relish the experience. It will give your teen some perspective on his position in life, providing him with an appreciation for the sacrifices you've made to improve his living standards. Volunteering will also give you the chance to work side-by-side with your teen, strengthening a bond that might have weakened during the past couple of years.
Spend Time Outside
Nowadays, most teens are glued to their smartphones, tablets and video games. Get them away from the screen with a family outing in the greater outdoors. If you live in the Lancaster, PA area, our own Refreshing Mountain is a possibility. Your teen will love this gorgeous stretch of Pennsylvania woodland. You'll bond over outdoor activities like swimming, volleyball, archery, canopy zipline tours, and even paintball target shooting. This is the perfect destination for family members of all ages.
Take a Road Trip
A road trip gives you time to have in-depth discussions and new experiences with your teen. If he has his license, this idea makes even more sense as you can give him some supervised practice behind the wheel while driving on the thruway. It's worth noting that some parents opt to avoid interstates to find quirky sites that will be especially memorable.

Family Fitness
Most teens exercise in some manner, whether it is running, weightlifting, swimming, tennis or skating. If you are in decent shape, give your teen's favorite sport a try. Those who aren't physically capable of engaging in a demanding sport can develop a family fitness routine with something like the Wii Fit video game. Just about every teen is interested in video games. If you are willing to master the learning curve, your teen will respect you that much more.
Head out for Ice Cream
Sure, you can open up the freezer and scoop out some ice cream from the comfort of your own home yet it won't provide the same bonding experience as a trip to the local creamery. Get out of the house and enjoy an ice cream cone with your teen in public. It will force the two of you to engage in the type of in-depth face-to-face conversation that is often precluded by the blare of the television or the allure of the computer screen.
Go-Kart Racing
Those who live near an amusement park, populous suburb or urban space are likely in the vicinity of a go-kart racing track. This is the type of exciting activity that appeals to teens of all backgrounds, mentalities, and interests. Driving a vehicle is a fairly new experience to them, so they will relish the opportunity to race mom and dad around a go-kart track. Let them win…or not!
Take A Night at the Lanes
Bowling is as popular as it once was and it's still a blast. Just about every teen has at least a passing interest in the game. Your teen doesn't have to be extraordinarily skilled or strong to participate. This activity provides some friendly family competition and the opportunity to enjoy lighthearted fun with your teen. It's an excellent way to alter your teen's perception of his parents from domineering authority figures to jovial fun-seekers.
Refreshing Mountain is a year-round retreat and adventure center providing family-friendly fun and refreshment for over 30 years in Lancaster County, PA. We provide a variety of outdoor adventures, day field trips, and corporate team building and team bonding events, and overnight getaways with activities including zipline canopy tours, high ropes course, climbing tower, problem-solving challenges, and much more. Our center is built on 80 acres of beautiful PA woodland and is conveniently located just a short drive from Lancaster and Hershey attractions.