Memorial Day is coming up, and if you're in Lancaster, PA, you won't want to miss out on the variety of Memorial Day activities available. 
Refreshing Mountain offers a range of packages and experiences for you and your family to enjoy, including exciting outdoor adventures and other fun-filled activities. We built our activities to allow you and your whole family to have fun. In our new Ascent and Basecamp packages, your family can enjoy 6-7 activities in 3.5 hours!

Take a look at what our Memorial Day events include!
Memorial Day Events at Refreshing Mountain
In the Basecamp Package, 6 of our most popular activities are available during the 3.5-hour timeframe.
Elevated Obstacle Course—Enjoy the first 2 levels of the Elevated Obstacle Course with 33 different obstacles to go through! Obstacles vary from swinging on ropes, unsteady bridges and obstacles you can climb under, around, or through. This is a great physical activity for all ages to enjoy!
Climbing Tower—With multiple different climbing routes to choose from, the Climbing Tower is full of fun for the family! You can compete with friends using the race routes or take your time climbing while being belayed by one of our staff members. This is a great outdoor activity to try out in the Basecamp Package!
SlingShots—Test your accuracy at our slingshot station! Marbles are your ammunition, and 6 stations are set up for you to shoot at, making this perfect for your family to have fun all at the same time.
Pedal Carts—Try the pedal carts on our on-site track during your activity! These go-carts have pedals you can use to push yourself around the track, and multiple people can be on the track at the same time.
Wildlife Experience—From reptiles to birds of prey, our Wildlife Exhibits is a fun, immersive experience for all ages. Refreshing Mountain is home to one of the largest Wildlife Centers in Pennsylvania, so be sure to meet some of our animals, including snakes, hawks, owls, and turtles! 
Farm Animal Experience—This experience includes a variety of the farm animals we host on-site. From goats to pigs to horses, take the opportunity to learn more about the farm lifestyle of these animals. This activity is great for younger kids and those who enjoy hands-on animal experiences. 
Since our Basecamp Package does not include ziplining, you can add the Aerial Excursion or the Challenge Adventure Course to your package for a reduced rate! If you're not interested in booking a zipline, that's okay, too! We also offer over 2 miles of hiking trails and use of our playground and basketball courts for free.
Like the Basecamp Package, all six activities above (obstacle course, animal programs, sling shots, climbing tower, and pedal carts) are included in a 3.5-hour timeframe! As a 7th activity in this special event, the Flying V zipline makes a great addition to the Ascent Package. This zipline is a 2-line zip, great for beginners and/or families to try out new heights! 
Zipline Adventures
As stated above, we offer 2 additional zipline courses for you and your family if you choose not to go with the above packages.
The Challenge Adventure Course—This zipline includes 5 thrilling ziplines, with the first zipline taking you to the third level of our Elevated Obstacle Course. The last zipline crosses our pond to a running landing on the other side. This tour is great for those wanting more of a thrill ride to try out this Memorial Day weekend! 
The Aerial Excursion Course—It's our longest course on site! With 7 ziplines and 3 sky bridges, the Aerial Excursion is great for ages 8+ and lasts about 2-2.5 hours. This canopy tour is great for families or friends, and up to 8 people can fill in a tour.
Non-Zipline Activities
If ziplines aren't your cup of tea, try out some of our non-zipline activities!
The Pool—Come and enjoy the pool Memorial Day weekend! Located beside our 319Café, the pool is a great place to relax or splash around. There's also a kid's area for younger kids and toddlers to enjoy, with fountains bursting with water in all directions. 
Axe-Throwing—Test your accuracy and power with axe-throwing! This outdoor adventure is available for ages 13+ and is a great and fun choice for the family. There are multiple enclosed lanes, so you don't have to wait for everyone to stop throwing to go and pick up your axe.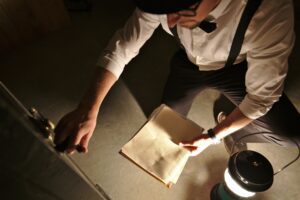 Escape Rooms—Refreshing Mountain offers escape rooms varying in difficulty. Test your teamwork and puzzling skills with different tasks, clues, and riddles to solve within an hour's timeframe. The themes and stories behind the escape rooms are designed by our staff members, meaning you can't find these