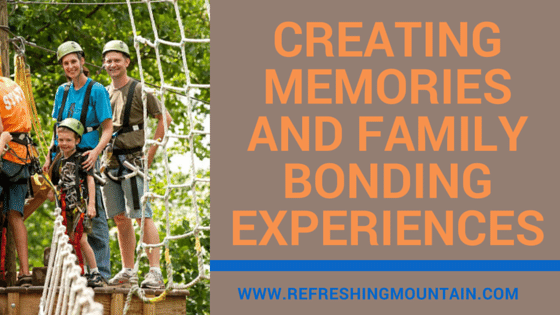 If you are on the lookout for family bonding opportunities that create lasting memories, look no further than Lancaster's Refreshing Mountain.  It's the perfect place to spend quality time with your loved ones and experience new and exciting moments that deepen your familial bonds. Even extremely tight-knit families will find value in a Refreshing Mountain Retreat.
Why Family Bonding is so Important
In the context of happiness, deep family bonds are infinitely valuable. The amount and quality of time spent with loved ones is what happy families think matters the most.
The Value of Making Memories as a Family
Think back to the memorable moments you enjoyed with your family. Your thoughts probably do not center on the time you spent sitting around the TV, playing video games or doing chores around the house! Rather, the fun events you participated in as a family unit are responsible for those indelible memories that are firmly imprinted on your mind's eye.
You likely remember the activities you enjoyed with your siblings and parents, whether it was hiking, creating arts and crafts, playing board games or vacationing together. The value of these memories cannot be understated as they link hearts, minds and spirits.
Take the initiative to schedule more family outings and your relationship with your family will thrive!
Refreshing Mountain is the Perfect Place to Make new Family Memories
Family bonding takes time. It can't be achieved within your daily routine as you rush to get everything accomplished. A weekend or week-long stay at Refreshing Mountain is one of the best ways to reinforce family bonds and create memories you'll never forget.
The beauty of a stay at Refreshing Mountain is that it separates you from your daily routine and possessions, forcing your family to interact with one another. Time as a family unit is exactly what you need to fortify your relationships with loved ones.
Book a stay at Refreshing Mountain and you will have the opportunity to enjoy all sorts of fun and unique family activities. We offer affordable family retreats that family members of all ages will love. You'll enjoy an array of activities throughout our 80 acres of scenic land.
There really is something for everyone, from volleyball courts to outdoor sports fields, gymnasiums, basketball courts, canopy zipline tours and even a swimming pool. Perhaps your family would like to try archery or paintball target shooting. Those opportunities and plenty more are available at Refreshing Mountain.
Schedule Your Family Retreat at Refreshing Mountain Today
If you live in Pennsylvania, taking a trip on out to Refreshing Mountain is well worth the effort. Those who live three or four hours outside of Lancaster will find that the car ride to Refreshing Mountain is an excellent opportunity to set the stage for the upcoming family bonding experience.
Our team will work with you every step of the way to ensure that you enjoy a family bonding experience that brings you closer to one another. Let us sweat the small stuff like accommodations, cleaning and cooking so you can squarely focus on spending quality time with your loved ones.
Refreshing Mountain is a year-round retreat and adventure center providing family friendly fun and refreshment for over 30 years in Lancaster County, PA. We provide a variety of outdoor adventures, day field trips, and corporate team-building events, and overnight getaways with activities including zipline canopy tours, high ropes course, climbing tower, problem solving challenges, and much more. Our center is built on 80 acres of beautiful PA woodland and is conveniently located just a short drive from Lancaster and Hershey attractions.