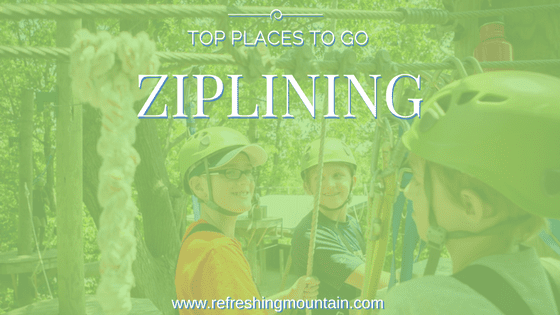 Why Should I Zipline?
Wouldn't it be nice to soar through the sky like a bird? To glide through the treetops and view natural wonders in all their beauty from above? Ziplining turns this fantasy into reality. And there's plenty of reasons, and zipline locations in the US, to give it a try.
The Magic of Ziplining
Ask anyone who has tried ziplining and he will testify to the experience's adrenaline rush. Ziplining puts you high in the sky amongst the treetops and birds, providing you with a spectacular view from above as well as a newfound perspective of your surroundings. Then you'll go.
Zipline through the sky and you'll enjoy a jolt of adrenaline that raises your awareness, puts a smile on your face and creates a lasting memory. Give ziplining a chance and once you are done, you will immediately think about which course you want to conquer next.
Ziplining Isn't Only for the Young
If you are middle-aged or in your golden years, do not assume that you can't zipline. On the contrary, this experience is ideal for people of just about every age. You'll be firmly secured throughout your zipline adventure so don't worry about safety.
Nor should you worry about whether it is necessary to be in tip-top shape to complete a zipline course. This experience is all about having fun rather than putting your physical fitness conditioning on display. So don't be intimidated. You owe it to yourself to try something new. Ziplining just might provide you with the thrill of your lifetime and quickly become your new hobby.
Refreshing Mountain is your go-to ziplining destination if you are in or near Pennsylvania. We offer several different zipline experiences, including our new Flying V zipline course.  There are plenty of other great ziplining locations across the country, here is our list of some great courses to try.
Top Zipline Courses in the USA
Idaho's Tamarack Resort
Idaho has much more going for it than potatoes. The zipline tour at Tamarack Resort sends riders across 4,425 feet of beautiful greenery, canyons and creeks.
Moaning Cavern Adventure Park
If you ever find yourself in California, a visit to Moaning Cavern for some ziplining should be toward the top of your docket. You start out on a gigantic launch tower where you strap into a full body harness and fly through the sky at a clip of 40 mph.
Cypress Valley Canopy Tours
Wouldn't it be cool to glide through cypress trees without feeling vulnerable? It is possible with the Cypress Valley Canopy Tour ziplines. This zipline experience lets riders travel between treetop platforms upwards of 100 feet high in the sky.
Hawaii's Haleakala Skyline Tour
Hawaii just might be the best place for ziplining. The terrain is absolutely gorgeous and the weather is perfect. Partake in the Haleakala Skyline Tour and you'll zoom across the picturesque Hawaii sky, taking in a bird's eye view of volcanoes, golf courses, gulches and everything else that makes Hawaii so unique.
Icy Strait Point's ZipRider
This section of Alaska is home to the ZipRider. No helmet is required as you sit in a chair while flying through the sky. This laid back zipline experience provides glorious views of Alaska's incredibly beautiful terrain. All-in-all, Icy Strait Point has six zip lines that span nearly 5,500 feet.
Toro Verde Adventure Park
If you are on the prowl for the ultimate zipline experience, head on over to Toro Verde Adventure Park in Puerto Rico. This is the longest zip line course in the entire world. Known as "The Monster", it stretches over 7,500 feet, allowing zipliners to coast at an elevation of 1,200 feet. Take on The Monster and you'll zoom through the sky at upwards of 90 mph.
Of course, we couldn't end this list without mentioning our own ziplining canopy tours. Refreshing Mountain is a year-round retreat and adventure center providing family friendly fun and refreshment for over 30 years in Lancaster County, PA. We provide a variety of outdoor adventures, day field trips near Philadelphia, corporate team-building events, and overnight getaways with activities including zipline canopy tours, high ropes course, climbing tower, problem solving challenges, and much more. Our center is built on 80 acres of beautiful PA woodland and is conveniently located just a short drive from Lancaster and Hershey, PA attractions.