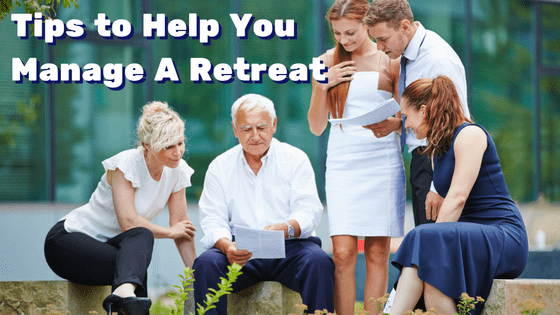 If you are planning a retreat, part of your responsibility is to manage the event so it reaps the intended results. Don't shy away from this task. Managing a retreat is actually quite an enjoyable experience. Channel your efforts in the proper manner and you will oversee a successful retreat that makes a lasting impression.
Key in on Behind the Scenes Work
If you sweat the small stuff behind the scenes, your group will enjoy a seamless retreat experience that proves rewarding in a variety of ways. Though you can speak in front of the group and take the lead in group activities, the manner in which you prepare for each portion of the retreat is of critical importance. This is the "behind the scenes" work that is unseen but greatly valued.
Keeping to the Schedule of Events
It is imperative that you plan out each retreat activity in advance. Create a detailed schedule and stick to it once things get going. Don't let activities extend far beyond their scheduled end time unless you feel it is beneficial to the group. It is prudent to incorporate some "buffer" time in between retreat activities just in case the group really enjoys a particular experience, needs a breather or the opportunity to socialize in an unstructured environment.
Transitioning and Down Time
Segueing from one event to another can be a challenge. Let your group know how much time has been reserved for each activity. This way, they will have a general timeline in mind when participating in the day's events. Always maintain full control of the retreat. Don't let participants completely steer the direction of this experience. Though you don't have to act in an authoritarian manner, you should speak and act with some authority. If you find your group's attention waning, step in to spice things up by leading a group meeting and/or asking if the team would like to transition to the next scheduled activity.
Communication Throughout
Letting your retreat progress from one scheduled event to another without regular communication is a mistake. Take some time to regroup in between activities to reflect on their value, lessons learned and so on. Encourage everyone to speak up, share their thoughts and listen to the perspectives of other retreat participants. This consistent communication fosters cooperation as well as objectivity.
Helpful Staff & Resources
Recruiting a team of volunteers to assist with the planning and management of your retreat will prove quite helpful. They'll help with activity transitions, answering questions, distributing materials, communicating safety information etc. Schedule a retreat at Refreshing Mountain and our friendly staff will be there to lend a helping hand with the background details of your retreat so that you can focus on your group and their experience.
Managing Participant Concerns & Questions
Each participant's questions and concerns should be addressed in a timely manner. Furthermore, they should know exactly who to ask questions of. Be sure to explain exactly what is coming up on the docket as the day progresses.
Reaching Goals
Establish goals for your retreat at the outset of the planning session(s). Write down what you'd like the retreat to do in terms of lessons learned, memories made and anything else your group could benefit from. Then make it happen. Take an active role in each retreat activity and you will help your retreat participants improve individually and as a team.
Don't forget to provide participants with a recap of the retreat in the hours, days and/or weeks that follow. Reinforcing the benefits of this shared experience will raise awareness as to just how important the retreat was for each participant as well as the group as a whole.
Refreshing Mountain is a year-round retreat and adventure center providing family friendly fun and refreshment for over 30 years in Lancaster County, PA. We provide a variety of outdoor adventures, day field trips, and corporate team-building events, and overnight getaways with activities including zipline canopy tours, high ropes course, climbing tower, problem solving challenges, and much more. Our center is built on 80 acres of beautiful PA woodland and is conveniently located just a short drive from Lancaster and Hershey attractions.