Kids today face a different, perhaps more challenging, landscape to grow up in. Technology has changed our culture (for better and worse); social pressures have taken on a life of their own, affecting younger and younger children. It's no wonder parents and youth leaders can get a little frustrated searching for new ways to help teens become responsible, caring grownups.
Youth retreats can be a fun and rewarding event for all parties and an authentic means of helping teens work on important core values and life skills. As you prepare for your next youth retreat idea, consider incorporating team-building activities into the agenda. Team activities can help break down barriers among kids while fostering trust, creativity, self-confidence, perseverance, and more. Working toward a common, complex goal, kids will develop a sense of what it feels like to face challenges and succeed. The good news is that the pool of fun activities to choose from is deep and wide. Consider these:
Circle of Silence: Groups of all ages can easily participate in this team builder that requires keen listening skills.
Marble Tube: Posing a task that seems impossible gets teams thinking critically, cooperatively, and creatively.
Mine Field: Get kids moving and supporting teammates as they strive to reach a common goal.
Night Trail Course: Help them experience the loss of an important sense while relying on peers for support.
Triangle of Life: Test communication and problem-solving skills with this task that requires group planning and cooperation.
As you plan, make time for some high-value and impactful team-building activities for your group. Consider beginning with one or two to loosen everyone up and progress to more challenging as the event progresses. Many interactive activities require nothing more than an open space and willing participants. Plan ahead by reading through each activity thoroughly, noting materials and equipment needed, what type of space is required, and potential modifications in the event of inclement weather. Also, consider how you will break participants into small groups if necessary. Planning means the team-building activities will run smoothly and you'll be able to focus on the youth rather than the logistics.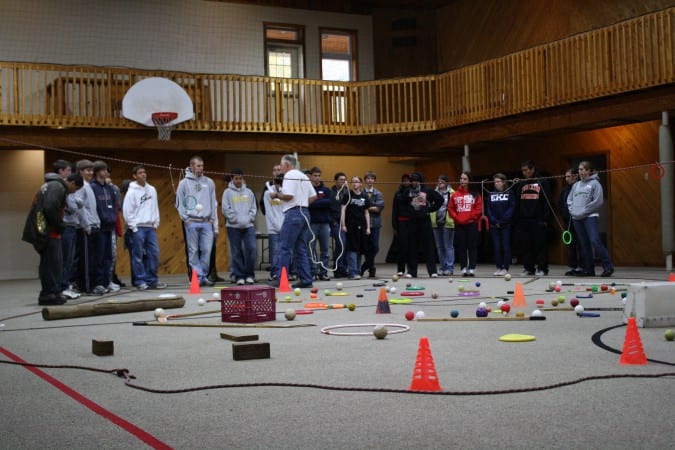 Above all, remember to keep it loose and encouraging with your teens. You may get an eye roll or two, but you're also likely to see grins and hear giggles as kids let down their walls and relax throughout each of the team-building activities.
Like the idea of doing some team building but feel like you need some outside help?  There are many different organizations that offer team-building programs and experienced facilitators who have the experience and skills to make your activity fun and engaging.  Here are Refreshing Mountain, we have a variety of team-building programs with options for every age, budget, skill, and thrill.  Check out our team-building options on our activities page for more info.