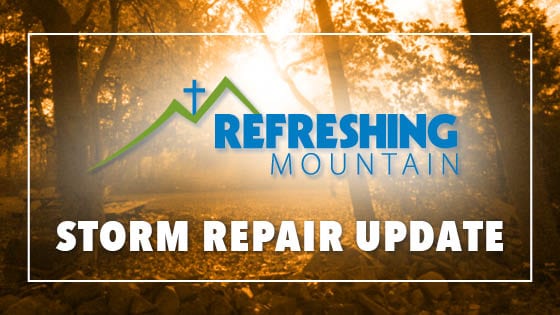 Refreshing Mountain Retreat and Adventure Center in Stevens, PA took a major hit from a recent wind storm that hit Lancaster County, but that doesn't mean they are closing up shop.
"We were hit pretty hard," said Justin Harnish, Director of the family adventure and retreat center. "Several of our outdoor activities will need to be assessed and repaired as necessary, but a majority of our lodging options made it through the storm unharmed," he added.
Refreshing Mountain, best known for its zip line experiences and outdoor activities, also relies heavily on retreat groups, offering cabins, hotel-style rooms, bunk houses, and more to overnight guests. "We actually had approximately 300 guests here when the storm hit," said Harnish. "Everyone was safe and unharmed, and we want to extend a very heartfelt thank you to all of our guests for their patience as we began cleaning debris and fallen trees from our property over the weekend. Additionally, a very special 'thank you' to our local community who came to help us begin cleaning up," he added.
Sunny Redcay, Sales Coordinator at Refreshing Mountain, ensured the facility would remain open to retreat groups that are scheduled to arrive over the next several weeks. "We have some cleaning up to do, but we are still here to provide our guests with a safe, comfortable, family-friendly experience, and we are still able to do that," she assured.
Refreshing Mountain has quickly become one of the area's unique, fastest growing destinations. From zip lines and pedal carts to education nature experiences and more, Refreshing Mountain truly has something to appeal to every one. "Our team has worked very hard to build a retreat and adventure center that brings people together for a time of refreshment and relaxation, and I have absolutely no doubts we will be able to continue providing superior levels of service, comfort, and excitement," said Harnish.
While Refreshing Mountain will work to have all activities and lodging options operational as quickly as possible, please note the zip lines will be closed until further notice. "We are still working to evaluate damage to our zip lines and repair accordingly, but rest-assured all 3 of our zip line courses will open better than ever," added Harnish.
To learn more about everything happening at Refreshing Mountain, visit refreshingmountain.com.
Refreshing Mountain is a year-round retreat and adventure center providing family friendly fun and refreshment for over 30 years in Lancaster County, PA. We provide a variety of outdoor adventures, day field trips, and corporate team-building events, and overnight getaways with activities including zipline canopy tours, high ropes course, climbing tower, problem solving challenges, and much more. Our center is built on 8 acres of beautiful PA woodland.