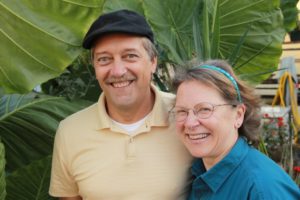 Marlin and Sharon started the camp in 1983, with simply the desire to have a place where they could work together as a family, raise a family, and minister to families.  Before this, they worked at a retirement community as the property managers, where they also lived on-site. When they first moved here, the property had been vacant for 3 years, and heavily vandalized.  There was no running water, and everything was overgrown.  But it certainly fit the bill for a place to work together and to raise a family.  "Over the years, Marlin says, "it has been wonderful to see the part of the dream of "ministering to families" also become a reality."
For the first 15 years of the camp, it was mainly the Harnish family that "made things happen".  There were other part time staff that helped out, but Marlin did the bookings and maintenance (and flipped pancakes for most every breakfast), and Sharon did the bulk of the meal planning (both purchasing and preparing), as well as the cleaning.  They also raised 8 children here, all "little helpers" along the way.  Starting in 1996-97, RMC started to slowly add more "full time" staff to grow with demand and offer new services.
Marlin is still involved in facility maintenance, gives general oversight and direction for all department directors and, more so, project management of new construction on site.  Sharon still assists with providing baked goods for the dining hall from time to time, as well as helping in housekeeping as needed. She also has her hands full with 11 grandchildren (and more on the way).  You can imagine the appeal to a grandchild of combining "Grandma's house" with "camp".
When not at work, Marlin and Sharon go to camp.  When not at camp, they go to work…. They are used to a daily routine that pretty much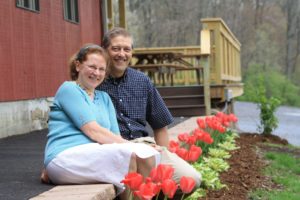 revolves around camp life and ministry, but they don't really see it as a "job".  Early in their marriage, Marlin and Sharon lived on a farm. Marlin compares "camp life" to "farm life" in many ways.  "On the farm, you don't punch a timeclock, you just go about your day, and then go to bed, then do the same the next day.  Camp life is kind of like that.  There is always something to do, and there will be more to do tomorrow, but it isn't really a "chore".  It is fun to do and work at and see the results of that".  Sharon does enjoy playing the piano and guitar, and they both enjoy singing together.  Marlin is also proud to show off his collection of shoe buttoners.