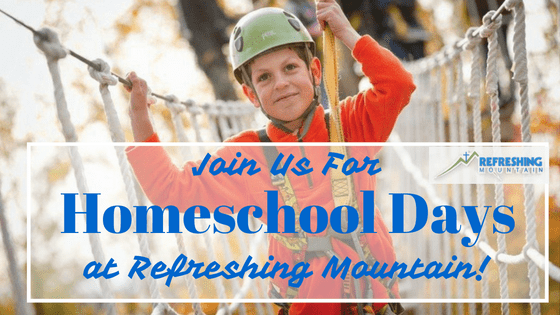 Educating a group of kids in a homeschool environment has the potential to become a bit monotonous. Brighten up their day by scheduling a field trip to Refreshing Mountain's outdoor classroom!
Our Homeschool Days give your group the chance to enjoy all sorts of exciting and educational activities in a stunning outdoor setting. The change of scenery is exactly what your group needs to renew their passion for learning and experience new opportunities.
A Look at the Typical Refreshing Mountain Homeschool Day Schedule
Bring your group on out to Refreshing Mountain and they will have the opportunity to participate in all sorts of activities designed to stimulate their intellectual curiosities and enhance their physical fitness.
The typical Homeschool Day schedule starts out with a 10 AM arrival and check-in. First through third-graders proceed to the climbing tower while fourth through sixth-graders enjoy some pedal-cart action. Older students in grades seven through twelve head on out to the high ropes course.
By 11:30, the youngest group will be learning about paintball and taking their shot at targets. Fourth through sixth-graders transition to the climbing tower while the older students embark on a journey through Pennsylvania's captivating woodlands. All groups break for lunch around 12:30.
At 1:30, the youngsters head on out to the woodlands while the fourth through sixth-graders take aim at paintball targets and the oldest group takes on the climbing tower.
The day is capped off with a physical challenge for the first through-third graders, an adventure through the woodlands for the fourth through sixth-graders and paintball target-shooting for the seventh through twelfth-graders.
Other Homeschool Day activities include the chance to enjoy single zipline rides, giant swings, team scavenger hunts, nature science programs and GPS-guided nature hunts.
There is always something to do in this beautifully lush green corner of Pennsylvania! It is the perfect way to get your homeschool group out of the house and into nature.
Answers to Common Homeschool Day Questions
Parents and guardians often wonder whether they are required to stay with their children throughout the day. Every parent/guardian should chaperone his child throughout their stay at Refreshing Mountain. All attendees will be provided with a chaperone schedule at the outset of the event.
We have pavilion space and picnic tables available for parents and children to enjoy their pre-packed bagged lunch. Our camp store is also open if you would like to buy food, drink, souvenirs and other sundries.
Parking is available at no-cost. We even have space available for large buses and passenger vehicles. Individuals with special needs will be accommodated to the best of our ability.
Homeschool Days Details
Our next Fall Homeschool Day is on September 30, 2016. The cost is a mere $20 per student. Family costs are capped at $60. Payment is required upon registration.
You can register with ease online. Click the "Register Now" button toward the bottom of this webpage. Payments will not be refunded if reservations are canceled less than 48 hours before the event commences. However, if a wait list party is available to fill in for a party that has canceled, the cost of entry can be refunded.
Interested parties should keep in mind that space is limited to 20 individuals in each age group.
So don't delay! Register now to reserve your group's Homeschool Days experience. If spots are filled before you have the chance to register, contact us to be added to our waiting list.  If you don't make the Fall Homeschool Day, we'll have details on the 2017 Spring Homeschool day soon.
We can't wait to see you!
Refreshing Mountain is a year-round retreat and adventure center providing family friendly fun and refreshment for over 30 years in Lancaster County, PA. We provide a variety of outdoor adventures, day field trips, and corporate team-building events, and overnight getaways with activities including zipline canopy tours, high ropes course, climbing tower, problem solving challenges, and much more. Our center is built on 80 acres of beautiful PA woodland and is conveniently located just a short drive from Lancaster and Hershey attractions.