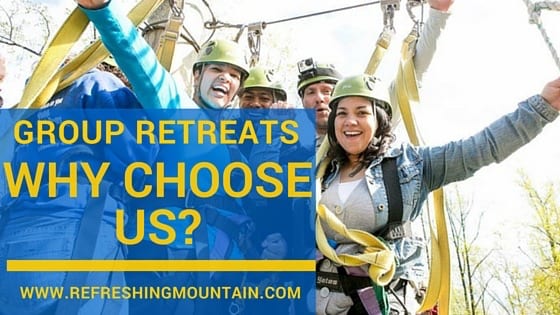 Location, accommodations, activities, and price are important decision making factors when selecting a location for your overnight group retreat. With all the options to consider, choosing a venue to host your group retreats can be a difficult task.  Refreshing Mountain strives to make planning your next group retreat simple. Here are 5 reasons to choose Refreshing Mountain for all your group retreats.
1. Convenient Package Pricing
Refreshing Mountain bundles your retreat costs for meals, lodging, meeting space, gym use, etc into 1 simple package price per person. We even include hotel/excise taxes (which non-profit groups have to pay) so that you have one simple, "per person fee". This approach helps you quickly ascertain your "per person" pricing, which in turn, helps you to accurately budget for the event. For optional add-ons in Activities (i.e. ziplines, climbing tower, pedal carts, etc) or equipment rentals (i.e. staging, golf carts, video projectors, etc) you are in complete control of the costs. If you don't need those as part of the event, you don't need to pay for them, but if you want the services, we have them to offer. Want to get an instant quote? Check out our online retreat pricing tool – just select your group size, number of nights and meals and activity choices and we'll give you a per person price for your event.
2. No hidden fees
"Surprises" in retreat planning are rarely a good thing…. J Especially when it comes to the final invoice. Our promise to you is that we will not add "hidden fees" to the invoice. Every billable charge will be clear AT THE TIME YOU REQUEST IT, so that there is no surprise on the bill. We will make sure you know the cost before we confirm the addition. We also do invoice "controlling", which means that we will not let other members of your team add billable services to your invoice without your knowledge and approval first. This is especially important if you have a number of people on your planning team.
Also, we are happy to help you "plan your budget". For example, if you have a target cost per person for activities, we are happy to give you recommendations that fit within that target, and/or give you a few options to choose from.
3. We accept last minute add-ons
Some venues are quite inflexible about last-minute add-ons, making it costly and/or impossible to do. Our mindset is that add-ons are a "good problem", and while they have to be managed to keep things running smoothly, we allow a "grace window" for add-ons up to at least 10% of your preliminary final count without any additional fees ( provided that you do not exceed your "contract maximum" for lodging). For example, if you give us a "preliminary final count" of 100 people (i.e. your "preliminary final count" is due 2 weeks before your arrival), you can add up to 10 additional people "last minute" without incurring any late fees. And if you have a more significant jump in numbers, we can work with that too; we will only charge an extra 5% on the last-minute add-ons. Last-minute add-ons do tend to add a bit of complexity to a schedule, so it is important that you give as much notice to the office as possible on last minute changes, but our goal is to serve you well, and if that includes accommodating more people for your event, we will endeavor to do so with excellence.
4. Group Discounts & Incentives
Have a large group?  Our retreat package pricing includes built-in discounts based on group size, check out our online retreat pricing tool to get an instant quote on your savings now.  Plan ahead and stay for free!  Click here to read more about our free group leader incentive. Doing such a great job on promoting your event that you've exceeded your expected numbers?  Awesome!  We offer additional discounts for exceeding your expected counts; click here to learn more about our final group size discounts.
5. Amenities Are Included
Refreshing Mountain does a good job of providing the "extras". Whether that is sports equipment for the sports fields and gyms, or board games for your meeting room, we have you covered. Need wifi access? Access to a microwave, coffee maker or fridge in your meeting room? Matches for a campfire? Sticky putty to hang things on the walls in your meeting room? Extra chairs/tables? Extra towels in your lodges or cabins? We make it a point to be ready to serve you and chances are that what might seem like an odd request to you is something that we have heard before and are prepared for. Just let us know what you need. If there is going to be an extra charge, we will be up front with you about that before we just add it to the bill.
Our goal is to take care of the background details so that you can focus on the main purpose of your event. Hosting group retreats at Refreshing Mountain is simple and affordable. From meals to WiFi, the details are taken care of, so you can focus on your participants. Why not experience the "refreshing" difference of Refreshing Mountain for your next event?