Women's Retreats at Refreshing Mountain
Set on 80 acres of beautiful Pennsylvania woodland and equipped with clean and comfortable facilities, we invite you to a relaxing retreat from daily life where your women's group can reconnect and be refreshed.
Planning your women's retreat with us is a breeze. From the start, our staff work with you to cover all details of your stay, ensuring you can focus on your group and program. Rest easy during your stay, knowing that our staff works around the clock to ensure clean and comfortable facilities, delicious meal options, and an array of fun activities.
Give us a call to start planning your women's retreat today!
"As a group we truly experienced the presence and grace of God. we were blessed by the beautiful surroundings as well as the lovely meeting room." – BONNIE GILL, Faith Alive
---
---
We have clean and comfortable accommodation options to fit most group sizes and budgets. Your ladies will love our newly constructed 2-bedroom cabins sleep up to eight.  Our lodge rooms feature private bath rooms and multiple bedding options with linen service for single up to quad occupancy.  Our bunks sleep 30 – 50 per bunkhouse and serve to create a "temporary community" for your women's group.  We also have camper and tent sites available.  Click here to learn more about our retreat options.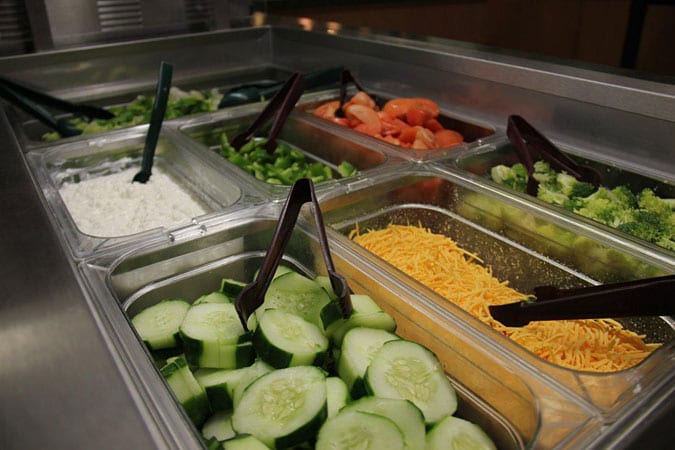 We have a full commercial kitchen run by professional staff that is prepared to offer your women pleasing meal choices to fit your group.  Our meals are served buffet style and include healthy food such as a salad bar in every meal.  Premium meal options from our banquet menu are also available.  We will also do our best to work with you on any group wide dietary requirements such as vegetarian and gluten free options, individual requests will be handled wehen possible. Click here to learn more about our meal options.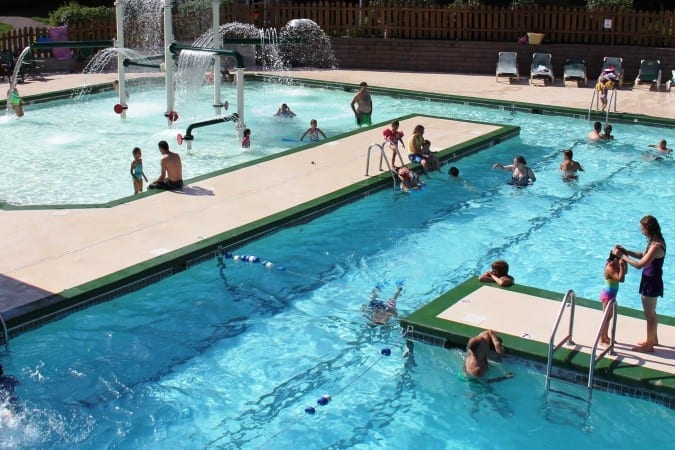 Our property has plenty of recreation options to help your women's group to relax, have fun and enjoy time together.   Options range from our swimming pool which includes a wet playground and water slide, the camp store, various sports fields, hiking trails, shuffleboard, ping pong, pool, and more.  Click here to learn more about our recreation options.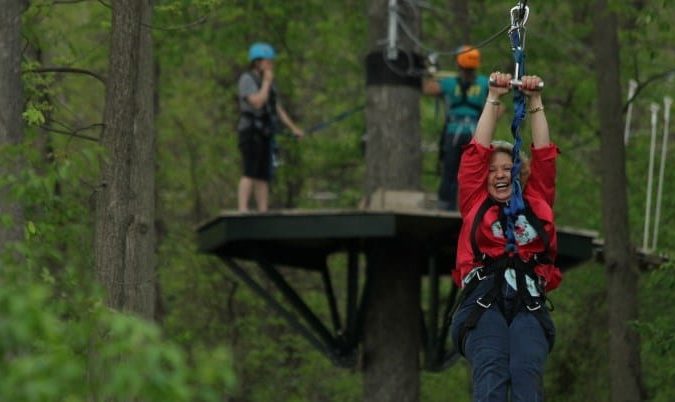 Refreshing Mountain offers a number of activities that will stimulate your group.  Our team building activities will help your group learn more about working together by attacking physical and mental problem solving challenges.  Our "High Adventures" provide a range of fun and challenging elements including our climbing tower, high ropes course, giant swing and more.  Our canopy zipline tours provide high flying fun for your group with ziplines, sky bridges and high ropes challenges, all situated in the beautify tree tops of our property.  Click here to learn more about our activity options.
During your retreat, you group will have a dedicated meeting room that you can configure to meet your needs including decorating with a theme to match your event.  Depending on your women's retreat group size, additional rooms may be available for workshop sessions (additional fees may apply).  Sound and video equipment are available for rent.  Click here to learn more about our meeting room options.
We offer competitive package pricing for women's retreats that including lodging, meals and use of our facilities including a designated meeting room, sports fields, hiking trails, swimming pool and gymnasiums by reservation.  We also offer a variety of team activities including canopy zipline tours, climbing tower, giant swing and team building activities that are available at individual and hourly rates.  Click here to learn more about our rates and package pricing.