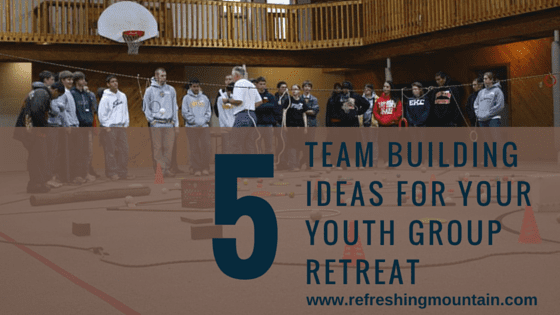 If you've ever planned an excursion for a group of young people, you know how important it is to schedule enough fun events to keep them interested for the duration of the retreat. A trip to the 80-acre Refreshing Mountain retreat and outdoor adventure facilities not only takes most of the planning out of your next youth retreat, but also provides everyone involved with a memorable outing in the scenic Pennsylvania countryside that will provide enough physical and mental challenges to keep everyone engaged. Here are five key benefits of holding your youth group retreat at Refreshing Mountain:
Outdoor Adventure Activities
Wheth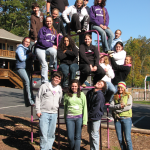 er your group is ziplining through the treetops, climbing on the high ropes course, competing in an archery shoot out, or just taking a break in the crystal clear pool, RefreshingMountain has the facilities to make you forget about the everyday world as you immerse yourself in nature. Nestled in the trees in beautiful Lancaster County, your youth group can choose from a wide variety of events to pack into a one-day or overnight outing. We offer a wide variety of activities from tamer options like geocaching and nature studies, as well as more adventurous activities such as ziplining, completing an obstacle course, and team building problem solving challenges.
No-hassle Retreat Planning
The staff at Refreshing Mountain deals with large and small groups every day. From your first phone call, they will work with you to design an experience you and your youth group will never forget. Whether you want to play among the treetops, take advantage of the gymnasium and sport courts, or spend time cannon balling into the pool, the staff will take care of all the arrangements. Rest assured that if you should decide to take advantage of some of the more challenging events, safety is the primary consideration. Refreshing Mountain has experienced staffers to help your group along while making sure the latest government-approved safety equipment is properly utilized.
Comfortable Overnight Accommodations
Refreshing Mountain has range of lodging options to fit any budget and we can accommodate groups sizes of up to 450 persons! We have four of bunkhouses for community style lodging and hotel style lodge rooms that have private bathrooms.  We also offer family cabins that can sleep eight with a master bedroom, 4-bed bunk room, private bathroom with a open kitchen, dinging and living room area.  Each of our rooms are are air-conditioned and heated and we have free Wi-Fi service across the property. Refreshing Mountain has a commercial kitchen run by professional cooks who can meet all your meal needs. All meals are served buffet style and include healthy alternatives like salads and vegetables. Special dietary requirements are no problem as long as you communicate your needs ahead of time. Overnight retreat packages are very affordable with pricing figured per person.
Relaxing Recreational Activities
Our 80-acre property has a lot to offer for relaxation and recreation.  Our swimming pool features a wet playground, water slide, diving board and camp store with lots of refreshments and merchandise.  We have a number of sports fields for soccer, baseball, volleyball and other field games.  Our playground is a fun place to play and the pond has a great meadow area for picnics, small group meetings or even some light fishing.  We have two indoor gymnasiums that are available to overnight groups that can also double as indoor meeting spaces for larger groups.  Enjoy a short hike on Deer Print Trail or if you're looking for a longer hike, Lancaster County is a hikers' paradise, with a number of parks featuring trails of varying difficulty.
Refreshing & Fun Atmosphere
One of our core values is to provide a fun and refreshing environment for families.  We've been providing overnight group retreats for youth groups and other groups for over 30 years and have been blessed to be able to build up our facilities to make the perfect environment for promoting fun and relaxation while creating an atmosphere for guests to connect with God and others.  Our recreation facilities and outdoor activities provide great venues for team building and our meeting facilities provide a place for instruction, worship and group interaction.  Whether you're in the pool, in our meeting rooms or on the ziplines, we take care to ensure safety in all aspects of our property and activities and have a family friendly environment with our modest swimsuit, no smoking and quiet hours policies.
If you are interested in learning more about our youth retreat options or would like to submit an inquire for an event, just click here to visit the group retreats page on our website!