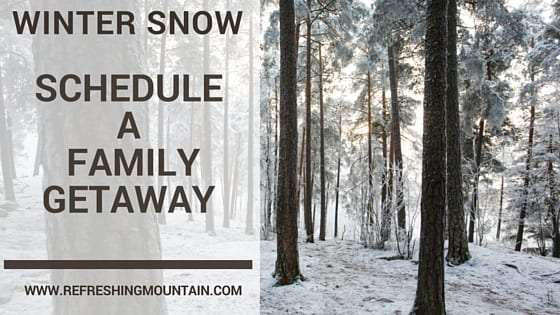 There's something about the magic of snow. It offers a clean, fresh feel to it, yet it can even be a bit dramatic, fun and full of awe. Everyone experiences a different feeling when they see snow, which is exactly why winter is the perfect time to take one of your unforgettable family vacations and experience the thrill and excitement of Refreshing Mountain.
With the newly constructed, spacious and fully appointed cabins, you'll have a beautiful, yet private place to stay with your family. Plus, with so many other activities to experience, there is never a shortage of fun to be had!
Sounds interesting right? Here are some ideas.
Winter Wonderland For Your Family Getaway
Planning a winter family getaway… starts with an ideal winter location. Refreshing Mountain can offer you both a unique winter location… and a one of a kind experience. Plus whether you want an overnighter or something a bit longer, there's an easy breezy plan perfect for you.
The cook in the family might like a break too so there are packages that include meals with the lodging and use of the facilities. With delicious food prepped every day for you, mom and dad can now apply meal work time…to family and fun time!
Family Cabin Rentals
Part of the blessing during winter retreats is experiencing the cabins here at Refreshing Mountain. All of the cabins are either recently constructed or renovated, so you'll be surrounded by beautiful, hand-carved wood, stay nice and warm the entire time. Cabin guests enjoy the vibes of a secluded, wooded retreat which brings forth feelings of much-needed rest and relaxation.
Memorable Family Activities
Don't put it off. Make family memories this winter. Refreshing Mountain can be where you first go zip lining with your children. With two different courses to choose from, there are options perfect for everyone. Plus, there are indoor activities to help beat the cold and stay warm after a long day in the winter wonderland.
Family Activity Packages
Take on every activity as a family, or mix it up by allowing the children moments of supervised independence. From the exciting Challenge Adventure and Aerial Excursion to pony rides and a Nature Discovery Package, there are some truly great trips to be had and adventures to take in. The winter is time to experience new activities or to try old activities in a new setting. With plenty of options to pick from, you can customize activities for the winter season and your family's interest.  If your planning a multi-day getaway, consider going offsite to one of many local attractions in the Lancaster County area.  Check out this list of great things to do in Lancaster!
Unique getaways make for powerful family memories and we have learned from experience that the winter retreats are special for families and small groups. Before your children grow up and fly the coup, capture priceless memories by scheduling a cabin rental at Refreshing Mountain this Winter. Click here to contact us today or call (888) 353-1490.
Editor's Note: This was originally published 12/24/2015, but was updated on 9/4/2018.