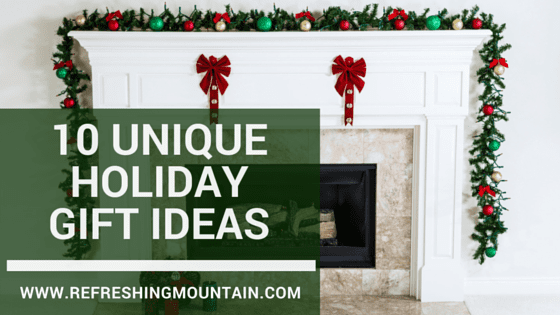 The holidays are coming, and if you're like most people, you have at least one person on your list that's hard to buy for. This holiday season, think outside the box and consider some of these unique holiday gift ideas.
1. The Multi-tool
"Always be prepared" is an age-old Scout motto that still holds true today. While Swiss Army knives and other multi-tools have been around for years, a fun twist is a SwissCard. Combing scissors, a ruler, pin, pen, and more into a credit card sized package makes this gift practical and convenient for anyone on your list.
2. An Indoor Garden
For nature-lovers, the winter holidays can be…a tiny bit frustrating. You can bring the outdoors in year-round with a hydroponic Aerogarden. From flowers to edibles, your gardener can grow a wide variety of plants in this self-contained system.
3. The Gift of Experience
For families who already have everything, a great alternative is to give them an experience they won't soon forget. With gift tickets for ziplining, activity packages, pool memberships, and more, Refreshing Mountain offers a wide variety of fun family experiences for the hard-to-please family that will last well beyond the holidays.
4. Charity
During the holidays, thoughts often turn to those less fortunate. Giving the gift of a charitable donation to a cause close to your recipient's heart can be a great way to show you care. From organizations such as Heifer International to the local animal shelter or pediatric hospital, there are many amazing ways to spend your money this holiday season.
5. Hammock
From lounging in the backyard to having a comfortable place to sleep on your next hiking adventure, an ENO hammock is a fun gift for anyone on your list this year. These highly-package, hammocks collapse to the size of a grapefruit but can support up to 400 lbs. Made from quick-drying, breathable nylon, these hammocks can truly go anywhere.
6. Outerwear
With good quality outerwear, like the jackets and coast made by Patagonia, you can enjoy the great outdoors in any season. With stylish and comfortable options for every member of the family, consider giving a warm, cozy jacket to your picky recipient for the holidays. From down to fleece, Patagonia has options for everyone.
7. Geocaching
What better gift to give for the holidays than a hobby the entire family can enjoy? With Garmin's eTrex 10 Geocaching Bundle, you can get them starting with everything they need to embark on a new adventure. Combining superior GPS technology with special features just for geocaching, this is a great way to send your loved ones on an exciting treasure hunt.
8. Video Their Adventures
From the ski slopes to the swimming pool, the GoPro line of cameras can go anywhere to capture all the fun. These cameras can be worn or mounted onto your gear for hands-free operation. Waterproof and rugged, GoPro cameras are perfect for any adventure, from the holidays to summer vacation.
9. Activity Tracker
Studies have shown that an activity tracker helps everyone, from the couch potato to the sports buff in the family, stay more active and healthy. With products like the ChargeHR, FitBit provides all-day tracking combined with a rugged watch, heart rate monitor, call notifications from your smartphone, and more.
10. Board Games
In today's fast-paced and electronic-based life, going back to basics like board games can make for a unique gift that's fun for the whole family. Hasbro classic family games like Battleship, Monopoly, and Scrabble are perfect for young and old alike, and now come with fun themes like Minions, Star Wars, and more.
The Refreshing Mountain team wishes you a blessed Fall & Winter season. See you outdoors…and soon!