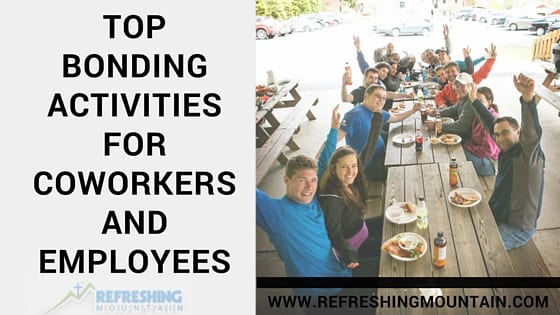 The average contemporary office is made up of individuals with diverse backgrounds, abilities and interests. Oftentimes, the abundance of work and separation of duties prevents employees from developing meaningful relationships with one another. If you own or manage a business, do your staff a favor by devoting some time to team bonding activities.
Community Service
Though volunteering one's time to those in need might seem like work, it really can foster unity among co-workers. Instead of forcing your team to volunteer at a certain shelter, survey them to find out what groups they would like to help.
Studies have shown that engaging in community service away from the workplace can re-energize a stressed out group of employees. Lending a helping hand to those who need assistance really puts things in perspective.
Your employees will return to the job with a greater appreciation for their work as well as the civility of their co-workers. Many will testify that the volunteering experience improved their leadership abilities as well.
Take a Field Trip
Field trips aren't just for school-age children. A field trip will give your staff the chance to leave the monotony of the office environment to spend some time with nature, at a historical site or in a museum. They'll interact with one another in a comparatively fun environment, bolstering bonds that might have been previously stifled by the disciplined nature of the workplace.
If your office is located near Lancaster, PA, consider scheduling a full day or a half-day at Refreshing Mountain. This just might be the excursion your staff needs to recharge their batteries. Employees can escape the work grind for a day of outdoor fun with climbing towers, high ropes, ziplining, giant swings, wobbly logs and more.
Share a Meal Together
Most employees eat lunch by themselves while staring into their smartphone, tablet or e-book. Though we all love our electronic devices, they certainly don't help foster unity in the workplace! Consider scheduling a shared meal once every couple of weeks to boost workplace camaraderie. It can be a pot luck lunch, birthday celebration, retirement party or a simple outing to a local restaurant. This is the perfect way for employees to unwind, have some fun and establish deeper bonds with one another.
Don't try to force team-oriented activities upon employees in a dining setting. Allow them to steer their conversations as desired and they'll feel much closer to one another as a result. Just be sure to address the dietary requirements of all employees before planning a shared meal. Vegetarianism, veganism and food allergies are all on the rise.
Get Creative With Coordinated Breaks, Lunches and Shadowing
Workplace conflicts often arise when workers fail to understand one another's unique perspective and challenges. Consider letting employees shadow their peers for a half-day in an effort to foster team bonding.
Shadowing gives employees the chance to see exactly what their co-workers do all day. It will help them improve their own job performance as well as their communication skills. Furthermore, consider scheduling employee breaks and lunches so that workers from different departments have the chance to socialize together outside of the office.
Have Fun!
The typical workplace feels a bit sterilized. Everyone sits in a cubicle with walls separating them from their peers. Workers tend to communicate via e-mail and instant messages more often than verbally in a face-to-face context. Inject some fun by adding a game room. Stock up on video game consoles, board games, a ping pong table, foosball table or pool table. Add these niceties to your workplace's common area and watch as your team's chemistry flourishes.
Refreshing Mountain is a year-round outdoor retreat and adventure center providing safe, friendly fun and refreshment for over 30 years in Lancaster County, PA. We provide a variety of outdoor adventures, day field trips, and corporate team building events, and overnight getaways with activities including zipline canopy tours, high ropes course, climbing tower, problem solving challenges, and much more. Our center is built on 80 acres of beautiful PA woodland and is conveniently located just a short drive from Lancaster and Hershey attractions.