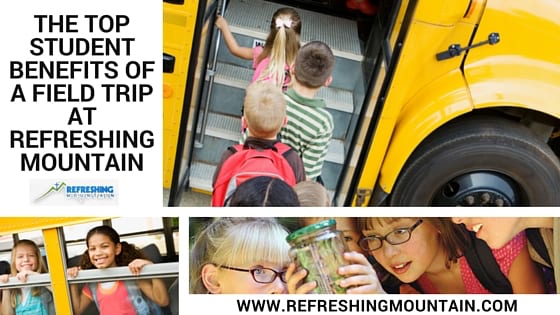 Textbooks, worksheets, lectures, reports, and projects are the mainstays of the school year. Teachers and students alike work through this daily grind, day after day. Educational field trips allow a much-needed break from the daily routine and a host of other benefits to students.
By getting them out of the classroom and into the world, school field trips in Lancaster County, PA allow students to learn from experience, while teachers gain new insights on their students. Refreshing Mountain offers school field trips that are unique and exciting, creating lasting memories of the skills and lessons learned.
Reason #1 – Hands-on Learning in Nature
Studies have shown that children of all ages learn better when they have opportunities for physical activity. Unlike visiting a museum or performance, school field trips held outdoors, like the ones at Refreshing Mountain, give students the opportunity to move their bodies, engaging with their environment in a way other field trips do not allow.
With activities such as target shooting, scavenger hunts, climbing towers and even zip lining, students will be having fun while using both fine and gross motor skills and practicing hand-eye coordination.
During school field trips, students will be outdoors observing nature and wildlife in its natural habitat. You will see children listening and responding in very different ways than they would in the classroom, as their senses are full of new sights, sounds, and smells.
This type of trip also allows educators to connect with students on a different level; finding new ways to teach that will be more effective for each individual.
Because school field trips are led by professionally trained staff, teachers are able to stand back and observe the group as a whole, as well as individual students. Without the pressure of being responsible for the tour, you can examine group dynamics, and engage with individual students knowing the trainers and guides are keeping your class entertained and active.
Reason #2 – Better Relationships Through Team Building
One of the most important skills in the workforce is knowing how to work as part of a larger team, and this instruction begins in school. School field trips that support team building will have lasting benefits for the dynamics of the classroom and for the students throughout their lives. Through guided activities, students will learn and practice important peer-to-peer development concepts such as:
Respect
Honesty
Teamwork
Group problem solving
Students will be encouraged to work in varying groups rather than just staying with their usual group of friends. This allows new friendships and comradery to develop, which will translate to the classroom and school environment. With increased understanding and respect, students can move forward from their time at Refreshing Mountain as a more cohesive class.
Reason #3 – A Refreshingly Different Experience
By taking the students out of the classroom and putting them in nature, they are separated from their high-tech worlds, gaining new experience and insight about the world around them.
With interactive hands-on activities, students will be fully engaged, and might not even realize they are learning skills to assist them in school and life!
At Refreshing Mountain, school groups are provided with professional guided tours and dedicated trained staff. By keeping group sizes small, wait times for the activities are short so that the students can gain the maximum benefits during their trip. Each student will receive personal attention, ensuring their safety, comfort, and happiness.
The goal is for each student to feel as though they have joined the Refreshing Mountain family, forging a group dynamic unlike any other experience.
Combining education, adventure, and nature into an unforgettable experience has provided countless students with lasting memories of their time. For many students, their trip to Refreshing Mountain is the highlight of the school year.
So Why Choose Refreshing Mountain?
Children will be encouraged to investigate, discover, work together, and learn about their surroundings, themselves, and their classmates during their time. The unmatched experience of school field trips at Refreshing Mountain keeps children engaged throughout their trip, learning new physical, social, and emotional skills.
Experience the Benefits
School field trips at Refreshing Mountain include lots of wonderful benefits like:
Getting to spend a day in the beauty of nature
Active and safe outdoor physical activities that are fun for all kinds of students
Professionally trained leaders that help your day run smoothly
Activities designed to encourage individual growth and teambuilding
An intimate and relaxing environment that promotes good morals and family values
And much more!
Every trip to Refreshing Mountain will leave you and your class refreshed and ready to tackle the rest of the school year with new-found skills and ideas.
Check out our package options »
For more information about school field trips contact Refreshing Mountain by visiting the website and filling out an inquiry form, or calling (888) 353-1490. The dedicated staff will be happy to answer any questions you may have and help you plan an unforgettable school field trip.