Lancaster County in the wintertime includes activities that draw you outside for the afternoon while allowing you to relax by the fire in the evenings. Get into the holiday spirit with all the exciting events that Lancaster County, PA, provides. There are tons of fun winter activities for kids and adults alike.
This list of 10 fun things to do this winter in Lancaster, PA, will help you customize a winter vacation or day trip.
1) Check Out a Winter Christmas Light Display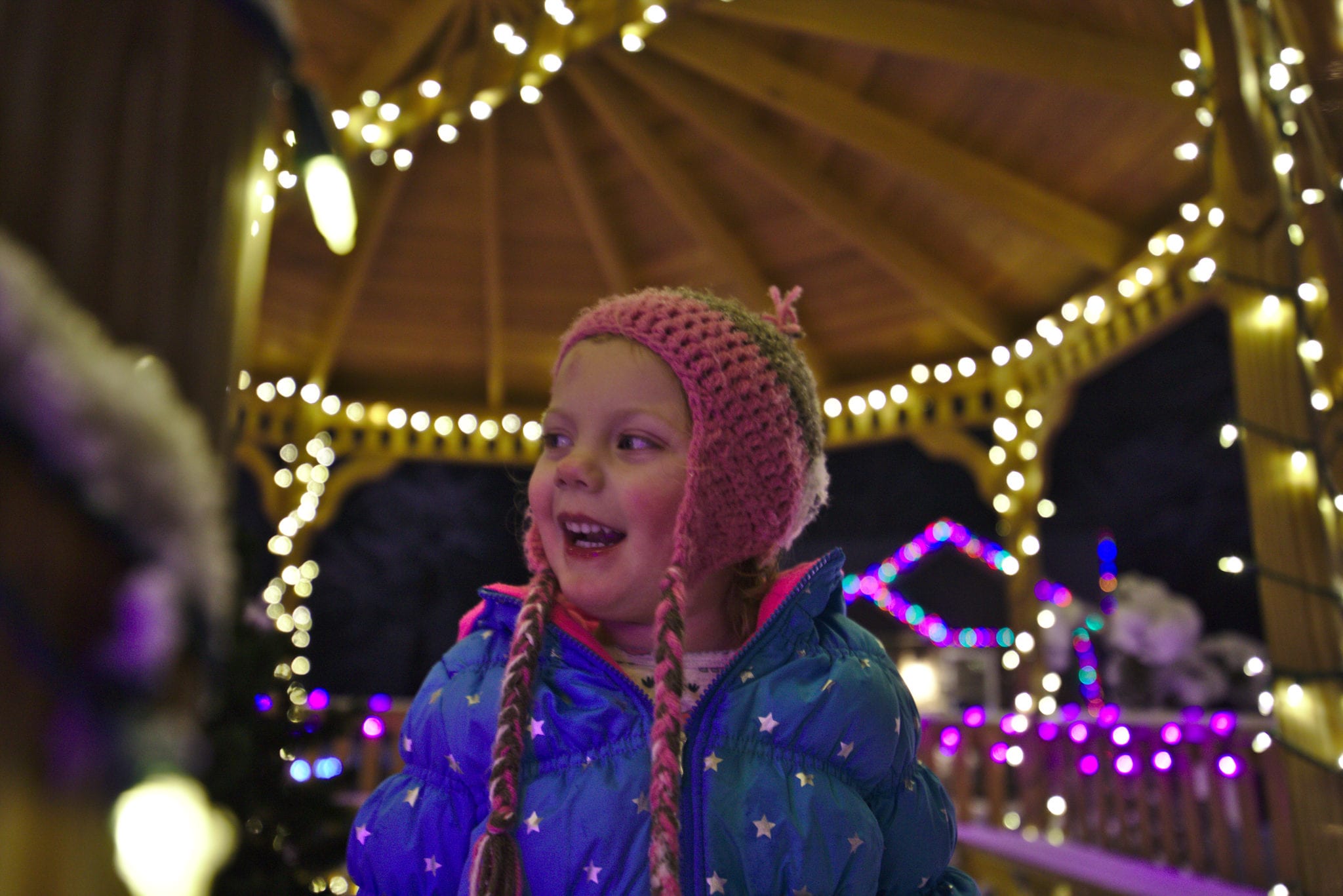 While it may be dark earlier in the day, you can still enjoy the winter wonderland with Christmas lights at many places in Lancaster, PA. Bright, colored lights lift your mood as you walk or drive through winter Christmas lights in the woods or on a trail!
If you're looking for a winter wonderland of Christmas lights, you must visit Refreshing Mountain. For Christmas 2022, we replaced our drive-thru light displays with a larger walk-thru with tens of thousands of lights!
Visit our observation deck, wildlife center tour, and a special walk-around experience that will connect you and your family to the Joy of Christmas.
Other fun events for Christmas lights include these outdoor activities:
Brethren Village Bright Lights on Lititz Pike in Lititz, PA
Christmas Light Drive-Thru at Stone Gables in Elizabethtown, PA
Columbia Christmas Lights at Prospect Valley Farm in Columbia, PA
Dutch Winter Wonderland on Route 30 in Lancaster, PA
Hersheypark Sweet Lights in Hershey, PA
Kozier's Christmas Village in Bernville, PA
Messick's Christmas Light Show in Elizabethtown, PA
2) Visit the Strasburg Railroad
If you're looking for things to do in Lancaster, PA, in winter, you want to visit the Strasburg Railroad, one of America's oldest-running railroads.
The Strasburg Railroad offers four special events this holiday season:
Santa's Paradise Express: The Strasburg Railroad converts into a winter wonderland where you and your family can ride the train with Santa, carolers, musicians on the mall, storytellers, and much more.
Santa Claus Limited: A 45-minute train trip with Santa Claus on board. Children 11 years old and under receive a free gift from Santa, and he will write back to children who put a self-addressed, stamped envelope in the North Pole Express mailbox.
The Night Before Christmas Train: Listen to the story, "A Night Before Christmas" by Clement Clarke Moore, come alive with a reader in a Victorian nightshirt and cap reciting the poem. Enjoy cookies and milk while the train rolls by Lancaster County farmland.
Christmas Tree Train: A fun family event, you take the Christmas Tree Train to Leaman Place Grove, where you choose the perfect pre-cut Fraser or Douglas Fir tree. Your tree gets delivered back to the station via flatcar.
3) Explore Covered Bridges
If you're looking for things to do in Lancaster, PA, in winter, then you want to explore covered bridges. Lancaster County has dozens of covered bridges for you to explore.
Covered bridges, also known as kissing bridges, dot the area's landscape.
Here are a few we recommend:
Forry's Mill Covered Bridge was built in 1869, the same year the transcontinental railroad was completed.
Siegrist's Mill Covered Bridge was built in 1885 and was initially called Michael Moore's Mill Bridge. It was renamed after the Siegrist family when they bought the bridge in 1895. In September 2011, the bridge washed downstream during flooding but was rebuilt in 2013.
Shenck's Mill Covered Bridge was built in 1847 and rebuilt eight years later, in 1855, due to flood damage.
Kauffman's Distillery Covered Bridge was originally built in 1857 and later rebuilt in 1874. Kauffman's Distillery was one of 130 distilleries in Lancaster County, PA.
Hunsecker's Mill Covered Bridge is the longest single-span covered bridge in Lancaster County, PA. The bridge was built in 1848 and rebuilt in 1973 after Hurricane Agnes' rising waters lifted the abutments and carried them downstream.
Pinetown Amish Covered Bridge is a rebuilt covered bridge. In 1972, the bridge's base was washed away by floodwaters from Hurricane Agnes. In the spring of 1973, nearby Amish workers rebuilt the bridge, raising it to 17.5 ft above the average water level.
4) Go on a Winter Adventure

If you're looking for Lancaster, PA, winter activities, go to your favorite search engine and put in "winter ziplining near me." Refreshing Mountain Ziplines should pop up.
Beginning November 25, 2022, through January 15, 2022, Refreshing Mountain offers four zipline adventures:
Includes two ziplines, four challenge obstacles, an observation deck, a wildlife center, and a Christmas light walking path.
Learn More
Includes two ziplines, 22 elevated obstacles, an observation deck, a wildlife center, and a Christmas light walking path.
Learn More
Includes three ziplines, a 30 ft. descent through a column of Christmas lights, an observation deck, a wildlife center, and the  Christmas Light Walking Path.
Learn More
Includes the observation deck, wildlife center, and Christmas Light Walking Path.
Learn More
5) Cozy Up at Coffee Shops and Cafes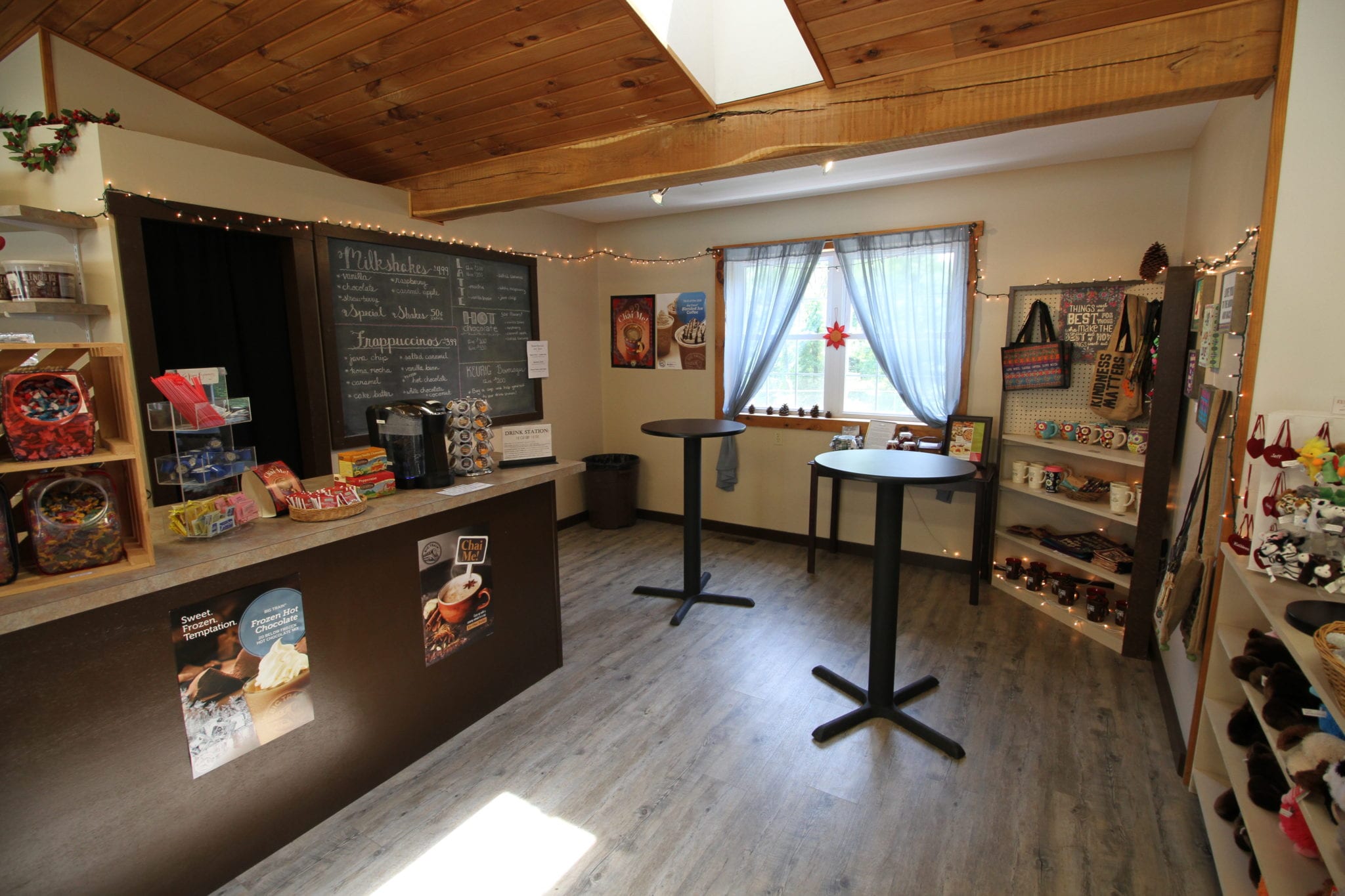 Lancaster County is fortunate to have many coffee shops dotted throughout the county.
Get out of the cold and cozy up in one of these coffee shops:
Copper Cup has two locations in Lancaster and Lititz, PA. Their menu includes scones, chia pudding, lattes, chai, and other warm drinks.
Courtyard Café on Main is in downtown Denver, PA. They serve homemade soups, sandwiches, and various hot drinks. You can sit by the fireplace to enjoy your warm drink.
Javateas, located on Reading Rd, in Ephrata, PA, has coffee, espresso, breakfast, lunch, and more on their menu.
Wired Cup Café, located on Reading Rd, in  Ephrata, PA, sells NY Style bagels, various coffee beverages, and different kinds of sandwiches.
319Cafe at Refreshing Mountain makes gourmet beverages, including lattes, cappuccinos, Americanos, and hot chocolate.
6) Experience Winter at Kitchen Kettle Village
Lancaster County's destination spot, Kitchen Kettle Village, will get you into the holiday spirit with Christmas lights, activities for kids, and savory food to sample.
Try Lancaster County Christmas treats, walk through the Kitchen Kettle village with its many lights and holiday décor, and shop for Christmas gifts during your visit.
7) Stay Warm Indoors with an Exciting Escape Room
Do you want to stay inside on a cold winter day? Then, solve the mysteries at Refreshing Mountain's Escape Rooms. You and your team find clues, solve puzzles, and work together to find a way out of each themed room.
Escape Rooms make an excellent adventure for families and youth groups with three Escape Room themes to choose from:
These adventures are suitable for children as young as five. Book Funding the Dream and Circle T Ranch today!
8) Make Sure You See Santa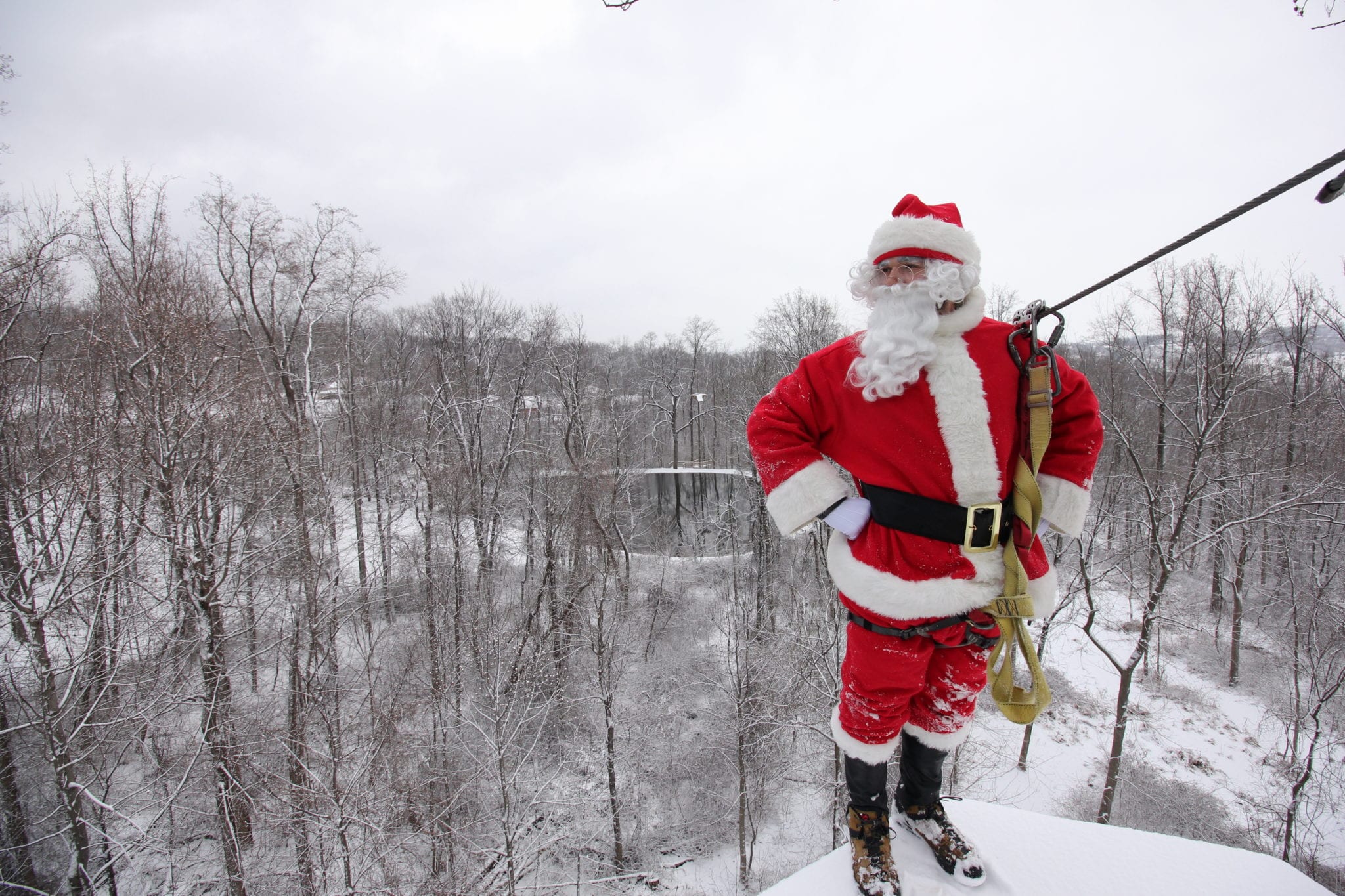 Christmas isn't complete until your kids get to see Santa! You can visit with Santa and have your picture taken with him at these Santa stops in Lancaster County:
Santa's Paradise Express at Strasburg Rail Road, where Santa hops on board and rides with you on December 21. Children 11 and under can take their picture with Santa while you ride the track through beautiful farmland.
If you're headed to The Shops @ Rockvale, visit Santa Stop. At Santa Stop, you'll have photo ops with Santa, FM97 with Live Breaks and Prize Wheel, and a Make & Take Station for the kids.
Kitchen Kettle Village at Christmastime, where families eat with Santa Claus. Mrs. Claus reads classic holiday stories to the kids, and she'll give away some unique gifts.
If you love ice cream, you want to have dessert with Santa at the Turkey Hill Experience. Kids from 2 to 12 will enjoy listening as Santa Claus reads Christmas stories while you eat a Christmas ice cream treat.
Have fun scooting with Santa at Scooter Tours. Ride with Santa through beautiful farmland, including Amish farms and schoolhouses. Santa rides on a 50cc Scoot Coupe and leads you throughout Lancaster County's back roads.
9) Watch the Snow Geese' Migration
If you're planning on visiting Lancaster County after the holiday season, you want to visit Middle Creek Wildlife Management Area in Stevens, PA, to see the snow geese.
The snow geese start migrating to Middle Creek in mid-February through mid-March. Hundreds of thousands of geese stop at Middle Creek on their way to their sub-Artic and Artic breeding grounds.
Then watched the snow geese flying in large flocks, especially at dawn or dusk when snow geese take off to feed in the morning and return to roost in the early evening.
10) Plan a Cozy Cabin Getaway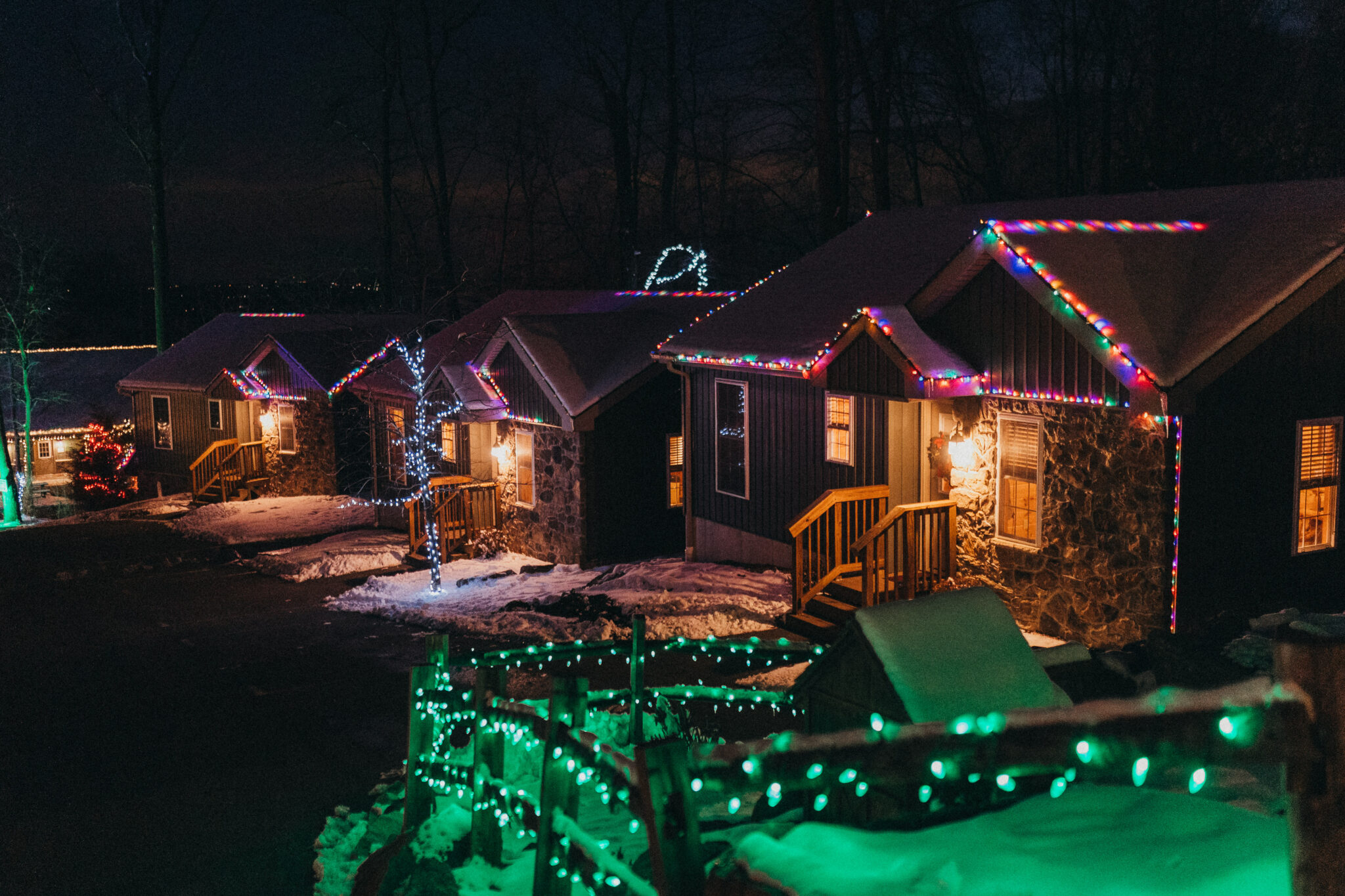 The holiday season gets so busy. While you and your family or youth group enjoy what Lancaster County offers to get you into the holiday spirit, you may want to stay a night or two.
Stay at Refreshing Mountain's Cabins this holiday season and receive 15% OFF the Christmas Lights Adventures. Watch this video to learn more.
Why stay in one of our cozy cabins this winter?
Here are some reasons to consider:
Your cabin is decked with winter Christmas lights
Your cabin is a restful "home away from home" with a master bedroom
Your cabin has a 4-bunk bedroom
Your cabin has a private bathroom
Your cabin has an open floor plan with a kitchenette, dining room, and living room.
Plus, you can drive five minutes to a local Christmas tree farm in Lancaster County to find the perfect Christmas tree.
10) Experience Christmas in Lancaster County, PA
Lancaster County, PA, offers many fun events to get you into the holiday spirit and outdoor activities.
Come and experience Christmas's magic, wonder, and excitement this holiday season in the Heart of Lancaster County, Pennsylvania, at Refreshing Mountain. Book your Christmas adventure today!