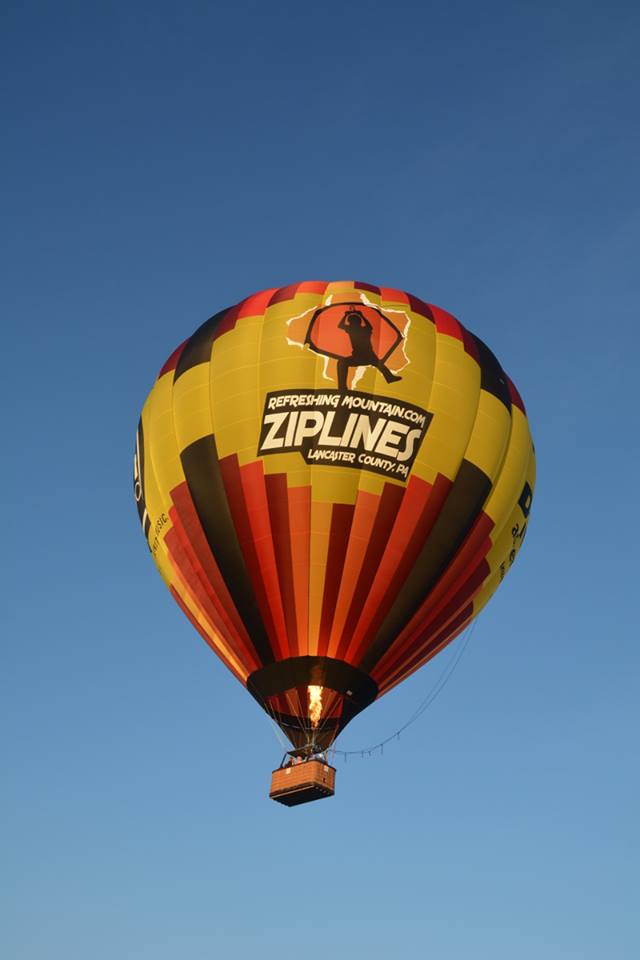 Did you know there's a hot air ballon floating around Lancaster with Refreshing Mountain's zipline logo on it? We recently partnered with several other advertisers to sponsor a new balloon that is operated by US Hot Air Balloons in Lancaster County, PA.  If you're looking for something fun to do in Lancaster, PA, their balloon rides are a great option!  Check out their website for details.
We think the balloon is pretty cool, and hope you do too!  As a fun promotion, we are running a contest this summer through Labor Day Weekend.  If you spot the Refreshing Mountain logo on our hot air balloon, snap a photo of it and post it on Facebook.
Every qualifying picture that clearly shows our logo and is tagged with our Facebook page will be entered in our contest.  We will be holding weekly drawings for a Refreshing Mountain T-shirt and all qualifying entries will be entered into our grand prize drawing on Labor Day Weekend to win 2 tickets for a free hot air balloon ride!
To qualify, photos must clearly show our logo (see picture in this post for an example) and must also tag our, "Refreshing Mountain Retreat and Adventure Center" Facebook page (otherwise we won't see that you posted the picture).  Note: you must "like" our Facebook page to be able to tag us in your photo.  All entries must be posted on Facebook between July 20, 2015 and September 6, 2015.  Weekly drawings will be held on Friday's and the grand prize drawing will be held on September 7, 2015.  Staff of Refreshing Mountain and US Hot Air Balloon Team are not eligible to participate in the drawings
Happy Spotting!