If you are looking for fresh new experiences and ways to experience life outside of the classroom, Refreshing Mountain is the venue for you. We host a variety of day events and offer a range of age appropriate programs for students in grades kindergarten through senior high. Read on to find out more about how a visit to our site in Lancaster PA can increase interest, observation and evaluation skills, and critical thinking skills. At Refreshing Mountain, opportunities for connections to academic content abound. Bring your students here and you can foster growth and stimulate an appreciation for and greater appreciation of the positive powers of team building and unity.
Elementary School Field Trip Packages (Kindergarten – Third Grade)
Our options for the younger grades range from three different packages. Choose from a combination of field games and a scavenger hunt, or field games, a scavenger hunt, and a single zip line. Scavenger hunts involve searching for various nature items and help to build student knowledge about the characteristics of different types of trees and other vegetation. Kids love hands on activities like this! Private pool access, the use of a pavilion, and archery are also available for this age group. The spacious pool includes kid friendly features such as a wet playground and a certified lifeguard.
Elementary & Middle School Field Trip Packages (Fourth Grade – Sixth Grade)
Field trip packages
in this age category include options such as pool and pavilion access, giant swings, climbing towers, paintball, zip lines, physical challenges, and field games. Kids love the way that zip lining allows them to feel like they are flying even without wings. It is exhilarating yet safe. Options like paintball games give students a safe and exciting way to practice evaluating and exercising strategy and decision making skills. Students can push their physical boundaries in a family friendly environment. While offerings seem like physical fitness challenges, they often offer mental stimulation as well.
Junior High & High School Field Trip Packages (Seventh Grade – Twelfth Grade)
These school event options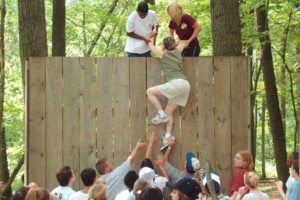 include team building challenges, high ropes, a climbing tower, giant swing, and archery. Even students with physical challenges can enjoy the sport of archery and the chance to exercise control over tactile equipment in a safe environment. Students can enjoy the satisfaction of overcoming personal fears and gaining team building confidence under the capable eye of skilled on site activity facilitators. The various options offered all give students a way to improve focus and self confidence, which are key to success in all areas of life.
Meal Options
There are convenient pavilion areas with handicapped accessibility where students, teachers, and chaperones can enjoy their own packed lunches. Buffet meals can also be pre-arranged for day event groups of thirty or more.
Extra Nature Connections
A 30-minute hike is available to all day park guests, which is the perfect way to connect classroom nature studies with real life application. Students can experience their senses coming alive as they view a variety of plant specimens and a range of trees and living creatures native to Pennsylvania.
Affordability
Refreshing Mountain offers affordable field trips with discounts for large groups. We conveniently offer multiple options for each age group so that trips to our venue can truly be customized to best fit your needs.  Our prices vary by age group and group size, with discounts for larger groups.  You can view our options and pricing via our field trip pricing tool.
Environmentally Sound
We believe in preserving the beauty and integrity of our natural surroundings. Feel peace of mind that our facility uses solar electricity, composts food, collects rain water, and sends garbage to a trash incinerator to electric facility, rather than a dump. Feel free to discuss our stewardship practices with any staff member.
Convenient Location
Our facility is located in Stevens PA, which is close to Lancaster and Hershey. Our website also includes driving directions for any school groups traveling from the Baltimore or Philadelphia areas. Feel free to explore our interactive camp maps and even to view them with students prior to your visit. Key information such as locations for the giant swing, zip line, and archery area are all clearly marked.
A trip to Refreshing Mountain is simply a great way to foster appreciation for the outdoors and to pique interest so that students go home wanting to learn even more about nature and also about themselves. Programs can be tweaked to meet your group's needs and our staff is friendly and up to date on all safety procedures. Come on a field trip to our site and get ready to experience a refreshing type of day that can be widely anticipated as well as reflected on afterward. Contact us today!