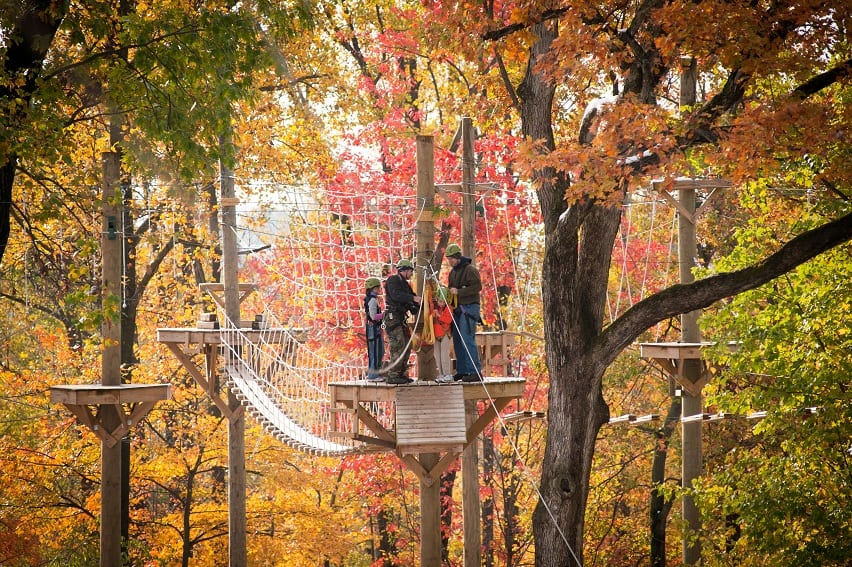 Fall activities in Lancaster County cover a wide range of things to do and unique experiences. Whether you stay for several days or visit for a day, spend the Autumn season immersing your family in everything the Lancaster area has to offer.
Top 10 Fall Activities in Lancaster, PA
Here are 10 fall things to do in Lancaster you and your family won't want to miss out on.
1. Amish Buggy Rides
Take a buggy ride through Amish country with one of Abe's buggies. First established in 1968, Abe's Buggy Rides offer a choice of ride length. There are authentic Amish farmsteads, a one-room schoolhouse, and visitors are likely to be treated to any number of local crafts and services such as a farrier shoeing horses, a glimpse at tanning or cloth making, or other activities unique to the Amish way of life.
2. Smash Pumpkins and Play Cornhole While Ziplining
September 12-November 17 at Refreshing Mountain! Learn more »
3. The Amish Experience at Plain & Fancy Farm
Buggy tours give you a relaxed view of the Amish lifestyle, but a harvest day at The Amish Experience is must. See cows being milked, fields tended, and all manner of daily activities performed in a simpler, quieter atmosphere. Plain and Fancy Farm is located a little outside of Bird-in-Hand and gives visitors a personal look at how the Amish have always lived.
4. Hot Air Balloons
A hot air balloon is another exciting adventure for the whole family. US Hot Air Balloon tours start early and usually include a picnic lunch or other simple fare. Seeing the fall colors is even more exhilarating when viewed from hundreds of feet above the trees. Take along a good camera with strong batteries, because you won't want to forget a thing.
5. Zipline, Rent a Cabin, and Enjoy Leaves Changing Color
There is a lot to do at Refreshing Mountain Retreat & Adventure Center. Families can enjoy 5-star ziplines through the fall foliage, an on-site nature center, or other outdoor activities and adventures. Cabin rentals are available to spend a few days or take a day trip, but either way, it's a great way to enjoy some wholesome family fun and exciting fall activities in Lancaster PA. Refreshing Mountain is conveniently located in Lancaster County near the PA Turnpike, and that means your other area destinations are only a short drive away.
6. Tour Covered Bridges
Pennsylvania has a reputation for covered bridges. Admiring autumn foliage while crossing wood and stone covered bridges is a relaxing way for the family to experience a bit of area history. Plan your own covered bridge driving tour route, pack a picnic lunch, and set out for a family day of fun in the PA countryside. Fall activities in Lancaster PA abound, and rustic covered bridges are architecture from days gone by.
7. Cherry Crest Adventure Farm
In the middle of Pennsylvania Dutch Country, Cherry Crest Adventure Farm is one of the earliest and oldest corn mazes in the United States. This working farm is made up of 300 acres of corn, soy, and other seasonal crops, but it is also part of a new type of theme park known as "agritainment." Give yourself 4 to 6 hours to experience Cherry Crest Adventure Farm, taking in an operating farm and enjoying a day of agriculturally-related entertainments. It is near the Strasburg Railroad (#8 on this list), Sight & Sound Theatre, and other regional favorites, making the area popular for fall activities in Lancaster PA.
8. PA Renaissance Faire
The PA Renaissance Faire is an exciting experience for the whole family. Step into an age gone by, with royalty and magic all of the wonder and mystery of a fantasy world. When planning your family fall activities in Lancaster PA, keep in mind that the PA Renaissance Faire is only open on certain days, and the gates close up again at the end of October. Every weekend has a special theme, and visitors are encouraged to dress in costume. PA Renaissance Faire is fun for everyone, and participation is welcome.
9. The Strasburg Rail Road
The Strasburg Rail Road is more than an exciting place to visit. The train serves local farmers, providing truck-to-rail and vice-versa services which help local farmers move their goods to market. Families can take a train tour and enjoy picnic lunches in picturesque settings, and during specific days in September and October, there will even be a visit from the famous Thomas the Train. Your children will love the idea of meeting Thomas and Percival as part of your fall activities in Lancaster, PA.
10. Visit a Community Fair
One of the most popular things to do in the fall in Lancaster is to have fun at one of the local community fairs. There's a wide variety of them across the county; most include parades, tractor equipment, farm animals, carnival rides, and crafts on display. All of them have delicious locally-made food. The New Holland Fair has tug-of-war competition between local fire companies, the Denver Fair has a livestock auction, the Ephrata Fair has performances by local bands, and the West Lampeter Fair has rodeo-style activities.
What Are You Waiting For?
There's a lot of fun family activities to do in Lancaster County, PA. Take a look at this article for more fun activities for the fall! The only question is, when will you visit us?