If you are planning a getaway over the Christmas season, then be sure to include these fun activities. We have put together a few fun and enjoyable indoor and outdoor things to do in Lancaster, PA. We love what Christmas brings and the joy of being with family and friends. To that end, we curated the list below full of family friendly activities that are relatively low cost during this holiday season.
A must in Northern Lancaster, PA. Experience an authentic Lancaster County tree farm and grab a Christmas tree before heading home. The aroma of freshly cut trees, coupled with hot chocolate and a toasty campfire will send you right into Christmas. If that was not enough, maybe their Model Train
room, original Bloomingdale's Holiday window display, and Santa's workshop is! Come on an empty stomach because they serve fresh from their own farm pork products, local chicken, and other tasty treats!  Elizabeth Farms' farm to table is growing their herd of Mangalitsa pigs, cap off your time visiting their maternity ward- they are super cute! Days and times vary but they are open most weekends through the Christmas season.
Cost: $1+.
Distance from Refreshing Mountain: 5 min
You might be thinking, "If it's cold outside, why would I want ice cream?" Trust us, this ice cream will bring warmth to your soul. If there was a best of the best, Fox Meadows would be on the list. With seasonal flavors, your palate and mind will be blown. A Christmas time favorite is their candy cane ice cream made with real candy cane. Right up there is, the foraged pine and rosemary ice cream made with rosemary and bits of (foraged) white pine needles- they've brought it back year after year as a holiday tradition for a reason! To make it better, the creamery includes a Country Market featuring local purveyors of Pennsylvania Dutch savory and sweet treats!
Cost: $1+.
Distance from Refreshing Mountain: 5 min
Does freshly baked Christmas cookies and spending the day in beautiful Amish Country sound like the best day ever? Create a new Christmas tradition as you are welcomed into three Amish homes and taste test homemade cookies. These Amish friends are ready to welcome you into their homes to share their recipes and traditions with you! Be prepared to immerse yourself into a new culture, sing a few Christmas carols and eat a whole lot of cookies! All aboard the Cookie Tour! Amish Farm and House tour times vary and as you can imagine these are popular, view their tours and book ahead of time.
Cost: $7-55.
Distance from Refreshing Mountain:30 min
Hands down, must do. This musical is an experience like none other. We know that's a lot to say, but the production quality is Broadway level performance and beyond. Sight and Sound trains and relies upon real animals for all their shows, and they have an extensive animal cast.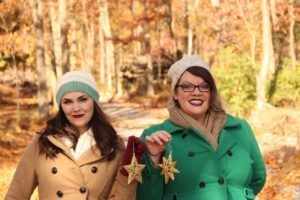 It truly makes these ancient scenes come to life when a camel comes waltzing down the aisle next to you! Add in high caliber performers, choreography, technology, and storytelling and this will become a stop you will come back to year after year.
Cost: $34+.
Distance from Refreshing Mountain: 30 min
Experience the birth story of Jesus like you never have before. This live actor experience takes live nativities to the next level. You will have the opportunity to go through different stages of Jesus' birth from Mary and Joseph registering in the census to the wise men coming to visit Jesus. This 45-60 min. long experience is great for families seeking an engaging story filled with over 300 luminaries and live actors. The amazing piece is the entire journey is staffed with volunteers and all proceeds go to fund the host facility, Woodcrest Retreat Center. To enjoy the journey and to register, head over to their website to learn more.
Cost: $0-40.
Distance from Refreshing Mountain: 18 min
There is something special when you come in from the cold, sit down in a comfortable seat, adorned in a warm sweater, anticipating the start of a Christmas musical. Add a delicious dinner, and you may have another Christmas tradition. The famous, Dutch Apple Theater, in Lancaster presents, "Miracle on 34th Street". Susan Walker is a six-year-old girl who does not fill her mind with romantic notions, like believing in Santa Claus. After an encounter with a department store Santa something beautiful is sparked that ignites across New York City. Enjoy this Christmas classic over a warm delicious meal. Show times and menus vary, so be sure to reserve your tickets online when you have your date.
Cost: $22+.
Distance from Refreshing Mountain: 40 min
There are lots of things to do in Lancaster during the holidays. Remember most places are requiring advance reservations so check websites for details, times, and great ways to have fun in a worry-free environment. Grab that cocoa and go!