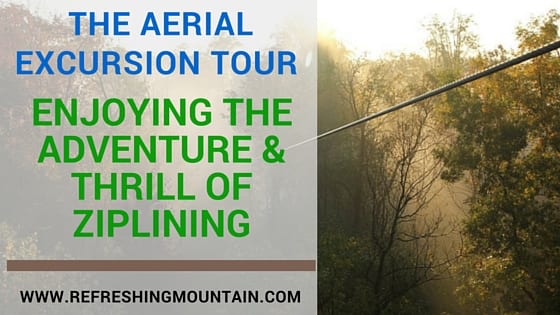 Are you looking for a fun way to enjoy the outdoors this spring or summer? Look no further than Refreshing Mountain's Aerial Excursion Zip Line Tour. This activity is perfect for fun-seekers who crave adventure. Yet the aerial excursion tour is not exactly something that only daredevils can enjoy. Solo adventurers and families won't find a better outdoor adventure in all of Lancaster.
The Zip Line Canopy Tour Fun Factor
The Zip Line Canopy Tour sends you on an exciting aerial voyage through the tall trees and diverse wildlife of Lancaster's greenest spaces. If you have ever wanted to fly like a bird and soar through the sky, you will have a grand time on the Zip Line Canopy Tour.
Our intricate cabling and platform system empowers you to glide above nature's most beautiful creations. You'll spot all sorts of birds and other animals as you zip line across the sky.
This style of tour was actually first created to facilitate the study of trees and plants. As time progressed, it morphed into an exhilarating zip line experience that the masses can enjoy.
If you're worried that kids will find this zip lining experience to be intimidating, don't fret. The Zip Line Canopy Tour is 100 percent safe. Zip liners will be harnessed to a pulley that moves along the cable.
You'll zip across the sky from one platform to the next through a lush canopy of trees. It's an experience that you will never forget.
Aerial Excursion Tour
Our Aerial Excursion Tour made its debut in March of 2013. Strap in and you will zoom through the course, enjoying incredible views of nature. The Aerial Excursion Tour actually kicks off with a brief hike to the course starting point.
You and your fellow thrill-seekers will then walk on up to our sky bridge to the Canopy of Trees.
Your first zip line measures 500 feet. As you progress through the tour, you will enjoy zip lines ranging from 300-800 feet with a myriad of running speeds and pitches.
All in all, the Aerial Excursion Tour gives you the chance to enjoy seven total zip lines and three sky bridges that link the platforms together.
The tour is capped off with a 40-foot vertical descent that sends you on down to the forest's ground level. This descent is made possible with our foolproof DEUS controlled descent device.
Once you touch the ground and take a few moments to reflect on the amazing adventure you just experienced, you will be transported back to our Activities Center.
The Aerial Excursion Zip Line Tour's restrictions are as follows:
Those riding by themselves must be 8 years of age or older, 48 inches tall and weigh between 100-280 pounds.
If you are not in at least moderate physical health, you should not participate in zip lining.
If your child does not meet the standards described above, don't fret! He can pair up with you as long as your combined weight is 140-280 pounds.
Our Aerial Zip Line Tour might sound like the type of activity an extreme sports enthusiast might enjoy. Yet this really is a family-friendly adventure that people of all ages will cherish.
You should have absolutely no fear for your safety. We rely on a ZIPKEA braking system to keep you and your loved ones perfectly safe throughout your zip lining experience.
The entire course meets/exceeds the Pennsylvania Department of Agriculture Rides and Measurements Bureau's strict safety standards.
Meet you in the trees!