Challenge Adventure (5 Ziplines + 9 Obstacles)
Challenge Adventure (5 Ziplines + 9 Obstacles)
Combine ziplining with the challenge of our high ropes course! 5 Ziplines + 9 Challenges
This activity is open for bookings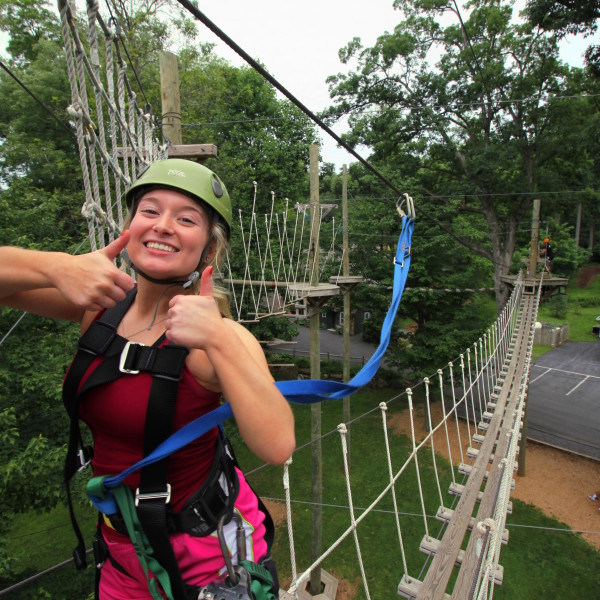 Group Size: Medium Group Activities (9-19 People)
Duration: approx. Approx. 2 HRS min
Details:

5 ZIP LINES (OVER 1,400 FT LONG)
9 CHALLENGE ELEMENTS
GUIDED PRIVATE TOUR
APPROX. 2 HR

Additional restrictions apply (see below)
Description
The Challenge Adventure Accordion is the same as our Challenge Adventure Tour, but designed for groups of 9-19. This is a exclusive experience and we add guides based on your group size. This tour that combines the thrill of ziplining with the challenge of our high ropes course. Starting up a flight of stairs you quickly elevate from a mere 15 feet off the ground to 35 in one zip line. You will then have the option to choose from 9 Challenging Adventure elements. (i.e. climb across a cargo net, balance across the "wobbly log", swing the "Monkey Vines") all 35-45 ft. in the air. This course uses a new technology called a "continuous belay system" which helps ensure that participants are safe at all times. If you don't want as much of a challenge, feel free to walk across our 70 ft. "cat walk" bridge instead, skipping the challenge elements and taking you to the next part of the course. You then continue on through 4 more zip lines extending to 60 feet off the ground and zipping over our pond.
This is a private tour for groups of 9-19 people. Activity length may vary. We recommend planning 2 hrs. for the experience.
Available Add-ons:
Pre-order meals for your group to enjoy before or after your activity. Call (717) 738-1490 to order.
Requirements & Restrictions
Age Group: 5+
Max Weight: 280 lbs.
Skill Level: Beginner-Intermediate
Adult to Child Ratio
| | | |
| --- | --- | --- |
| Paying Adult REQUIRED | Paying Adult REQUIRED | No Adult Required |
Testimonials
" My 10yr old son asked to go zip lining for his "adventure" birthday gift. So I took my son & girlfriend for the challenge course of 5 zip lines and 9 obstacle courses. We had a BLAST! Our two guides were incredible! One of them was able to talk my son through one of the obstacle courses he got nervous. "

- TripAdviser Reviewer