Nature Center and Animal Life Program
The Nature and Animal Life Programs at Refreshing Mountain provide memorable, educational, and interactive experiences for the whole family!
There are three main aspects of the nature program, one being our educational nature studies program (choose from 3 exciting one-hour courses); our nature center, which features an impressive (and very hands on) reptile display with over 30 species; and our horse & farm animal program, where you can pet/feed animals and even ride a horse!
3 Unique Nature Experiences: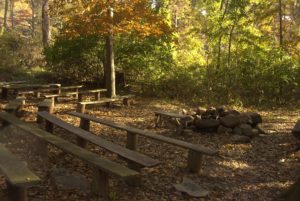 In this program, you can pick and choose one of 3 different hour-long studies: Pennsylvania Woodlands, Reptiles & Amphibians, or our Ponds & Streams studies.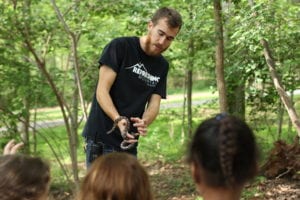 Our new Nature Center is an indoor and outdoor hands-on learning experience with naturalistic and zoological exhibits featuring snakes, amphibians, native lizards, turtles, and other unique things like animal pelts, bird nests, and more!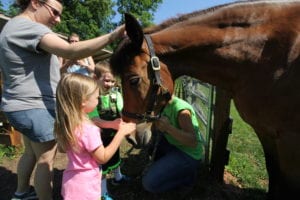 This isn't a traditional "petting zoo," although petting animals is part of it! This program will introduce all sorts of farm animals, both large and small, in a hands-on, interactive experience that's fun for all. And there's even a pony ride included!
---
Our Discovery Package is the perfect mix of nature exploration and outdoor fun. This package includes 25-30 minute sessions of each activity: our Nature Center and Hands-on Reptile tour, GPS Nature Hunt, Sling Shots, and Archery target shooting. Your time will be facilitated by a staff member that will guide your group throughout the entire program. This program is available for ages 5 and older. Groups with children under the age of 14 must be accompanied by at least one adult.