5-STAR CANOPY ZIPLINE EXPERIENCE IN LANCASTER, PA
Are you looking for outdoor adventure? Experience the thrill of a canopy zipline tour at Refreshing Mountain!
As one of the premier things to do in Lancaster, PA, the Ziplines at Refreshing Mountain are a top attraction for locals and visitors in the Lancaster County and surrounding areas. Our zipline tours are kid-friendly and safe for all ages.  Ziplining is a great activity for individuals, families and groups looking for a fun, outdoor activity.Your experience will be refreshing, exhilarating and even challenging at times.  We have three zipline courses to choose from with options for all skill and thrill levels.  Plus, we're just a short drive from Lancaster and Hershey, PA!
The Flying V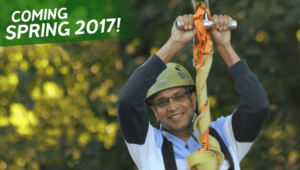 COMING SPRING 2017
2 Zip Lines (over 500 ft long)
Approx. 30 minute duration
Ages 5 yrs & up
$20 per person*$85 5 Pack
Book Now
Challenge Adventure
5 Zip Lines (over 1,400 ft long)
9 Challenge Elements
Approx 1-2 hour duration
Ages 5 yrs & up
$49 per Child Ages 5-13$59 per Adult Ages 14 & up
Book Now
Aerial Excursion
7 zip lines (over 3,500 ft long)
3 sky bridges & 40 ft. descent
Ages 8yrs & up
Approx 2-2.5 hour duration
$67 per Child Ages 8-13$79 per Adult Ages 14 & up
Book Now
---
---
Zipline Safety Information & Age, Height, Weight Restrictions
Your safety is our top priority. Each tour is facilitated by at least 2 tour guides who have been through extensive training. They will take care of every safety related detail on the course, so all you have to do is sit back and enjoy the rides. Our courses are registered with the PA Department of Agriculture Rides and Measurements Bureau and they meet/exceed the design standards of ACCT (Association for Challenge Course Technology). One of our guides does a daily "run-through inspection", a state certified inspectors does a monthly inspection and  once a year, a certified third party inspector does an inspection as well.
Many older zip line courses use a braking design that requires the participant (i.e. you) to control your speed. That can be a daunting task for someone who may already be a bit nervous… Our course is different. On our Aerial Excursion course we use a brake design system that the industry recognizes as the safest approach to braking. First of all, each line is "dialed in" to allow gravity to work as a natural brake. Each line also has a "backup" brake mechanism that is controlled by our staff, so again, the participant does not need to worry about slowing themselves down. On our Aerial Excursion Tour, which has longer, faster zip lines, we use a patented braking/retrieval system called a ZIPKea on each line. If you would like to know more about this braking system, you can visit their website at www.zipkea.com
All riders must wear close toed shoes and the provided helmet and harness.  Individual riders must be at least 5 years old for the Flying V and Challenge Adventure and at least 8 years old for the Aerial Excursion.  All individual riders must have a height of at least 48 inches, weigh between 60 lbs. and 280 lbs.* (80 lbs. and 280 lbs. for Aerial Exursion), and be of at least moderate physical health. Children that are at least 5 years old that are under the height or weight restrictions may ride tandem with an adult, provided a combined weight of at least 120 lbs. and no more than 280 lbs.*  The Challenge Adventure tour requires a ratio of at least 1 adult for each 3 children.  The Aerial Excursion requires a ratio of at least 1 adult per child.
Click here to read more about our safety and tips for first time zipliners.
---
Frequently Asked Questions
Resources & Forms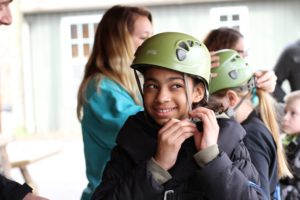 ---
Request Info
- or -
Book Online
- or -
Call us Today
(717) 738-1490
---