SCHOOL FIELD TRIPS AT REFRESHING MOUNTAIN
"The event was beyond my expectations. The team building activities were clear, effective, and professional."
Are you looking for a fun and educational school field trip option? Bring your students to the OUTDOOR CLASSROOM at Refreshing Mountain, where they can experience hands-on outdoor education in a beautiful, natural setting. Nestled in 80 acres of PA woodland, we have options that cater to Earth Sciences, Peer-to-Peer development, and Adventure Education. Our programs are designed for group sizes of 9-20 persons per "class", guided by professional staff, and developed by professional educators. Choose from one of our half day or full day packages, or customize an event to meet your needs.
---
---
Hands On Experiences
Peer Development
Outdoor Adventure
We offer a variety of interactive, hands on experiences facilitated by trained staff that love working with children.  Our team building programs and field game activities provide the perfect environment to learn group dynamics.  We provide outdoor adventures that challenge your students in a safe and fun environment.
---
School Field Trip Package Options
Nature Education Package #1
Half Day Event: Choose Any 2$175 per Group of 9-20*
Full Day Event: Choose Any 4$260 per Group of 9-20*
Adventure Education Package #2
Half Day Event: Choose Any 2$275 per Group of 9-20*
Full Day Event: Choose Any 4$380 per Group of 9-20*
Custom Field Trip Event Options
The above items can be added and/or exchanged into packages, but pricing and availability vary, so please call for pricing or include these items in the comments of your event inquiry
Field Trip Group Pricing
*Pricing based on groups of 9-20 persons.  Additional discounts are available for larger groups.  Use our Day Event Rates Tool to estimate your event and submit an inquiry.
New for 2017
ADD
FLYING V Ziplines


FOR $210/Group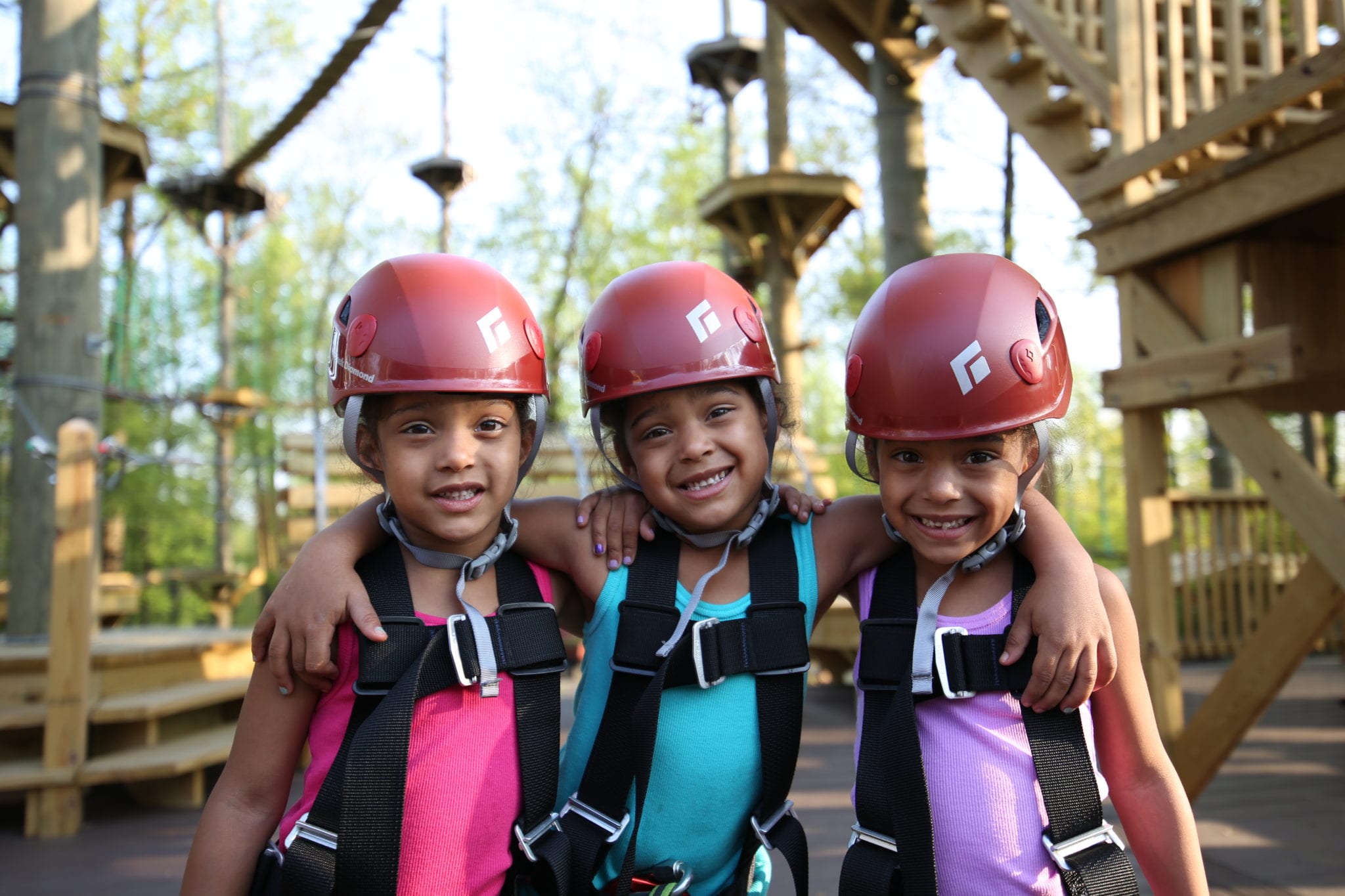 ---
---
Half Day Event
Sample Schedule
(Number of groups may vary)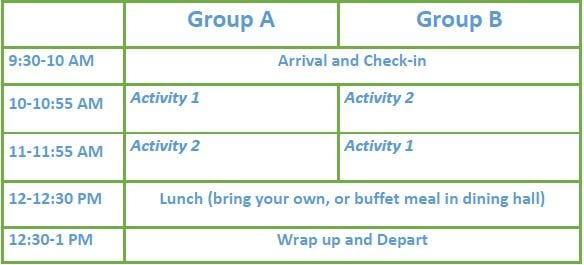 Note: Times vary upon availability. Group sizes affect activities and time spent on site. All schedules are customizable.
Full Day Event
Sample Schedule
(Number of groups may vary)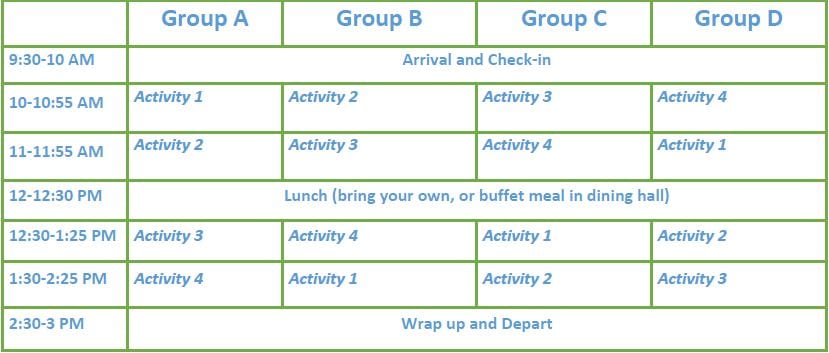 Note: Times vary upon availability. Group sizes affect activities and time spent on site. All schedules are customizable.
---
---
---
SCHOOL FIELD TRIP FAQ's
Yes, there is no cost for parking and we have ample space for busses as well as passenger vehicles.
If you are here over a meal time, you are welcome to pack your own food and use one of our pavilions and/or the numerous picnic tables we have around the property (subject to availability.  Large groups can reserve a pavilion at no extra cost).
Groups of 20 or more can also order buffet meals or banquets from our onsite Dining Hall (advance reservations required).
During our peak season, our camp store has sandwich and snack options available to purchase.  Click here to see our store hours or you can talk to our sales team about having the store open at a custom time if you have a large group.
Contact our sales team to work out the specific date you want and to plan an itinerary.  They will email you a written quote/contract to review after that discussion.  For events costing under $500, the entire amount is due at the time of reservation.  This can be paid by check or over the phone by credit card.
For events totaling over $1,000.00, the deposit will be $500 or 25% of the total (whichever is greater).  Final payment will be due on the day of the event.
If you cancel your event at least 2 weeks before arrival, a cancel fee of 25% will be charged to your account.  Any funds that you may have paid in excess of 25% will be refunded.
Cancelation between 3-13 days before arrival will result in a cancel fee of 50% of the total costs.  Any funds you may have paid in excess of 50% will be refunded.
Cancelation within 3 days of arrival will result in billing for 100% of the total costs. (certain weather conditions provide for exceptions to this policy.  See additional FAQs for details).
We do NOT schedule rain dates during the initial booking process (we presume the weather will be perfect when you are here) but in the event of bad weather, we will work with you to find another date to schedule, and/or we will issue a refund of your deposit if no alternate dates are available.
There are many safety aspects that Refreshing Mountain monitors when running adventure activities.  Certain activities must be canceled for high wind, thunder, lightning, or other extreme weather conditions.  Other activities can be run indoors in our meeting rooms, gyms, pavilions, etc.  The details of cancellation will depend a bit on which elements you have included in your event, but if Refreshing Mountain cancels any part of your event for a safety-related reason, you will receive a FULL REFUND of the canceled portion of your event.
Every event that we host functions like a "guided tour", with a specific start and end time.  If you arrive late, you will miss the first part of the tour and there will not be refunds issued in this situation.  Additionally, we may not be able to extend your time of departure (i.e. we will likely have other tours starting as you are ending), So, for the best experience, it is recommended that you arrive at least 15-20 minutes before your scheduled start time. This will allow the students to sign in, use the bathrooms, etc. and be ready to go promptly at your start time.
Yes, our activities are designed to include a broad range of physical and mental abilities.  We don't want to exclude anyone.  At the same time, there are aspects of our topography and certain safety requirements of some of our elements that can pose a challenge to guests with limited mobility and/or over 250 lbs.  We do have options that can be explored for special accommodation and we welcome a conversation about any particular needs your guests may have.  Please give us a call at 717-738-1490.
Day events should generally be booked at least 6-8 weeks in advance.  Please note that for summer bookings and/or weekend bookings, there are times where we do not know our availability until about 8 weeks ahead of time.  Even so, it is a good idea to contact us well ahead of time, so that, at a minimum, we can place you on a wait list to be notified if/when space becomes available for your group.
Yes, we have a store with snacks, a lite lunch menu, and souvenirs.  During the summer, the store is typically open 11AM to 7PM.  During the Spring and Fall, the hours are a bit more sporadic, but if you would like your students to have access to it during your event, please let our sales team know that when you are booking your event, and we are happy to accommodate.
The chaperone:student ratio varies according to the ages of the students and also the types of elements you are doing, but in general, these are the ratios for your event
K-3rd Grade:  1:3 recommended,  (1:5 is the minimum)
4th-6th Grade:  1:8 recommended, (1:10 is the minimum)
7th Grade +:  1 adult per 15-20 students (minimum)
RMC Staff will be responsible for all of the teaching, training, facilitation, and safety aspects of your event.  The chaperone's role is to help maintain order and to keep students from being disruptive/distracting, so that everyone can have a wonderful experience.  If disciplinary action is warranted during the course of the event, the chaperones are tasked with identifying and addressing those situations.
Yes, every participant must sign a Release Form.  If the participant is under age 18, a parent/guardian MUST sign the form.  Therefore, for school groups it is necessary to process the Release Forms prior to the event.  The group organizer is responsible to collect the signed Release Forms and bring them along on the day of the event.
Signed Release Forms must be received in our office before we will begin your event.
Children in these grades are a bit small to do some of the ziplining, and may not be mentally ready for some of the skills required for Geocaching, Teambuilding, etc. Nevertheless, the following elements can be specifically adapted to be age appropriate for K-3: Climbing Tower, Giant Swing, Field Games, Archery, Sling Shots, Scavenger Hunt, Nature Programs, Pony Rides, Pool Use. Our sales team can talk with you more about these options and help you pick elements that will work for your age group.