Bundle: Climbing Tower + Giant Swing
Bundle: Climbing Tower + Giant Swing
Climbing and Swinging, what could be better?
Climb a 40ft tower & Swing from 35ft up (Private Tours Available)
This activity is temporarily closed for bookings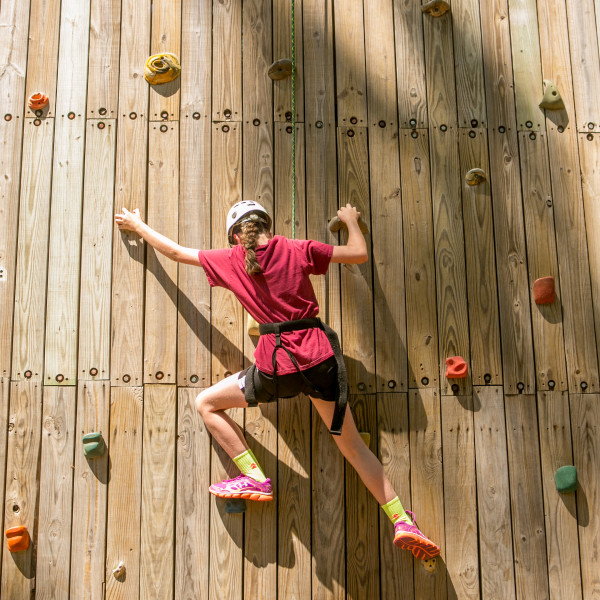 Group Size: Small Group Activities
Duration: approx. 60 min
Details:

37 FT. CLIMBING TOWER W/ ROUTES AND RACING LANES
35 FT. PENDULUM SWING
GUIDED TOUR
TIME VARIES ON GROUP SIZE PLAN 1-1.5 HRS.

Additional restrictions apply (see below)
Description
Around a 1 hour-long experience great for ages 5+.* Your guide will take your group through our 40-foot climbing tower built for all skill levels, ranging from novice to expert sides- you choose your difficulty. A team of professionals will belay you as you and your group have a blast navigating routes to the top.  To add to all of this, remember as a child trying to swing as high as possible? Well, we think we exceeded those expectations with our Giant Swing. Your guides will securely hook your full body harness to a pendulum-like rope, and hoist you up 30 feet in the air. At the pinnacle you make the call by pulling a tab connected to your harness and the hoist- releasing you to drop backwards in a giant swinging motion (approx 60 ft pendulum). Each participant will have at least one giant swing. This is a rush you will not forget!
*Complete package experience time frame may vary based on availability, plan for at least 1 hr.
Climbing Tower and Giant Swing: No participant should exceed 280 lbs.
You can reserve for PRIVATE or SHARED experiences. If registering for private please call our office, there is a base rate covering up to 6 people.
Available Add-ons:
Add a Viewpoint Camera to capture your adventure and share your memory with your friends and family.
Requirements & Restrictions
Age Group: 5+
Max Weight: 280 lbs.
Skill Level: Beginner-Expert
Adult to Child Ratio
| | | |
| --- | --- | --- |
| Non-Paying Adult Must Be Present | Non-Paying Adult Must Be Present | No Adult Required |
Testimonials
" My children are 10&8, girl/boy. We did zip lines, the high wire obstacles, paintball, archery, wall climbing, and peddle cars. We all had a great time! The location is beautiful. The facilities are clean and well maintained. The operation is well organized. Prices are reasonable. The atmosphere is relaxing and child friendly. "

- Dennis D

" Our group had a wonderful experience! The entire staff was genuinely friendly and eager to make our visit the best it could be. The facility was beautiful and extremely well maintained. Our group loved the zip lines, high ropes and archery. The staff encouraged everyone. We will definitely go back! "

- Aimee B