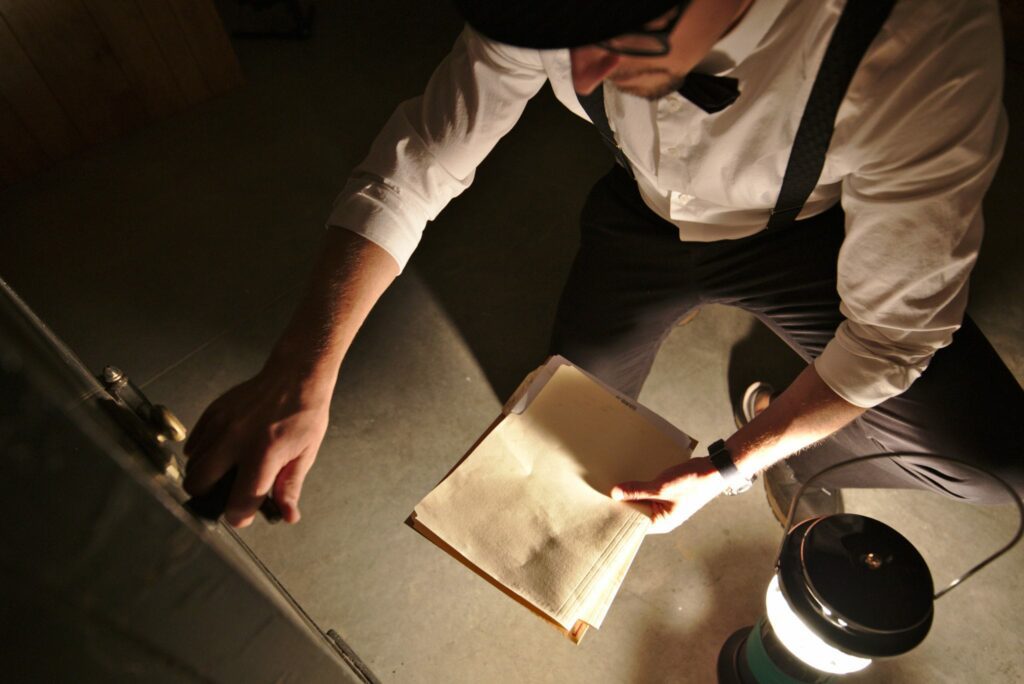 So, you've decided that it's time to visit an escape room in Lancaster, PA. Your team may include friends and family, a youth group, or a work team.
No matter the reason, the goal of an escape room is to solve puzzles and escape the room within a time limit, usually 60 minutes.
Is your team up for the challenge?
Jump to:
What Is an Escape Room?
Escape rooms are physical adventure games. Your team solves puzzles and riddles using clues, hints, and strategies to complete the game's objective. You usually have 60 minutes to find clues and hints to solve the puzzle.
Here are five tips to keep in mind as you and your team work through the series of puzzles:
Teamwork is essential. It's all boots on the ground once the timer starts. Designate a leader and yell out the clues as you find them.
Go crazy in your search. You may not think about looking under rugs or skimming through books, but these make great hiding places. Don't ignore your gut; shout it out if you find a clue.
Keep all clues, hints, and puzzle pieces in one place. If you open a lock, take that lock with the key to the main area where you're keeping clues. Remember, you may not think you'll need that clue right now, but it may become handy toward the end of the game.
If you feel impatient, take a deep breath in and out. Working as a team, solving escape room puzzles can be very frustrating. Don't lose your cool. Instead, take a mini-break to catch your breath.
Have a blast getting out of the escape room on time. Escape rooms are fun—even with the time limit. Stay calm and carry on working your way through an escape room.
Planning Your Escape Room Visit
When searching for escape rooms near Lancaster, PA, it's essential to research and ask questions. Call your escape room in Lancaster or check out their website to learn more about bookings, themes, and general facility rules.
The more you know about the location, the better you'll be able to prepare all of your group members about the activities.
Check to see when you need to arrive, what forms must be completed before entering the escape room, and if anything else needs to be done before your escape room adventure starts.
Find more tips to navigate your escape room >>
What to Expect with Your First Escape Room Experience
Your first time completing an escape room with your favorite people can be exciting and a little scary too. Will everyone work together?
If you're bringing kids under 12 along, make sure that the adventure you pick is age-appropriate. Search "escape rooms near me for kids" to find escape rooms that cater to that younger age group.
Here are three tips for your first escape room adventure:
Pick Your Theme. Escape rooms near Lancaster, PA, have many different themes for you and your team. For example, your team can pick three different adventures at Refreshing Mountain. Two of the escape rooms are inside, while the third escape room is partly indoors and outdoors.
Meet Your Game Master. Your game master will share the backstory of your escape room adventure. Listen closely because they will drop hints and answer any questions you ask during the story.
Remember the Room's Rules. Rules sound boring when solving a series of puzzles in record time. But the rules help you get the most out of the game. Our escape room rules at Refreshing Mountain include:

Listen to your game master
Avoid the "Do Not Touch" items to focus on the clues that you can touch
Be respectful and avoid breaking anything in the escape room
Keep your phone on silent and put it away
Don't open the room until you solve the final clue.
For a successful escape room experience, you want to be prepared for the adventure and to escape the room on time.
Here are seven tips for working together to finish the series of puzzles in record time:
Create Roles for your team. You want to give each team member a role in the escape room. Creating roles empowers teammates to have a job to do throughout the escape room. Also, encourage your group to come prepared for the escape room experience:

Dress appropriately
Be physically ready to go
Bring a timer (not your phone's timer) or a watch with a second hand to keep time
Don't be late
Arrive motivated and ready to go for the escape room adventure.

Provide a common goal. Consider why your group wants to go through the escape room. There could be many reasons depending on who's in your group. For example, a family or a youth group might work toward better communication and bonding goals.
A work group, on the other hand, may focus on critical thinking skills, problem-solving skills, and improved communication skills.
Remember, fight or flight. Fight or flight may kick in with someone in your group. You want everyone to stay level-headed and calm. So, prep your teammates to ask the game master questions and look everywhere for clues.
Make asking for help clear and encouraged. Asking questions is encouraged when you're in an escape room. At Refreshing Mountain, your escape room will include live actors and/or a game master. Encourage your teammates to ask clarifying questions when they don't understand something.
Keep giving tasks and ideas. Remind your teammates that there are no stupid questions. Urge your teammates to call out their ideas even if they seem silly. Everything is game in an escape room.
Remind them time is of the essence … sometimes. Keep the game moving because you're on a strict time limit.
If someone's idea doesn't work, go onto another idea. Also use a discard pile to keep objects separated during the game. Don't let your friends get stuck on an idea; move on to new clues to keep the game moving forward.
Have fun, remembering that you're in it together. If you have always wanted to be a detective, an escape room is for you! Enjoy this experience with your tribe.
Learn how to get the most out of your escape room >>
How Do You Escape from an Escape Room?
As stated in the beginning, you and your team find clues and puzzle pieces around the room to get out of the escape room in record time. These clues and pieces help you solve puzzles and open locks, moving your team through the room to the exit.
8 Tips for Newcomers
If you're new to escape rooms, know that you and your team will have a lot of fun! Here are 8 tips for newcomers:
Research the escape room
Review your theme and listen carefully to the introduction
Communication is critical
Keep clues, keys, and puzzles organized
Use all parts of the room
If you need a clue, ask for a clue
Think outside the box
Don't overthink it
See our full list of escape room tips >>
In Closing
If your youth group, work group, or friends would enjoy an adventure, come prepared to experience the thrill of an escape room.
Book your experience today!