A story submitted by one of our awesome Zip Line patrons, Cathy Murphy
"It's been almost a year since I was first introduced to Refreshing Mountain Canopy Tours. That was a day that I don't think I'll ever forget. It was a pivotal day for me in many ways.
You see, within the previous year three aunts and an uncle passed away. After a difficult four year long struggle with congestive heart failure and multiple hospitalizations, my beloved father died. Then my mother fell, fractured four ribs, and was in rehab for a month. While there, diagnosed with cognitive impairment (dementia), and was not allowed to return to her house to live alone. I had a week to find an assisted living facility for her; then cleared out her house and put it on the market. In addition to these difficulties my daughter was diagnosed with two different kinds of cancer and underwent two major surgeries. My son was experiencing his own struggles with work and personal issues. My husband retired and we began a whole new lifestyle. Then my car was rear ended. Little did I know that I was on the verge of slipping into a major depression. Do I hear STRESS????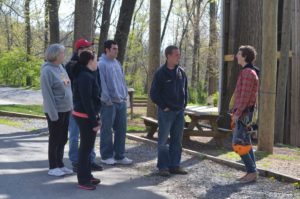 My son Shawn booked the Canopy Tour at Refreshing Mountain, and then told me we were going to have an adventure. I had no idea what a "canopy tour" was, and when I looked at your video online, I was sure that was something I didn't want to do. But he firmly and politely told me that "no" was not an option!
We arrived at Refreshing Mountain on a crisp fall Monday morning after Thanksgiving. We watched as Joel and Mike ran through the course, all the while thinking we were a little crazy to even consider doing the same! I looked at Shawn and said, "I'm not sure about this." He grinned and said he wasn't either, but we were going to do it!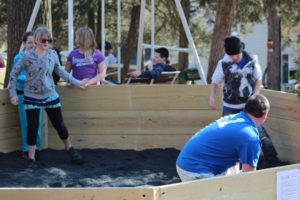 We got our gear on and mounted the steps to the first platform. Joel, our tour guide was so kind and encouraging as he talked to us. Shawn was the brave one and went first. I stood at the edge of the platform, looking down and across, thinking I was crazy to step off of a perfectly safe place. But I knew I had to do it; so off I stepped. The cable zipped me across to the next stop and when I arrived I couldn't believe I had actually "zipped!"
But now the really scary stuff faced us as we considered the obstacle course! I really wanted to just walk across the bridge to the next platform, but Shawn firmly said we needed to step out of our comfort zone and try this. He went first as I nervously watched him inch across each obstacle, knowing I was next! It took me three or four tries before I made it across on the swing. The X shaped cables were scary and difficult. The log cross wasn't too bad! The U shaped rope ladder was unnerving, but the knotted ropes were the most difficult for me. By the time I reached the second platform, I wasn't sure if I wanted to continue. BUT – I didn't see an emergency exit, so I determined to keep going!
Shawn was beginning to enjoy this experience; I was still unsure! After the High Ropes and three more zip lines, we reached the zip line across the pond. Our guide Joel said we should try letting go, or take the Nestea plunge, which is falling off backward. I thought He must be out of his mind! I have to admit by the time I zipped across the pond I was also beginning to enjoy myself – just a little! Standing atop the last platform, viewing the finish line, I marveled that I had actually zip lined!
Once we were back on the ground, I admit I was a little disappointed it was over. BUT I was so proud of myself and Shawn for doing a canopy tour. WAY WAY out of our comfort zone, but pleased that WE DID IT!
This whole experience was pivotal for me last year. The Canopy Tour gave me the confidence and courage to "take charge" of my life again – to reach out – to trust God with my insecurities, my feelings, my future. That's when I began counseling with one of our pastors who helped me work through a lot of grief and negative feelings I had. Pushing myself past my fears on the Zip Lines caused me to be able to look at my life and push past the places of despair I was going through. 
In addition to the healing which began to take place, I think the canopy tour really touched my heart in a very special way because Shawn planned that day for us. He made the reservations and wouldn't let me stay home. I was touched that he, in the midst of his difficulties, thought of me and planned a very unique experience for us. He kept telling me on the obstacle course "you can do it, Mom." That was a day I will never forget!
Shawn and I enjoyed our special outing so much that we returned in April and brought with us my other son Mike, our grandchildren John and Kate. We had another memorable day together and remembered our camera this time!
We want to thank Joel, for his compassion and patience as we hesitated on the platforms and asked a million questions. He has the perfect personality for his job. Joel, Thank you so much and I wish you the best as you continue serving at Refreshing Mountain."
Cathy Murphy

Thank you Cathy!
As I listened to her story last April, it truly touched my heart. Cathy and her family were such a blessing to have on our course and I was so encouraged to hear how the Zip Lines helped her overcome other obstacles in life.
Truly a day at Refreshing Mountain can be much more than just Zip Lining.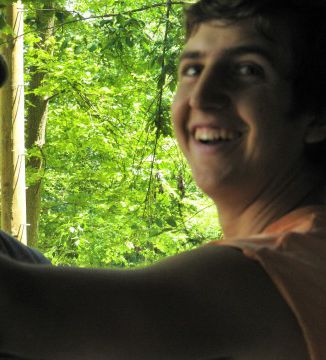 Joel Bomberger
Social Media Coordinator, Canopy Tour Instructor
Joel@RefreshingMountain.com
Book Your Canopy Tour online Today!
1-888-353-1490