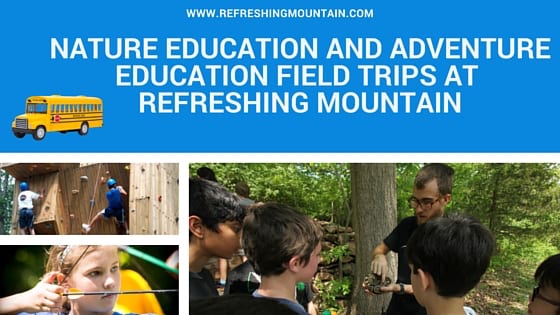 School field trips at Refreshing Mountain offer an exciting adventure, engaging students in the unique nature based education program. With 80 acres of beautiful woodlands, students can participate in Earth Sciences, Peer-to-Peer development or Adventure Education activities.  Developed by professional educators and led by trained instructors, school field trip programs at Refreshing Mountain provide education, adventure, and excitement.
Refreshing Mountain has developed two distinct programs that cater to school groups. School field programs can be scheduled as a half day event with a choice of two activities or a full day event with a choice of 4 activities.   Each activity is designed to accommodate a group of 9-20 people, so larger groups will be broken down into smaller groups that rotate between activities.  Activities are available for students from kindergarten through 12th grade, and special needs can be accommodated. Each activity will be facilitated by a Refreshing Mountain staff member, whose aim is to make the event safe, fun and rewarding for every student.
School Field Trip Programs
The Nature Education Package puts students out in nature to take part in a variety of activities including target shooting, scavenger hunts, physical challenges, and the unique Nature Science Programs. Students learn team-building skills while observing the local wildlife and ecosystem under the guidance of trained instructors.
Archery and Slingshot Target Shooting: With 6 targets available at a time, students can test their accuracy with either a traditional bow and arrow or slingshot.
GPS Nature Hunt: Using a GPS for navigation, students follow the clues leading them around a pre-determined course on the Refreshing Mountain campus. Along the way, they will learn about the nature and wildlife they pass, for a rewarding adventure.
Nature Science Programs: In this exciting and unique activity developed specifically for school field trips, children are led by a trained nature expert and have access to the new Nature room, interactive displays, and live animal exhibits. Lessons focus on the preservation of the eco-system as well as animal diversity.
The Adventure Education Package offers some of the same activities as the Nature Education package, with a stronger focus on physical challenges such as the climbing tower and paintball obstacle course. Be sure to ask about the all-new Pedal Carts, an exciting race that will challenge students start to finish.
Climbing Tower: This 34 foot tower presents students with the opportunity to test their physical strength and planning skills. There are 4 levels of difficulty making this activity accessible to even young students.
Pedal Carts: Brand new to Refreshing Mountain, school field trips choosing this option can be among the first to experience pedal-powered carts placed on a race course that winds through nature.
Paintball Obstacle Course: Testing speed and accuracy, the paintball obstacle course offers an exciting chance to use real paintball equipment with no fear of getting hurt. Rather than shooting at each other, students race through an obstacle course, aiming only at pre-determined targets.
Both packages have the option of participating in:
Team Building:  If presented with a challenge, can your class come together to solve it? That's exactly what Team Building aims to teach. Students are presented with a challenge or obstacle and must work together to find the solution.
Physical Challenge: In this event, teams are presented with a list of objectives including finding objects and completing physical challenges. Alone, no one person can do it before time is up, but united as a team, anything is possible.
Team Scavenger Hunt: Take to the woods to find and identify leaves, fruit, and other wildlife. Working as a team, try to complete this fun learning activity before time runs out.
Orienteering: Students are taught to use a map and compass to navigate through nature. Follow a series of clues using these new found skills to reach the final surprise destination.
Team Field Games: With games chosen specifically for your group by your field trip facilitator, team field games aim to teach students to work better together as a team, while providing a fun physical challenge.
There are many other activities and options available for your event. If you'd like to choose other activities, add a meal, or utilize the meeting space at Refreshing Mountain you can create a fully customized day for school field trips. Some popular options include:
Pony Rides: Students are given the opportunity to pet, groom, and ride a pony, learning how to care for these beautiful creatures.
Ziplines: Fly through the trees, experiencing nature from an entirely new viewpoint. This adventure is one of the highlights of Refreshing Mountain and makes an exciting addition to school field trips.
Wobbly Log: Suspended high in the air, teams of two must work together to switch places on this unsteady log, all without falling off. Teamwork is essential!
Giant Swing: A lesson in physics or a fun swing ride? The Giant Swing is exactly that! Suspended in a harness, students will go for an unforgettable ride like nothing they can find in a school playground.
Giant Ladder: Climb this swinging ladder with a partner, working together to get to the top of this high-flying challenge.
High Ropes: With 9 challenge elements, the High Ropes provide physical and emotional challenges that students will be proud to conquer.
Pool Party: For a relaxing component to school field trips, Refreshing Mountain offers pool party options during the pool season.
Book Your Trip
Booking school field trips at Refreshing Mountain is easy. The dedicated staff of professional educators and trained leaders have developed these programs specifically for school field trips so you can know your students will have a quality field trip no matter which activities you choose.
Refreshing Mountain invites you to visit the website for more information on school field trips, including an extensive FAQ section. If you have any questions or are ready to book, you can submit an inquiry or call 1-888-353-1490. The helpful staff is ready to assist you in customizing a package to fit your group needs.
School field trips at Refreshing Mountain provide a unique and exciting opportunity for students of all ages and abilities. Experience the beauty of nature while engaging in activities that will boost peer interactions, develop team building skills and create lasting memories for teachers and students alike.