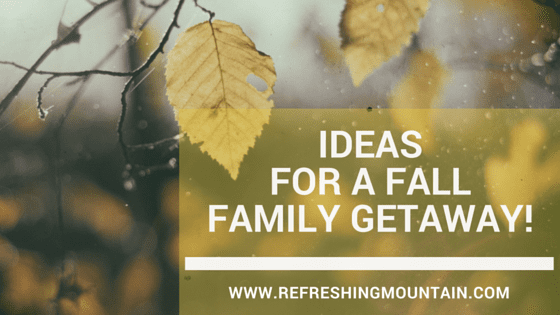 Fall is an ideal time for quick family vacations. The weather is crisp and cool, the foliage is beautiful, and the crowds have disappeared. Located just 40 minutes away from both Lancaster and Hershey, PA is our very own Refreshing Mountain, an ideal spot for a fall weekend family getaway.
The cozy cabins and family-friendly activities make Refreshing Mountain perfect for family vacations you won't soon forget. With its proximity to many other area attractions, you're sure to have a fun-filled weekend. To help you plan the perfect family getaway, we have provide a few helpful ideas!
Lancaster County
Lancaster, PA is perhaps best known for its large population of Amish families and businesses. During your weekend getaway, you can experience life on a real Amish farm, take a buggy ride, purchase handmade goods, and more. The slower pace of life makes it easy and fun to reconnect with family away from our electronic-driven everyday lives.
Nearby is the Sight & Sound Theaters. This unique theatrical experience brings the stories of the Bible to life, with elaborate costumes, sets, special effects, and music. Productions at the Sight & Sound are an unforgettable way to experience your favorite Biblical tales.
Top off your visit to Lancaster PA with a trip to the famous outlet shopping areas. Find name brand items at a fraction of the cost. It's a great way to get a leg up on the holiday season.
Hershey
With the popularity of chocolate, it's no surprise that Hershey, PA is a favorite stop for family getaway. From the chocolate factory tour, to the create-your-own candy bar factory experience, it's a sweet way to spend time with your family (pun intended). With streetlights shaped like Hershey kisses, you're sure to be charmed by this town. Also in Hershey is Hershey Park, filled with thrill rides, roller coasters, and family-friendly fun.
Refreshing Mountain
At the center of relaxing family vacations is Refreshing Mountain. With luxurious cabins perfect for your whole family, it's a great place to unwind while you tour the area. Cabins are heated and air conditioned for your comfort, and include a private bathroom and kitchen.
Family vacations at Refreshing Mountain offer many activities suitable for the entire family. Enjoy the great outdoors with zipline tours, a climbing tower, archery, paintball, a swimming pool, and more. Whatever your family loves, you're sure to find it at Refreshing Mountain.
Itinerary
Due to the proximity of all these great activities, you can plan a weekend getaway and still see it all. Taking frequent small family vacations can help keep you connected and give your family memories to last a lifetime.
One sample itinerary might include a Friday-Sunday stay. Come to Refreshing Mountain on Friday evening, and enjoy a zipline tour and then spending the evening relaxing  and playing games in one of our family cabins. On Saturday, spend the day in Hershey visiting the chocolate factory or amusement park and then catch a show at Sight & Sound in the evening. There are lots of unique options fora great meal in Lancaster on Sunday or spend the day outside as a family with the Outdoor Exploration or Nature Discovery activity package at Refreshing Mountain before heading home, relaxed and refreshed!
With so many options for family vacations at Refreshing Mountain the surrounding area, your family will want to return again and again.