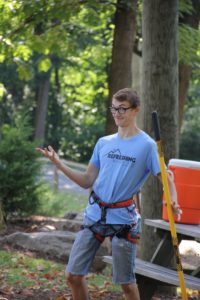 Caleb started at Refreshing Mountain last November after applying to the activities department. He had been looking for a job for a while without success until his aunt suggested he apply at Refreshing Mountain. Her first question was "are you afraid of heights?" When he said no, she handed him an application. A few days later Mr. B called him up to set up an interview, and one week later, he was on the job! His favorite activities to work are the giant swing and zip line, although he likes all of the activities in general.
Caleb's advice to guests is that they trust the staff when they do the activities. The equipment they use is very safe and the staff always checks each person at least three times while they are on the zip line.  He also says listening to the staff is very important to ensuring you have a good time. Listening to instructions the first time prevents holding other people up or getting stuck.  Making sure you drink enough and take deep breaths helps you relax while you're up there and not worry about the height so much.
In his free time,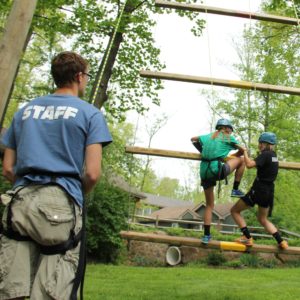 Caleb loves to play guitar and fish. When he was 6 and his father first took him out—he's been fishing ever since! Caleb 's a worship leader for his local youth group and he also helps out at the Gateway House of Prayer in Ephrata. He's trusting God to take him into the music industry, where he's hoping to get a band together.
His favorite memory at Refreshing Mountain came during an especially hot day. Caleb went to catch the rope as they were taking it off the climbing tower at the end of the day—tradition says that if a guide catches the rope on the first try, they get a free ice cream from the camp store! However, the rope shot out behind him. He leaned back and dug his feet in the ground to grab it, but ended up falling backwards. Caleb couldn't help laughing, knowing that Mr. B saw the whole thing and was laughing too.  He landed on his stainless steel water bottle and broke it. To add insult to injury, the rest of the day he had to use a h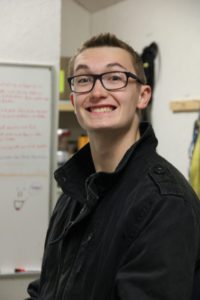 ot pink water bottle!