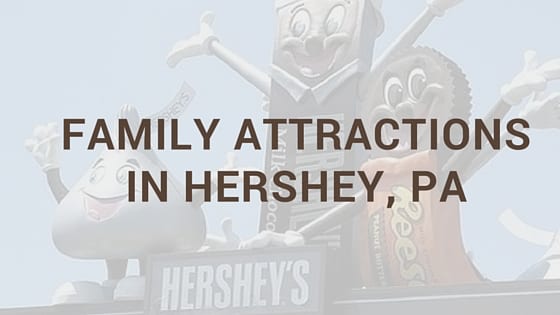 What better way to spend some quality time with the family than whisking everyone off for some new and exciting adventures in the town that was built on chocolate, also known as the "Sweetest Place on Earth"? This gorgeous and fun filled city has tons of activities, events, and places to explore and interact with, that can tickle just about anyone's fancy.
What kid wouldn't love telling their friends and family about driving down Chocolate Avenue on their way to Chocolate World? If you are looking for a town that offers a wide variety of activities that can keep everyone in the family entertained, then Hershey, Pennsylvania is definitely a place you should consider for your next family vacation. Let's take a look at some of the best family friendly things to do in Hershey that will surely bring delight to children of all ages, both young and old.
A Taste of History
If you've ever been curious as to where Hershey's chocolate got it's start, the Hershey Museum is a great place to visit. Here, you'll see some great original factory machinery and other artifacts that helped Milton Hershey turn his small chocolate business into what it is today. If you are checked into an affiliated hotel at Hershey Park, everyone's admission to the museum is free. Admission for all other visitors can vary but all are under $10 per person according to their age.
For the Flower Lover in Us All
Over 75 years ago, Milton Hershey asked for a nice garden of roses. Over time, this garden has grown from 3½ acres into 23 acres of breathtaking botanical experience filled with enriching opportunities. Hershey's Gardens has a variety of attractions including:
Hands-on Children's Garden
Butterfly House
Themed Gardens
A Conservatory Opening Soon
View The Calendar of Upcoming Events
Lions, and Tigers, and Bears, Oh My!
Adjacent to Hershey Park, this modest, 11 acre wildlife park is open year-round to visitors. You and your family can explore the beautiful, tree-lined pathways of ZooAmerica and discover over 200 animals that come from all over North America. You can even schedule a behind the scenes tour that can be customized to cater to photographers, morning lovers, and night owls alike.
Take a Tour of Hershey in Style
There are some great options available for families who want to get "out and about" to explore the city of Hershey. Hershey Trolley Works covers the inspiring story of The Hershey Company's creator, Milton Hershey. Your trolley conductor will take you on an enormously entertaining tour of all the main sites in town with an in-depth look at the history of this super sweet city. Or, you and your family can choose to tour the city in style with a guided Segway tour. You can choose from a historical or off road tour version. Be sure to check for seasonal specialty tours that may be available throughout the year.
No matter what kind of sweet adventure your family is looking for, Hershey, Pennsylvania certainly has something for everyone. From chocolate tastings and historical tours to ziplines and wild animals, you can be sure the sweetest place on earth will be the new family favorite for vacation destinations for years to come.
Unique Outdoor Refreshment
You can satisfy the outdoor adventurers in the family with just a quick, 30 minute drive from Hershey to Refreshing Mountain in Lancaster, Pennsylvania. This year-round retreat and adventure center offers a wide variety of family friendly activities, spread out over 80 acres of picturesque Pennsylvania woodlands. They even offer activity packages for every skill level so that everyone in the family can join in on the fun. The most popular family packages are:
The Explorer Package ~ packed with adventures for the whole family. Activities include:
Pedal Carts
Paintball Target Shooting
Archery Target Shooting
Outdoor Climbing Tower
The Discovery Package ~ the perfect mix of outdoor fun and exploration for ages 5 and up. Here, you'll experience fun filled adventures including:
Hands-on Reptile Exhibit
GPS Nature Hunt
Sling Shot Target Shooting
Archery Target Shooting
Refreshing Mountain also offers a fun and safe environment for a variety of other activities you can enjoy. You'll find everything from horseback riding and lessons to aerial excursions by way of zip lines, climbing towers and a high ropes and bridge course. And there's no better way to relax after an adventurous day than to kick back and relax by the community pool.