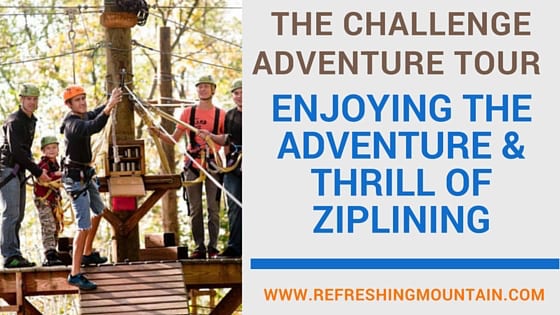 As the kids get out of school, and it's time for a fun outdoor adventure, there are many family attractions that will vie for your attention. When considering what to choose, remember that outside play is important for a child's growth and provides many benefits. There might be some outdoor family attractions that come to mind first… why not try something new, exciting, and challenging.
What about canopy ziplining? We're experts in it and can share everything you need to know.
Canopy ziplining derives its name from the natural "canopy" built high off the forest floor by tall trees and their branches.
While enjoying the outdoor adventures at Refreshing Mountain, you are harnessed to a pulley and sent flying along a cable from one platform to another. What enhances the experience is the height, view, wildlife and the sense of speed as you sail through, and under, a thick canopy of trees.
It's a speedy adventure zipping beneath the shade of a forest and feeling the rush and wind in your face. The zipline attractions from Refreshing Mountain are completely safe and fun for the whole family.
What's The Challenge Adventure Tour?
The Challenge Adventure Zipline Tour is aptly named – it adds the thrill of a challenging outdoor adventure to the gorgeous views of ziplining. Bring the whole family together as you ascend to at least 35 feet in the air and then overcome the challenge elements of your choice.
Scaling a Cargo Net, swinging the Monkey Vines, or traversing the Wobbly Log high in the air adds true tension and excitement to one of the most popular family attractions at our adventure center.
There are nine different challenge elements available, so you will be challenged!
After completing several stations, the adventure continues. Four ziplines bring you sixty feet off the ground and over the pond. It's the thrill of "danger" followed by the beauty of canopy ziplining.
It Sounds Dangerous! Is It Safe?
It's absolutely safe.
With the current technology and the new "continuous belay system," there's no real danger.
In fact, the course meets or exceeds all of the safety standards of the PA Dept of Agriculture and Rides and Measurement Bureau. It may be safe, but that's not to say you won't feel exhilaration!
Expect excitement, thrills and the feel of a legit challenge.
What If I Just Want To Enjoy the Zipline?
That's just fine.
If some of your family or friends want to take on the outdoor adventure challenges, but you want to skip them, no problem. There's a "catwalk" bridge that bypasses all the challenges, and heads straight to the zipline!
You can even "trade out" the wobbly long for a seventy-foot walk and enjoy nature from an all-new perspective.
This Sounds Great. Are There Any Restrictions?
The limitations of the zipline family attractions are as follows:
Children must be at least five years old
Participants must be at least 48 inches tall
Participants must be at least 60 lbs
Participants may not be more than 280 lbs
It is recommended that participants be in moderate health
Children who are five years old but don't meet the height and/or weight requirements may still participate! They can ride tandem with an adult, provided the total weight is at least 140 lbs.
There must also be at least one adult per three children for the course.
So when you're deciding which outdoor family attractions to visit near Philadelphia, consider the fresh air, beautiful sights, thrill of adventure, and most of all.. the fun in the Challenge Adventure Tour. Do something different from your typical family attractions and zipline right into memories; book today. Come fly with us!