Google is a worldwide name: founded in 1998, the company has become one of the most profitable and fastest growing search engines in the world.  Google has also held the #1 slot in Fortune's "Best Places to Work" eight of the last eleven years.
How does Google accomplish these two noteworthy titles?  This company titan understands that prioritizing the customer is a critical and multi-faceted process. Google invests their time and resources into two categories: the product and their staff.  This investment yields the greatest return: a superior product with excellent customer service.  Google's success hinges on their understanding of employee investment in addition to their product focus.  Poor employee engagement costs time, money, and resources.
What is Wellness?
As "employee wellness" becomes the next corporate buzzword, there is an abundance of resources becoming available to kickstart an office campaign for better emotional and physical health.  There's also a fair amount of research into the benefits of employee wellness programs for both employees as well as the company: boosting employee retention and customer focus and minimizing illness and absenteeism.
Employee wellness covers a broad scope of activities, services, or amenities.  Most importantly, employee wellness is a recurring event, offering, or program.  Just as a program with health or fitness, company change can't happen in just one day or event.  Wellness events and activities are a cornerstone of effecting culture in the workplace and should work in conjunction with an effective and positive workplace environment.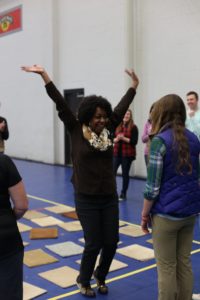 What kind of program is right for my company?
Whether you decide to host a company 5k run, or offer free laundry services in the office (Google does this – I didn't even make that up!) the first step to employee wellness is determining the goal.  Are you looking to incentivize health measures such as a step counter challenge or eliminating smoking to encourage healthier living and lower health care costs?  Are you looking to boost employee morale and want to focus on emotional wellbeing in the office?  Do you want to reduce stress for your employees by offering services or facilities in the workplace?  Making a short priority list for an employee wellness program creates a stepping stone to kick off a valuable program.
The Plan and the Budget
After determining the goal for a wellness program, the second step is to determine what specific activities or steps need to take place for the program.  Establishing a budget for your wellness program provides a field of vision for what is possible.  At this stage, it could be valuable to poll the staff or select some representatives to choose what they might enjoy.  Would staff prefer laundry service or daycare at the office?  Does the company need to purchase step counters?  Should we designate a room specifically for exercise or lounging?  Who could organize an out of the office activity?  Formulating a specific plan and budget for the wellness program provides substance to the idea.
Employee Participation
As the program begins to take shape, it's time to start talking to employees about what is coming and how it will benefit them.  Creating momentum and energy for the program is a crucial part of the new program.  If employees are not excited about the activities or program created, there won't be any benefit.
Finally, a good wellness program is dynamic: willing to be modified or expanded to ensure a continued investment in employees.  Employee wellness is a valuable investment, creating a happier workforce and better customer service.  Finding the time and resources to implement a program in your own workplace opens the door to a more successful and thriving company.