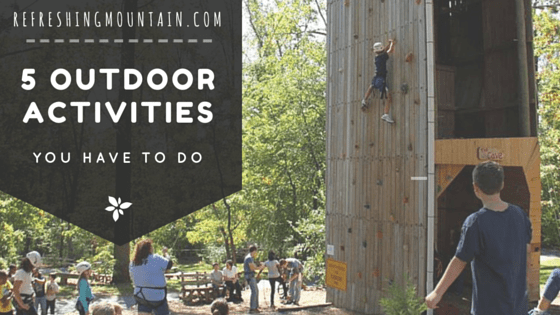 At Refreshing Mountain, families are surrounded by nature, while they rest, recharge, and reconnect. With so many activities available, it can be hard to choose what to try first. Here are the top 5 outdoor family activities you just HAVE to try during your stay.
1. Ziplining
The zipline canopy tours at Refreshing Mountain are one of the most popular family activities. These kid-friendly but adult-thrilling excursions take you up into the canopy of trees, allowing you to enjoy and learn about nature in between riding down the cables between platforms. There are two courses to choose from, with either 5 or 7 ziplines along with skybridges, challenge elements, and more.
During your tour, you will be provided with safety gear and fully harnessed, so there's no need to worry. This is one exciting attraction that shouldn't be missed!
2. Geocaching
Go on a treasure hunt with a GPS device and list of treasures to find! Geocaching is one of the many family activities at Refreshing Mountain that the whole group is sure to enjoy. Follow the GPS trail and race against the clock (or other groups) to find objects hidden all around the area.
Geocaching is an exciting activity, encouraging teamwork and problem solving skills. As you hunt for your treasures, you'll be treated to scenic views, and plenty of time outdoors. Geocaching is a hobby enjoyed by many around the globe, so you can continue your adventures after you leave.
3. Swimming
The community pool at Refreshing Mountain is fun for the whole family. There's a 30 foot water slide, diving board, water playground, and plenty of space to stretch out and relax.
The pool is open daily from Memorial Day through Labor Day, and there are lifeguards on duty. It's a great way to cool off after a day spent enjoying the many other family activities.
*Note our modesty policy, one piece/tankini  (midriff covered) for females and board short style swimwear for males.
4. Archery
Try your hand at this fun sport. Archery has been around for centuries, first as a method of hunting and in battle, and has evolved into a challenging sport suitable for all ages. Refreshing Mountain has an archery shooting course than can accommodate 6 shooters at a time. Learn all about how to aim and shoot, and then head out for some target practice. Whether you prefer to keep it casual or have a competition, the shooting course is fun for the whole family.
Other fun family activities include using a slingshot for target practice and paintball.
5. Rock Climbing Tower
The rock climbing tower provides 34 feet of challenging fun, making it one of the top family activities at Refreshing Mountain. With four levels of difficulty to choose from, beginner climbers can get their footing, while more advanced climbers can test their skills. Up to four people can climb at a time, and the tower stays open until 11 PM.
With so many family activities to choose from, there's something for everyone. From ziplining to archery, and geocaching to the swimming pool, you can fill your days with exciting outdoor activities that will leave your family or group talking about the fun they had for weeks and months to come.